A FAMILY FAVORITE
August 2, 2023 | Author Friend Promo, Cooking
From Stella May
This recipe has been in my family since forever. It is a very popular dish for Georgian and Armenian people who absolutely loved their beans. My mother used to make it, but I put a little twist of my own to make it easier. Mom usually soaked dry beans overnight, then cooked them the next day. I use canned beans, and it tastes the same.
The Georgian recipe for mashed beans calls for the finely chopped walnuts. I add them on occasion.
You can eat this dish warm or cold, over bread or crackers like a pate, or just as a side dish.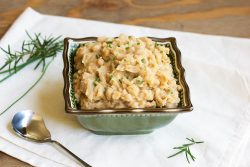 MASHED BEANS
1 can dark beans
1 can light beans
2 lg. onions, I use plain yellow or Vidalia Oil
Oil of your choice, I use sunflower or avocado oil
1 tsp. khmeli suneli, the traditional Georgian spice, and a MUST*
Salt and pepper to tasteFresh parsley, chopped – optional
Fresh cilantro, chopped – optional½ cup walnuts,chopped fine – optional
Open bean cans, wash the brine off, and soak in cold water for 10-15 min.
Dice onions fine. Pour oil into a medium-sized pot. When the oil shimmers add onion and sauté until they are slightly yellow and tender, but not caramelized.
Stir in beans. Cover the pan with a lid. Cook for 3-5 min on low to medium heat, stir occasionally. When beans are fully cooked, some will crack, remove pan from the heat. Mash beans with a potato or wire masher. The mixture should have some chunks, so be careful not over mash. Let beans cool for a few minutes, then add khmeli suneli, salt, and pepper.
Add parsley, cilantro, and walnuts if you're using any of them.
*If you can't find khmeli suneli then use this substitute:
¼ tsp. coriander seeds, ground
¼ tsp. dried basil
¼ tsp. dried marjoram
¼ tsp. dried dill
1 pinch dried red chili pepper
A jaded CEO. A fiercely focused ballerina. A love that defies all society's rules.
SoHo,
1962
JJ Morris, successful CEO, leads a secret double life, playing saxophone to his heart's
content in his hole-in-the-wall dive bar. Yet he can't escape the feeling he's slowly petrifying into just another jaded millionaire. 
Then a gorgeous blonde steps into his bar and shakes up his world. Certain this fierce
little swan of a woman is exactly what's missing in his life, he maps out a plan to wed her by Christmas. With or without his snobby mother's approval.
Most women would be thrilled to learn that the tall, handsome bar musician is, in fact, a wealthy prince charming. Verochka Osipoff is less than impressed. She's focused on becoming a prima ballerina, and everything hinges on her next audition. She can't afford distractions, especially a rich playboy slumming it in SoHo.
Stella May is the penname for Marina Sardarova who has a fascinating history you should read on her website.
Stella writes fantasy romance as well as time travel romance. She is the author of 'Till Time Do Us Part, Book 1 in her Upon a Time series, and the stand-alone book Rhapsody in Dreams. Love and family are two cornerstones of her stories and life. Stella's books are available in e-book and paperback through all major vendors.
When not writing, Stella enjoys classical music, reading, and long walks along the ocean with her husband. She lives in Jacksonville, Florida with her husband Leo of 25 years and their son George. They are her two best friends and are all partners in their family business.
Leave a Reply