PROSIT! Celebrate Oktoberfest German Style
September 20, 2023 | Cooking
Oktoberfest is the festival to end all festivals and is celebrated around the world but started in Munich, Germany for a royal wedding in 1810. The citizens of Munich were invited to all the festivities held in fields just outside the city gates. And from there the world adopted this grand event. It runs from late September to the 1st Sunday in October. Be sure to include plenty of German music when you celebrate.
MENU
Sauerbraten – Marinated Pot Roast
Boiled Potatoes
Red Cabbage with Apples
Rye Bread
German Red Wine – Spätburgunder which is German for Pinot Noir
Sauerbraten – Marinated Pot Roast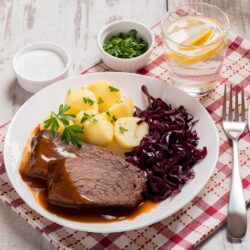 5 black peppercorns
4 whole juniper berries*
1 med. onion, sliced thin
½ cup (120ml) dry red wine
½ cup (120ml) red wine vinegar
2 cups (450ml) cold water
2 small bay leaves
4 lbs. (2kg) boneless beef roast, top or bottom round or rump
3 tbsp. (43g) lard or solid shortening
½ cup onion, chopped fine
½ cup carrots, chopped fine
½ cup celery, chopped fine
2 tbsp. (30ml) flour
½ cup (120ml) beef stock, if needed
½ cup (50g) gingersnap cookie crumbs
Use a mortar and pestle or a baggie and hammer to crush black peppercorns and juniper berries together.
In a medium-sized saucepan combine peppercorn mix, sliced onion, wine, vinegar, water, and bay leaves. Bring marinade to a boil over high heat. Remove pan from stove and let cool to room temperature.
Trim excess fat from roast. Set beef in a deep flat bowl or pot just large enough to hold it comfortably. Pour marinade over the top. Add more wine if marinade is not halfway up the sides of the meat. Turn meat to moisten all sides. Cover pan tightly with foil or cling wrap. Refrigerate for 2 – 3 days. Be sure to turn the meat over at least twice a day.
Preheat oven to 350° F (180°C).
Remove meat from marinade. Pat dry with paper towels. Strain marinade through a fine sieve set over a bowl. Discard spices and onion, but reserve marinade.
Melt lard in a Dutch oven over high heat until it sputters. Add roast and brown well on all sides. Adjust heat so as not to burn the meat. Transfer meat to a platter. Pour off and discard all but 2 tbs. (30ml) of fat. Add onions, carrots, and celery to pot. Cook over moderate heat until they are soft and light brown, 5 – 8 minutes. Sprinkle flour over veggies. Cook, stirring constantly 2 – 3 minutes or until flour begins to color.
Pour in 2 cups (450ml) of reserved marinade and ½ cup (120ml) water. Bring to a boil over high heat. Return meat to pot. Cover tightly. Cook in the oven for 2 hours or until meat shows no resistance when pierced with the tip of a sharp knife. Transfer meat to a heated platter. Cover with foil to keep warm.
Discard veggies. Pour liquid from pot into a measuring cup. Skim off fat. You need 2½ cups (570ml) liquid for the sauce. If you have more, boil briskly to reduce the amount. If you have less, add beef stock. Combine liquid and gingersnaps in a small saucepan. Cook over moderate heat, stirring often, for 10 minutes. The crumbs will dissolve and thicken the sauce. Strain sauce through a fine sieve. Keep warm on very low heat until ready to serve.
To serve, carve meat into ¼ inch (.64cm) slices. Arrange on individual dinner plates or a large platter. In either case moisten the meat with a little sauce. Pass the remaining sauce in a gravy boat.
*Rosemary is a good substitute for juniper berries. Use one fresh sprig.
Boiled Potatoes
1 red potato per person, peeled and quartered
Chicken stock
Tap water
1 lg. bay leaf
Freshly ground pepper to taste
Butter to taste
Add potatoes to a saucepan that holds them comfortably. Pour stock halfway up the potatoes. Top off with water, covering potatoes by an inch (1.25cm) or so. Add bay leaf. Set a lid on top.
You can do up to this point earlier in the day. Leave on the counter or stovetop until you are ready to cook.
Bring pan to a boil over medium heat. Adjust the lid and heat so the water continues a soft/light boil, but does not spill over. Cook 15 – 20 minutes, then test for doneness. A fork will insert easily.
Drain potatoes and discard bay leaf. Sprinkle pepper over potatoes. Add butter. Stir carefully so as not to smash potatoes.
Don't have bay leaf? Add 1 tablespoon (20ml) or so of dried basil to the pot. When you drain the potatoes most of the leaves will be gone, but the good taste remains.
Red Cabbage with Apples
2 – 2½ lb. (1 – 1.5kg) red cabbage
⅔ cup (150ml) red wine vinegar
2 tbsp. (30ml) sugar
2 medium-sized apples, peeled and cored
2 tbsp. (25g) lard or bacon fat
½ cup (50g) onions, chopped fine
1 whole onion, pierced with 2 whole cloves
1 bay leaf
5 cups (1.2L) boiling water
3 tbsp. (45ml) dry red wine
3 tbsp. (45ml) red currant jelly, optional
Wash cabbage under cool water and then remove tough outer leaves. Cut cabbage into 4 pieces. Remove core. Shred easily by slicing each section into thin strips.
Place cabbage in a large mixing bowl. sprinkle with vinegar and sugar. Toss with a spoon to cover the shreds evenly.
Slice apple into thin wedges. Melt lard or bacon fat in a large pot. Add apples and onions. Cook, stirring frequently, for 5 minutes or until apples are lightly browned.
Add cabbage, onion with cloves, and bay leaf. Stir well while pouring in boiling water. Bring to a boil over high heat. Reduce heat so cabbage does a slow simmer. Cover and cook 1½ – 2 hours, or until cabbage is tender. Check occasionally to be sure cabbage is moist. If it seems dry, add 1 tbsp. (15ml) or so of boiling water. When cabbage is tender there should be almost no liquid in the pan.
To serve remove whole onion and bay leaf. Stir in wine and jelly. This recipe freezes nicely.
May you enjoy all the days of your life filled with good friends, laughter, and seated around a well-laden table!
Sloane
Sloane Taylor is an Award-Winning romance author with a passion that consumes her day and night. She is an avid cook and posts new recipes on her blog every Wednesday. The recipes are user friendly, meaning easy.
To learn more about Taylor go to her website. Stay in touch on Blogger, Twitter, and LinkedIn.
Taylor's cookbooks, Hot Men Wear Aprons, Date Night Dinners, Date Night Dinners Italian Style, Sizzling Summer, and Recipes to Create Holidays Extraordinaire are released by Toque & Dagger Publishing and available on Amazon.
Leave a Reply