H is for HOMEMADE GOODNESS
October 2, 2023 | Author Friend Promo, Cooking
From Stella May
There is a lot of debate about the origin of hummus; whether it's Greek, Egyptian, or Lebanese. It is thought to have originated in Lebanon and traveled all over the Middle Eastern regions. This unique food has been prepared for hundreds of years and is well-loved around the world.
So, what is hummus? Hummus is a bean dip made primarily by blending cooked chickpeas, tahini (a creamy sesame seed paste), garlic, lemon juice, extra virgin olive oil, and seasonings. Once you make it at home, I promise you will never return to store bought.
There are wonderful foods you can dip into hummus. They include broccoli, carrot and celery sticks, cauliflower, cukes, pita chips, pretzels, radishes, and any other crunchy veggie. Let your imagination soar.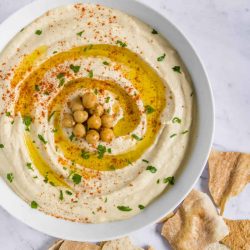 Stella's Easy Hummus
5-6 tbsp. freshly squeezed lemon juice
1½ tsp. sea salt
2 lg garlic cloves, finely minced or grated
⅔ cup Tahini 
6-8 tbsp. ice water
3 cups of cooked (pre-soaked overnight) chickpeas or 30 oz canned chickpeas
¼ cup extra virgin olive oil
1 pinch black pepper
paprika and freshly chopped parsley for garnish
In a food processor – combine 5 tablespoons lemon juice, salt, and garlic. Pulse to combine then let it rest for a few minutes.
Add Tahini and blend until thick and smooth, scraping down the bowl as needed with a spatula.
Add ice water 1 tablespoon at a time with the blender running. Stop and scrape down the bowl as needed.
Drain the chickpeas then pour them into the food processor along with the olive oil and pepper. Blend until completely smooth, about 5 minutes. Scrape down the bowl a couple of times. Add more ice water to reach your desired consistency.
Season to taste with more salt and lemon juice if needed.
To Serve – transfer to a serving bowl, sprinkle the top with paprika and sprinkle parsley.
Enjoy!
A jaded CEO. A fiercely focused ballerina. A love that defies all society's rules.
SoHo,
1962
JJ Morris, successful CEO, leads a secret double life, playing saxophone to his heart's
content in his hole-in-the-wall dive bar. Yet he can't escape the feeling he's slowly petrifying into just another jaded millionaire. 
Then a gorgeous blonde steps into his bar and shakes up his world. Certain this fierce
little swan of a woman is exactly what's missing in his life, he maps out a plan to wed her by Christmas. With or without his snobby mother's approval.
Most women would be thrilled to learn that the tall, handsome bar musician is, in fact, a wealthy prince charming. Verochka Osipoff is less than impressed. She's focused on becoming a prima ballerina, and everything hinges on her next audition. She can't afford distractions, especially a rich playboy slumming it in SoHo.
Yet the heat of their attraction melts Verochka's heart like warm chocolate. But JJ's world is a cold, glittering nest of vipers. And their venom could destroy their love song before the first movement ends.
EXCERPT
The sound of a saxophone halted her steps. That deep, velvety voice grabbed her by her throat, and refused to let go. Holding her breath, mesmerized, Verochka stopped, then pivoted. Where did it come from? Straining her ears, she looked around, searching the almost empty street. Guided by her hearing, she glanced at the closed doors on her right. The Broome Street Bar.
Inside, the sax murmured its enchanting tale, sad, and touching, and heartbreaking.
Mon Dieu! What must one feel to play like that?
Verochka closed her eyes and swayed to the music. Her arms by their own volition lifted and moved in a lazy,
unhurried wave. She visualized the dance in her mind, something slow and sensual. Strange, but she never paid attention to jazz before. Then again, she was never partial to any music except classical.
To her there was nothing and no one compared to Tchaikovsky. But the soulful notes of that sax fascinated her as
much as the famous opening theme from Swan Lake. When the sound trailed off, she felt almost bereft. She craved to hear more. Will the musician play again? Oh, she hopped so. She'd wait for it.
Outside? On the sidewalk at almost ten at night?
Unwise, not to mention quite dangerous. Granted, this spot in SoHo was not prone to crime. But still. A young woman alone was bound to attract some attention.  Verochka looked at the closed door of the bar, biting her lip.
To go inside, or continue on her way? The wisest thing to do, of course, was to turn around, and go home, to her tiny apartment. It was late. She must rest before her wake-up call at 5:30 AM. All morning classes of Madame Valeska started at precisely 6 AM, and God forbid if any of the dancers were late even by a minute. The wrath of her teacher definitely equaled to her worldwide fame as a former principal dancer of The Royal Ballet.
Tired after the long day of classes and rehearsals, then cleaning the premises, Verochka barely kept upright. She hated her after- hours janitorial obligations, but promise was a promise. And Verochka Osipoff never broke her word.
No matter how spent she was, each and every evening, after all the dancers went home, and the school was closed, she headed to the closet for a broom and a bucket. At first, she didn't mind it at all. It was an arrangement made in heaven. An eighteen-year-old orphan from France, determined to reach her dream, Verochka arrived at the doors of the famous New York ballet school with nothing but fifty dollars to her name and a small satchel that belonged to her father.
After her initial shock faded, the formidable Madame Valeska, the owner of the school, ordered Verochka to change into her leotards, and dance.
Her final verdict delivered in a grumbling voice was like a heavenly music to Verochka's ears.
"You have a potential, Miss Osipoff. I'll take a chance on you, and let you stay for a probationary period of three months. After that, we'll see."
Verochka's elation was huge, but temporary. The school was obscenely expensive. No way she was able to afford the tuition. There was a stipend, but applying for it took only God knew how long, with no guarantee that it will be granted in the end.
On top of it, she was a foreigner, all alone in the strange country, and barely able to speak English.
Madame Valeska, quickly assessing the situation— more accurately, feeling sorry for her— offered Verochka a deal: the education in exchange for cleaning services. A tiny room in the attic as a temporary place to live was added to that offer. To Verochka, it was like a Christmas gift she could never have dreamt about.
Overwhelmed, moved to tears, Verochka grabbed the opportunity with both hands. After a while, she got her stipend for the gifted and unprivileged students, thanks to Madame Valeska's help, and was able to cover most of her tuition.
The convenience of living on the premises saved her the expense of a rent, and occasional participation in corps de ballet's performances made everything else manageable. She didn't need a lot of food, as her extremely strict diet fell mostly into yogurt and fruit category. As to clothes— she learned at her dancing parents knee the skill to mend tears and repair pointe shoes.
Two years later, Verochka was still living in the attic, and still mopped the floors, and cleaned the premises. But it didn't matter. Her main goal to become a prima ballerina of The Royal Ballet took the precedence over everything else.
Ambitious? Maybe. But, as her father always said, you must dream big. Otherwise, what was the point? So, she dreamed big, and worked like a woman possessed in order to reach that dream. She was content, and happy, and along the way, fell in love with New York, her new home. Her only home. She learned English, and became quite fluent in it, even though her accent stubbornly refused to be erased.
Of course, she missed
France, and Paris, and small street cafes, and long strolls along the Seine. Oh,
the aroma of freshly brewed coffee and sprinkled with powdered sugar beignets!
Sometimes, she could smell them in her dreams.
But most of all, she missed her parents. She was sure they were looking at her from heaven, smiling, proud of her accomplishments.
Her occasional nostalgia was usually sweet, and short, like a children's lullaby.
But not tonight.
After finishing her duties, Verochka was ambushed by a sadness so huge, she almost doubled down with it. Suffocated in the large empty building that housed the ballet school, she was lonely, isolated, until she couldn't bear another minute longer locked inside. Hence, her impromptu evening walk that brought her in the middle of SoHo, to the Broome Street Bar.
The plaintive sounds of sax reached her ears again.
Oh, yes, please.
Listening to those seductive low rumbles, she wondered about the player.
Who was he? Or was it a she? Why was that melody so sad, so sorrowful?
Available at BOOKStoREAD, AMAZON, and GOOGLE PLAY BOOKS.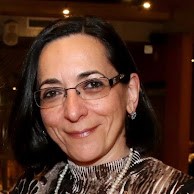 Stella May is the penname for Marina Sardarova who has a fascinating history you should read on her website.
Stella writes fantasy romance as well as time travel romance. She is the author of 'Till Time Do Us Part, Book 1 in her Upon a Time series, and the stand-alone book Rhapsody in Dreams. Love and family are two cornerstones of her stories and life. Stella's books are available in e-book and paperback through all major vendors.
When not writing, Stella enjoys classical music, reading, and long walks along the ocean with her husband. She lives in Jacksonville, Florida with her husband Leo of 25 years and their son George. They are her two best friends and are all partners in their family business.
Leave a Reply