FREE IS GOOD!
October 25, 2023 | Author Friend Promo
from Sharon Ledwith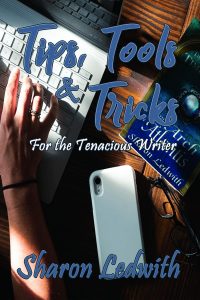 Tips, Tools & Tricks for the Tenacious Writer is the perfect resource for writers who want to know the ins and outs of what it takes to be a published author. Available Free for download… https://www.sharonledwith.com/tips-tools-tricks-for-the-tenacious-writer/
Forward…
It begins with INTENT. Back when I started blogging, I was so green and didn't have much to offer writers or even knew what to say. I was scared, insecure, and filled with tons of self-doubt. BUT I moved forward with tenacity and embraced the desire to be a published author, and dare I say, Bestselling author. I've built my blog, and my writing career brick by brick, word by word until I've amassed quite a collection of helpful and heartfelt content to assist anyone who is remotely interested in delving into the murky, yet exciting world of writing and all the challenges a writer might face. Today, I still have a long way to go, but I'm definitely on the right track with my goals and aspirations as a young adult author.
It is my hope that you find the following compiled content insightful, inspiring, and illuminating as you begin your writing journey or just need some tips, tools, or tricks to help you shine in this crazy publishing business. All the best. All the success.
All Systems Go…
First, let me introduce myself—my name is Sharon Ledwith and I write young adult fiction. My genres include: time travel mysteries (kind of like a mesh of fantasy with a splash of sci-fi meets Nancy Drew and the Hardy Boys), as well as paranormal stories where teens deal with psychic powers like psychometry, telekinesis, animal communication—stuff like that.
My intention of this blog is to:
#1 Get you to know me as a writer, and post my experiences as an indie publisher of eBooks.
#2 Introduce and showcase my stories and characters.
In a nutshell—market myself and promote my work.
That's it really. You see, writing is all about the reader. My goal is to influence and empower today's youth—the next generation—through the stories I create. I believe everyone is here at this time with a mission and a purpose, and every child has something to add to our evolutionary advancement. Children truly are the keys to our future. It is my hope to unlock this portal.
To Grow or Not To Grow…
I am a dinosaur. I freely admit it. No, no, not the kind with fangs and scales—although my kids may have something to say about that—I'm talking about keeping up with the times. Technology is my biggest and scariest hurdle. It is harsh, unknown territory, and yet without computers, the internet, social networks, texting—I could go on, but you get the drift—there would be no growth, no challenges for our wonderful evolving lives. And let's face it technology DOES make our lives a heck of a lot easier! Dinosaurs had to make way for humanity (actually, they had no choice in the matter), and so, I too must bow to the changes and challenges technology offers OR become like the scaly beasts of the past and disappear forever.
Here's a glimpse of the premises of both my young adult series.
The Last Timekeepers Time Travel Adventures
Chosen by an Atlantean Magus to be Timekeepers—legendary time travelers sworn to keep history safe from the evil Belial—five classmates are sent into the past to restore balance, and bring order back into the world, one mission at a time.
Children are the keys to our future. And now, children are the only hope for our past.
Mysterious Tales from Fairy Falls Teen Psychic Mysteries
Imagine a teenager possessing a psychic ability and struggling to cope with its freakish power. There's no hope for a normal life, and no one who understands. Now, imagine being uprooted and forced to live in a small tourist town where nothing much ever happens. It's bores-ville from the get-go. Until mysterious things start to happen.
Welcome to Fairy Falls. Expect the unexpected.
The Last Timekeepers Time Travel Adventure Series:
The Last Timekeepers and the Noble Slave, Book #3
MIRROR WORLD PUBLISHING ׀ AMAZON ׀ BARNES & NOBLE ׀
The Last Timekeepers and the Dark Secret, Book #2 Buy Links:
MIRROR WORLD PUBLISHING ׀ AMAZON ׀ BARNES & NOBLE ׀
The Last Timekeepers and the Arch of Atlantis, Book #1 Buy Links:
MIRROR WORLD PUBLISHING ׀ AMAZON ׀ BARNES & NOBLE ׀
Legend of the Timekeepers, prequel Buy Links:
MIRROR WORLD PUBLISHING ׀ AMAZON ׀ BARNES & NOBLE ׀
Mysterious Tales from Fairy Falls Teen Psychic Mystery Series:
Lost and Found, Book One Buy Links:
MIRROR WORLD PUBLISHING ׀ AMAZON ׀ BARNES & NOBLE ׀
Blackflies and Blueberries, Book Two Buy Links:
MIRROR WORLD PUBLISHING ׀ AMAZON ׀ BARNES & NOBLE ׀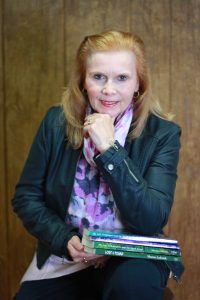 Sharon Ledwith is the author of the middle-grade/young adult time travel adventure series, THE LAST TIMEKEEPERS, and the award-winning teen psychic mystery series, MYSTERIOUS TALES FROM FAIRY FALLS. When not writing, reading, researching, or revising, she enjoys anything arcane, ancient mysteries, and single malt scotch. Sharon lives a serene, yet busy life in a southern tourist region of Ontario, Canada, with her spoiled hubby, and a moody calico cat.
Learn more about Sharon Ledwith on her WEBSITE and BLOG. Look up her AMAZON AUTHOR page for a list of current books. Stay connected on FACEBOOK, TWITTER, PINTEREST, LINKEDIN, INSTAGRAM, and GOODREADS.
BONUS: Download the free PDF short story The Terrible, Mighty Crystal HERE
Leave a Reply