No Such Thing As Too Much Raine
April 13, 2010 | Friends
And that's a fact. Talented Raine Delight is back today with two more of her "gotta read" books from the Devon Falls series.
HAUNTING MAGIC
Raine Delight
Paranormal Erotic/Shifter
Aspen Mountain Press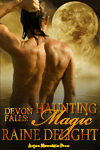 BLURB:
A werewolf claims his mate in Devon Falls.
Rodrick Dracon is the twin heir to the Dragon Inn. When he finds himself longing for a mate after being footloose and fancy free, he finds himself drawn to the most obnoxious, brassy woman he has ever met: Jaxon Sinclair. She is the one woman who doesn't melt when he goes by or hangs on his every word. She is just aggravating and down right sexy as sin! Soon the sparks fly, passion goes into boiling and Halloween approaches. Can a wolf shifter get this woman to heel before the full moon? Or can Jax turn the tables on this ladies man and tame the wolf?
EXCERPT:
Jax's fingers traced the outline of his hard cock as she tried to still her raged breath. She could still feel the way his lips captured hers and she wanted more. Her nipples ached and her pussy was dripping wet, going down her thighs. She didn't know what to do or say but she knew she wanted more of him and she wanted Rod naked very soon if he kept this up.
"I…" Jax tried to talk but her throat was dry and her breath kept hitching every time he swirled that tongue of his on her ear lobe and then nipped it. She swallowed hard as she tried to speak, though if he kept twirling his tongue along her ear lobe, she was going to do something drastic very soon. All this tension was making her stomach clench and her breasts felt achy from wanting to be touched.
His body felt like it was cast from granite, hard and unyielding though each time she traced her fingers along the hard ridge in his jeans, she heard him groan. Jax debated if she should let this go further when all thought of caution went right out the window as he nibbled on that one particular spot between her shoulder and neck. It was like a time bomb exploded inside her. He made her feel like she was going to combust. She couldn't stop the way her body melted into his or the moan that seemed to come from deep inside her. She wanted more and she was going to get it, regardless of the consequences.
Jax grabbed his t-shirt with both hands and yanked it over his head. The pale skin gleamed in the light and she drooled over the way his abs rippled. She slid her hands across his chest, his nipples pointed out when she teased them with her fingernails. With just his jeans on and no shirt, he looked like a wild god, ready for his sacrifice, and Jax was more than willing to sacrifice her to him. If he didn't get naked soon, she was going to go up in flames, Jax thought as she nipped his lips with her teeth. Hearing his breath hitch each time she traced a path around his navel had her anxious to explore even more. Flipping the top button of his jeans, she teased Rodrick as she looked at him with her eyes at half mast, passion glazing in them. She slid her fingernail across his nipple, causing him to tighten his grip on her waist. Slowly, she slid the zipper down and her breath hitched as she saw his cock straining to get free. He was utterly naked under the jeans and Jax was about to melt as her eyes took it in. His cock was glorious as she licked her lips in anticipation for a taste. Her panties were so drenched that her juices were sliding down her legs, coating the inside of her thighs.
~~~~~~~~~~~~~~~~~~~~~~~~~~~~~~
FIERY MAGIC
Raine Delight
Paranormal Erotic/Shifter
Aspen Mountain Press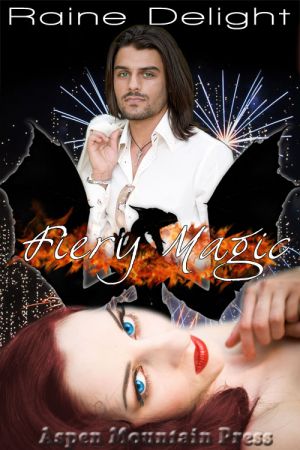 BLURB:
The mistakes of the past collide explosively in Devon Falls.
Damien Dracon is back in Devon Falls, and he is about to woo the one lady he left three years ago. Family secrets and youthful pride forced him to give up the one good thing in his life: the love of Alicia Stevens. What he doesn't expect is that Alicia has a secret of her own, and it may just tear them apart. Can two former lovers find it in themselves to forgive one another and let love grow between them? Or will past secrets haunt them and tear them apart? This 4th of July is about to get explosive in Devon Falls.
EXCERPT:
He strode down the sidewalk. The window of the Dew Drop glowed softly, and a shadow walked past the window. He jogged lightly across the street and almost fell through the glass pane at the sight of Alicia, weaving her way around the cases. He watched the way she moved, all fluid-like and with a grace that he could never find, no matter how hard he tried, in other women. Her reddish blonde hair was in a loose ponytail that he suddenly itched to take down. His eyes widened when her lush, voluptuous body had him aching to see her in all its natural glory. Hers was the most desirable body he had ever seen. The blood rushed to his cock straining the front of his jeans.
Whistling softly, he never thought she would grow up to be so voluptuous and sexy! It was quite an eye opener, especially when she bent over to clean the case of pastries and her jeans tightened around her rounded ass. Groaning at the vision in front of him, his blood burning with a need to possess; Damien tried to still his racing lust. My god, she is gorgeous and sexy. She's like a 50's screen bombshell, all rounded curves and long legs. What man wouldn't be lucky to have her as a mate and mother of his children?
Watching her dance to a tune only she could hear brought Damien's attention to the way she moved. She moved like a ballerina, yet was more graceful to his thinking, and as he watched her dance around the cases and tables, he found himself longing to dance with her. Thinking how her body would curve around his made him shudder with a hot need that had him rock hard and aching for something that he hoped he could experience again — if she didn't kick him in the balls first and then toss him out the door.
~~~~~~~~~~~~~~~~~~~~~~~~~~~~~~
We'll be back tomorrow with another side of Raine seldom made public. Hope you join us. Until then…
Happy Writing!
Sloane Taylor
Sweet as Honey…Hotter than Hell
2 Responses to "No Such Thing As Too Much Raine"
Melissa Bradley Says:


These twins sound wicked sexy. Loved these excerpts.

On April 13th, 2010 at 9:33 am
Marie Tuhart Says:


Great excerpts, that first one burned the fingers 🙂

On April 13th, 2010 at 1:12 pm