When It's Raine's, It's HOT
April 12, 2010 | Friends
Raine Delight is a pseudonym of a self professed book lover and after one too many TSTL characters, decided to see if she could write something a little better. Many drafts later, the Devon Falls series came to fruition. Originally it was to be one book but somehow ended up to four with a fifth and sixth being planned for release sometime in 2010.
Here's a little from Raine: I write a paranormal contemporary series for Aspen Mountain Press and am also branching out to other genres as I continue to listen to the voices in my head. My muse is a male nut who likes to leave me to go sip Mai Tais on the beach and leave me foundering for words; though eventually he takes pity on me and gets my words flowing and characters start settling down.
On a personal note, I live with my own boytoy and two kids. I love Johnny Depp movies and enjoy hiking, reading and watching movies with my family.
Check out my book pages to see what is going on with me here.
Here are two teasers from the Devon Falls series to tempt you.
RED HOT MAGIC
Raine Delight
Aspen Mountain Press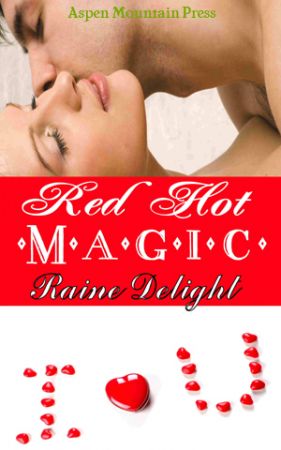 BLURB:
A candy maker is set up by her business partner at a charity animal auction.
With the help of a charity fundraiser, Jenna sets her friend, Raven, up to find Mr. Perfect. Raven though, has found Mr. Perfect…in her dreams. Now, if she could only find the sexy man in real life.
EXCERPT (ADULT):
He waited until she pointed to the door leading out of the kitchen. Raven couldn't talk, much less breath as she pointed him to her bedroom. It was never like this with anyone else and she couldn't believe how electrified she felt! She sighed in delight as his arms tightened at the sight of her bedroom…all ready for some serious love play, with a love swing in one corner and the silk scarves on her bed in addition to the mirror right behind the headboard. She heard the door slam shut with ra rousing bang!
She looked at her bedroom with new eyes; instinctively she knew she was waiting for this man in her heart.
"Wow sweetness, you are my kind of woman you know that?" He said as he laid her down on the bed making her aware at the strength radiating inside him. He was whipcord strong, she saw the cords in his arms flex as he leaned over her to nibble on her lips. She was trying to figure out the feeling she saw in his eyes but before she could puzzle it out, he was whipping out the silk scarves and tying her hands to either bedpost.
Shocked yet aroused green eyes looked into passionate blue ones as he tightened the scarves to just a degree where they didn't hurt her but kept her immobile.
As he slid his hands down either side of her, they brushed the under swell of her breasts and the nipples puckered up even more. She felt them aching for a touch, a lick, anything he would give her before the night is through.
Smiling, he tugged at the pointed nipple through her dress. With each tug, she was gasping in delight. As she felt the answering tug deep in her loins, she was soon wishing for something more from him. He slid his palms under the top of her dress. Soon it was yanked down to expose her aching full breasts to his aroused gaze.
He was drowning in need. When he saw those perfect globes with the cherry tipped nipples, Jean-Claude fought the need to bury deep inside her and come hard and fast. The nipples were big and pointed with her excitement, they begged for his touch yet he took his time and made sure to tease her with feather light caresses all over. Soon, he had her whimpering as need raced through them and he could not deny himself a taste any longer.
Raven arched as his lips settled over one nipple while his hand played with her other. Sensations raced through her, passionate and erotic, she closed her eyes to give herself over to his masterful touches. He licked, sucked and tugged at her nipples, alternating between them both. Moaning her body was a withering mass of need and wanting, with her juices soaking her panties, the scent of her passion rising in the air, her control melted like chocolate on a hot burner.
"My god, you are exquisite. I need you so much yet I don't want to rush anything." Jean-Claude said as he slid the dress over her hips groaning at the soaked thong she was wearing. He inhaled, the scent of her juices rose into his lungs, filling him with lust and love. With her thigh high stockings and shoes still on, he was aware at how tremulous his control remained. It was almost painful as his erection strained to get free and sink into her hot, wet core. Yet he waited and slowly shrugged his shirt off and tried to calm his raging desire.
~~~~~~~~~~~~~~~~~~~~~~~~~~~~~~
STICKY MAGIC
Raine Delight
Aspen Mountain Press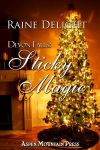 BLURB:
A chance meeting at a sweet shop…Can it be love?
When a stranger stops in at her shop, Jenna is surprised by the immediate attraction. Apparently, Marc is too because he wants to get to know Jenna. A whole lot better and won't take no for an answer.
EXCERPT (PG):
Marc looked down at the small sprite of a woman and felt his body tighten as he recognized the one who he had been looking for. Disbelief warred inside him as Jenna chattered on about different displays, gesturing to another case filled with candy canes stripped in an array of reds, greens, purples and the traditional flavor of peppermint. He never expected to find his mate in the small town his mother told him to go to. If it wasn't his family pressuring him to finally find her and his mother's prophecy, he would never have stepped foot in Devon Falls. Looks as if mum was right again in her prophecy Marc thought as he contemplated trying to make his for all time.
"Jenna, she loves candy canes and anything Christmas related."
Marc smiled at the memory of his mother baking tons of cookies for the holiday festivities and enjoying the sweets that came with the season as well as telling him and his siblings to keep out of the cookie dough.
"Well that narrows it down a little."
Taking a gift box out, she gestured to the case next to her. "Does she have any allergies to anything, like nuts or peanut butter? I want to make sure I don't kill a potential customer here. It is bad for business you know."
Amusement lit her eyes up as she decorated the box with gaily-covered tissue paper.
"Actually no, she doesn't have allergies to anything so please, pick some things out and make it look really nice." Marc said. She looked so damn beautiful, looking up at him with those big brown eyes. He couldn't remember a time when he got this hard this fast all from watching a woman work. Marc closed his eyes and imagined running some of the chocolate kisses on her nipples. Feeling his cock go even harder from his imagination going into hyper drive, he shifted his legs a little to ease the pressure.
Jenna looked up and caught him shifting and noticed a nice size bulge in the front of his pants. Swallowing at the picture of peeling those tight ass pants down his body, Jenna tried to keep her mind on this sale rather than wanting him naked and at her mercy, though if you asked her, it was just hard work trying to not drag him to a supply closet for a quickie.
~~~~~~~~~~~~~~~~~~~~~~~~~~~~~~
I'll be back tomorrow with more from Raine. Until then…
Happy Writing!
Sloane Taylor
Sweet as Honey…Hotter than Hell
6 Responses to "When It's Raine's, It's HOT"