Meet Rick R. Reed, King of M/M
March 23, 2010 | Friends
Today we have the pleasure of multi-published author RICK R. REED here to share his new release THE BLUE MOON CAFE, an amazing novel you'll want to read over and over.
A few words from Rick;
Sometimes a book comes along where I completely fall in love with the characters. The Blue Moon Café is just such a book. Not only is it set in my relatively new home town of Seattle (which is a great place for not only a creepy story, but one where new love can blossom and flourish), but Todd, Jared, and Sam became so real to me, I hated to say goodbye to them.
I hope you'll take the time to check out The Blue Moon Café. It's the book where I finally succeeded in fusing romance and horror into one page-turning read. I hope you agree!
THE BLUE MOON CAFE
Rick Reed
Amber Allure
ISBN-13: 978-1-60272-656-7 (Electronic)
ISBN-13: 978-1-60272-802-8 (Paperback)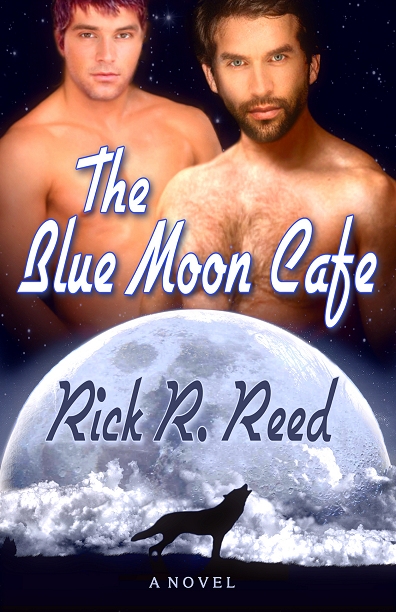 Blurb:
Someone—or something—is killing Seattle's gay men.
A creature moves through the darkest night, lit only by the full moon, taking them, one by one, from the rain city's gay gathering areas.
Someone—or something—is falling in love with Thad Matthews.
Against a backdrop of horror and fear, young Thad finds his first true love in the most unlikely of places—a new Italian restaurant called The Blue Moon Cafe. Sam is everything Thad has ever dreamed of in a man: compassionate, giving, handsome, and with brown eyes Thad feels he could sink into. And Sam can cook! But as the pair's love begins to grow, so do the questions and uncertainties, the main one being, why do Sam's unexplained disappearances always coincide with the full moon?
Prepare yourself for a unique blend of dark suspense and erotic romance with The Blue Moon Cafe, written by the author Unzipped magazine called, "the Stephen King of gay horror." You're guaranteed an unforgettable reading experience, one that skillfully blends the hottest romance with the most chilling terror…

Excerpt:
Sam leaned back against the headboard and lit a cigarette. The room filled with the acrid stench of burning tobacco and paper and instead of being repelled as he normally would be, Thad moved close to Sam again, taking up his newly claimed spot on the man's chest. He stared up at him, watching him smoke. Lazily, he traced circles in the hairy mat covering Sam's chest. His fingers stopped when he caught sight of a design on Sam's left pectoral, something he had hadn't noticed in the dim light or perhaps because it was all but hidden by the forest of hair. Thad got up on one elbow.
"You have a tattoo?"
In the dark, Sam nodded. "I've had it for years, way before tattoos were all the rage like they are these days."
"Especially here in Seattle." Thad often wondered if there was some requirement that all citizens of Seattle must have at least one tattoo. "What's it of?" Thad strained to make out the design's contours in the dim light and couldn't.
Sam leaned forward to switch on the bedside lamp. Thad squinted at the sudden light source, then directed his gaze down at the muscled chest before him. "What is it?" Thad traced the design with his fingers, lowering his head to peer more closely at it. He nipped at Sam's nipple and Sam laughed.
"It's Lupa, the she-wolf who suckled Romulus and Remus, the twins who founded Rome in mythology. Cool, no?" Sam flexed his chest so the wolf seemed to move. Two cherubic twin boys below the figure suckled at her teats.
"It's kind of weird. But it suits you." Thad reached over Sam to turn off the light again.
"What brought you to America?"
Did Thad detect a slight stiffening when he asked the question?…
You can catch up with Rick and his awesome books at any of these links:
He loves to hear from readers. Please feel free to send Rick an E-mail.
I'll be off line for two weeks. Until then…
Happy Writing!
Sloane Taylor
Sweet as Honey…Hotter than Hell