The Write Side of Life
June 19, 2007 | Interviews
ST: Good morning and welcome back. Several people emailed requesting to see the DRAGON IN THE SYSTEM book cover. So here it is: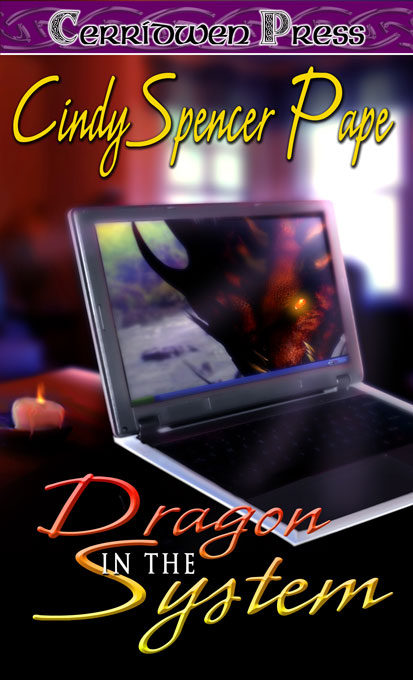 ST: Cindy, what made you decide to be a writer?
CSP: I don't know that it WAS a conscious decision. Like so many other aspects of life it just sort of evolved. Mostly so the voices in my head would have someplace else to talk.
ST: How long have you been writing?
CSP: Seriously, about 7 years. Full-time, since I mucked up my knee last fall, and couldn't work at the nature center anymore.
ST: Do you find writing to be fulfilling? And in what way?
CSP: If I didn't I think I'd be in the wwwrrrrrooongggg business! It's nice to have a creative outlet, to help people find happiness even if they are imaginary.
ST: What's a normal day like for you?
CSP: Define normal. It's not a word I'm familiar with. An optimal day is when I throw the menfolk out the door to school and work, crawl back into bed and get another hour's worth of sleep. Then I get up and write. Somewhere in there I usually shower and eat lunch, then write till the monsters come home. Feed, them, send them off to the teen center, if I'm lucky, and write for another 2 hours till the horde returns. And if you don't believe three is a horde, you've never been around teenage boys! Notice I said this was optimal. In real life pesky things like errands, exercise classes, and housework keep getting in the way of my perfect plan.
ST: With your busy life how do you find time to write?
CSP: By learning to live with a messy house and learning to write on whatever flat surface I can find. I carry a notebook anywhere, and type while I'm watching TV some nights.
ST: Thank you again for your time. See you in the morning?
CSP: Without a doubt. Thanks to everyone who's posted. I appreciate your comments and questions.
ST: Until tomorrow…
Happy Writing,
Sloane
7 Responses to "The Write Side of Life"