Today's the DAY!!!
June 7, 2008 | Contests
French Twist is up for sale!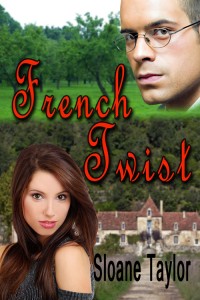 Blurb:
Interpol agent Claudette D'Laquois is on the run. Dull Uncle Paul and his rundown chateau in Nice, France are her only safe haven. She never allowed for a delectable estate manager more threatening than the Russian mob boss who wants her dead.
Three weeks of overseeing the operations on his friend's orchard seems like the ideal vacation to CPA Don Hobbs. It was, until a sex goddess pulls him into a world of drugs and intrigue.
For only $2.95 all 14,000 words are yours!
To celebrate we're having an interesting contest. Here's the info:
Time for Trivia! From June 7th through June 21st a trivia contest will captivate your minds. There are ten random questions about the book. For every questionnaire turned into Phoenix Forrester at prp_phoenix@yahoo.com you will gain five (5) entries into the drawing for a $25.00 Gift Card to Bath and Body Works also a bag of free goodies.
Here's the questionnaire:
1. What did chicks from Marseille have?
2. What did the water running in the tub remind Claudette of?
3. What was Claudette wearing when she met Donald in the hallway?
4. Where did Claudette's old injury come from?
5. How many men were fanned out across the market?
6. What was one creed Solonik lived by?
7. What did Claudette have in her nightstand?
8. What does Donald do for a living?
9. What did Donald point at on the cart?
10. Who was Cesar working for?
11. Why can Claudette no longer be an agent?
You're also invited to join our Launch Party at Eternal Press Readers for the finest and hottest books you'll find on the internet.
Join us for excerpts, PRIZES and more!
We're going strong all day and into the night.
Sloane Taylor
Sweet as Honey…Hotter than Hell