The Queen of Hot is Here
December 5, 2008 | Friends, Holidays
Hi!
My name is Jan Springer and I'd like to wish my good buddy Sloane a very Happy Birthday and to thank her for inviting me to play on her blog today. Thanks, Sloane!
First, I'd like to mention for you to take a peek around our hostess Sloane Taylor's site and check out her hot reads. They are magnificent!
Second, if you are looking for a print book basement bargain price, you may be interested in checking out the new Ellora's Cave website. EC is having a Huge Book Sale of up to 80% off on many of their print books! (They are clearing out their warehouse for more incoming books.) P.S. It may be slow in getting access due to the high volume of buyers so keep trying. And you must also create new member information as with security purposes EC did not forward your info to their new site.
Click here and I do believe some of my prints are also on sale including "Jude and Luke: Outlaw Lovers " which is on for $3.00!!!! Look at the print books section on bottom.
Third, after checking out Sloane's site and the EC books please come back!!! I'll be throwing two contests today and a draw!!
The draw is for you to have a chance to win a free autographed print book of my new Pocket Books release "Bad Girls Have More Fun" and the contests are for my ebooks "Tyler's Woman" and "Christmas Lovers".
Stay tuned…
Draw for one autographed print anthology "Bad Girls Have More Fun".
I just got my print copies of this wonderful Pocket Books – Ellora's Cave anthology that I am in with Arianna Hart and Ann Vremont. My contemporary erotic romance "Sinderella" is in "Bad Girls Have More Fun" and our heroine Ella Cinder is one bad girl if I ever saw one! She was really fun to write about. Sinderella is also available at Ellora's Cave in ebook format.
For this draw all you need to do is sign up for my Jan Springer newsletter. A winner will be announced in my next newsletter which will be going out in a week or so!
Here's a peek at "Bad Girls Have More Fun" now available in your favorite bookstore or at your favorite online store!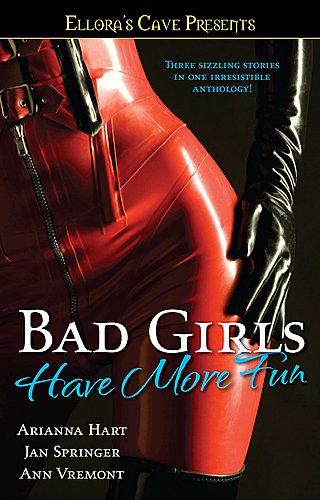 Description
When the ladies in these erotic tales show their naughty sides, the sex gets oh so good….
Arianna Hart
Convince Me
When socialite Sareena Wilton invites gorgeous police officer Brogan Donahue into her lavish apartment to explain how a beautiful but fierce jaguar rescued her from an armed attacker, they share a passionate night of unforgettable sexual adventures.
Jan Springer
Sinderella
Klutzy Ella is a dedicated gynecologist by day, but by night, she becomes a masked vixen in her erotic performances of Cinderella. When Prince Charming stands her up, her sexy colleague Dr. Roarke Stephenson comes to her rescue for one carnal night of hot, blazing sex…in front of an audience.
Ann Vremont
Saturn Unbound
Long fascinated with the polarity of artist Izzy Kirsch's work, deliciously sensual world famous astrologer Maceo di Silvio is sure she is holding back artistically — and sexually. So when he commissions Izzy to paint a mural, he plans to stretch the limits of her wildest fantasies and unlock her deepest desires.
Find out more: Read an excerpt
Pocket, December 2008
Trade Paperback, 304 pages
ISBN-10: 1-4165-7769-6
ISBN-13: 978-1-4165-7769-0
Stay tuned for the Christmas Lovers contest, coming right up!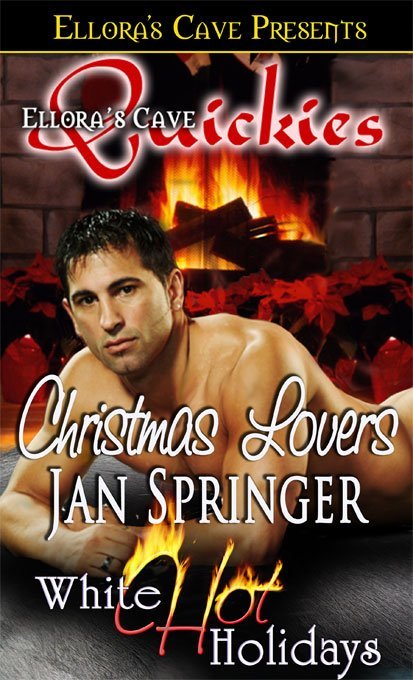 Okay are you ready for a contest? Yes?
Answer the following questions and email me your answers with the heading Christmas Lovers Contest. Deadline is midnight Sunday December 7, 2008.
Join my newsletter. I'll announce the name of the winner for the free download in my next newsletter which is out sometime next week!
You must get the following questions correct in order to qualify to have your name entered for the Christmas Lovers contest.
Here goes – The answers can be found here:
1. What is Kidnap Fantasies Inc?
2. Who gives Sergeant Connor Jordan a gift certificate to Kidnap Fantasies?
3. Which company is Nurse Tangle Sparks part-time employer?
Contest for Tyler's Woman is coming up next!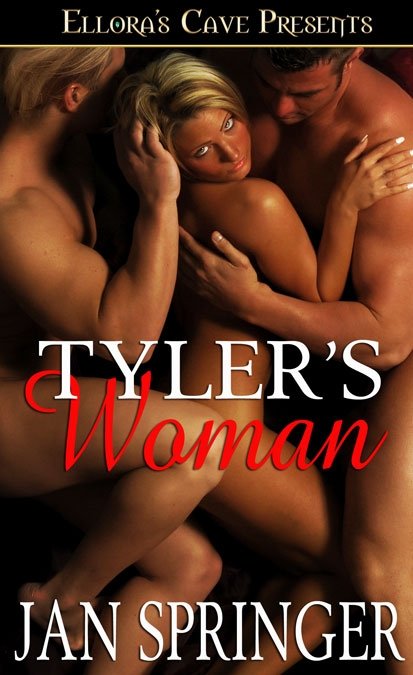 Our next contest is for a free download of Tyler's Woman. Tyler's Woman is a futuristic erotic romance and book four of the Outlaw Lovers series at Ellora's Cave.
Send me the answers to these questions and your name will be entered into the contest. One winner will be announced in my next newsletter – coming out sometime next week!
Deadline is midnight Sunday December 7, 2008.
Here goes…
1. What is Tyler Outlaw's best friends first and last name?
2. What is the name of the law which states women are sexual property claimable by groups of men?
3. What is the name of the Wars that Tyler was believed to be dead?
The answers can be found at this link.
Have fun!!!
Time for me to go. Thanks for dropping by today and entering the contests and draws!! Thank you Sloane for inviting me to play on your blog!! Have yourself a wonderful birthday, girl!
As I wave good bye I just want to mention I have four releases coming in 2009.
Claiming Hannah – Jan. 7, 2009 – Ellora's Cave – Futuristic Romantica (ebook)
Sex: Outlawed! – February, 2009 – Total E Bound – Futuristic Erotica (ebook)
Kiss Me – possibly early 2009 – Ellora's Cave – Romantica Suspense (ebook)
Good Things Come In Threes – July 2009 – Pocket Books (print)
Wishing you all an upcoming Happy Holidays and Happy New Year!!
jan *blowing her party horn*
www.janspringer.com
www.velvetwhispers.blogspot.com/
7 Responses to "The Queen of Hot is Here"