You can never have too much Sole. Linda that is!
December 6, 2008 | Friends, Holidays
Today we have Linda Sole, an amazing author, as our guest. Linda has over 80 published books, most of which are in print, and everyone one a treasure to read. Please give her a warm welcome and be sure to check out Linda's contest shown below.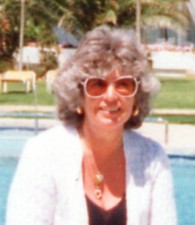 Hello Everyone,
A bit about me, I live in England and write every day of the week, even when I am on holiday in Spain. Sometimes I do just an hour, mainly when I am on holiday, but at other times I will put in a full day. Usually, it is when I am near to completing a book that I put in the extra hours, because I can feel the excitement of seeing a book come to its conclusion. And because I write for three or more publishers, I have to put a lot of hours in to keep up with my contracts!
I am up by about seven most mornings. I have breakfast wearing a bathrobe, catching a bit of the news on TV before coming upstairs to run my bath. I always open my email while the water is running, and when there is a heavy post from one of my groups I sometimes have to run to turn it off – usually too late! After the bath I take a walk to fetch the paper if it is an at-home day rather than a shopping day, and then I get to the computer. I like to write between ten and twenty pages a day – up to about five thousand words on a good day. If I do that I'm shattered when I've finished, because it takes so much out of me.
Some days I finish writing at lunchtime and then I like to sit in the sunroom, perhaps with a book or just talking to my husband. If the weather is nice we often go for a walk together, especially when we are in Spain. Over there I do a lot more walking, swimming and dining out on the sea front. I love people watching! I love the sea too, and we go quite often, perhaps once a week in summer. When I'm in my study I can watch the squirrels jumping through the trees in the wood opposite my window. It makes a break to watch them, and I feed them so they come often to our garden.
I write as Linda Sole for Red Rose Publishing and also in hardback for Severn House. However, I am probably better known for my Anne Herries books, which are usually in the Best Sellers at Amazon and sometimes in The Bookseller. I am quite often reviewed in Booklist, which is a magazine for libraries and publishers.
Cassie's Sheikh, Chateau Despair and A Kind of Loving, all Linda Sole books will soon be in paperback with Red Rose Publishing. There are many more books to discover at my website, including the popular Upstairs/Downstairs series. You can find more information on my books at www.lindasole.co.uk
I am offering a bonus prize for one lucky winner who sends me a cover from an Anne Herries book – the prize is an ebook, winner's choice of several. I will choose from whoever sends in to linda@lindasole.co.uk
You can find more information on my books and about me at www.lindasole.co.uk
~~~~~~~~~~~~~~~~~~~~~~~~~~~~~~~~~~~~~~~~~
CASSIE'S SHEIKH
by Linda Sole
Red Rose Publishing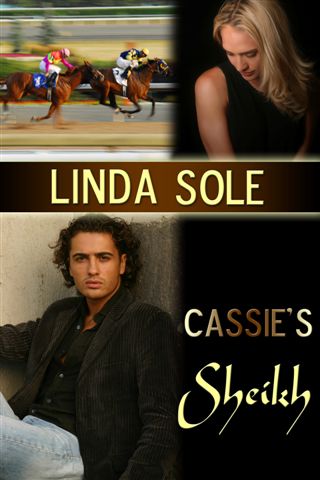 BLURB:
Will the preconceived notions and stereotypes keep them apart or do opposites really attract?
Kasim has heard about a writer he thinks writes for a filthy rag, as he calls magazines that do personal stories. When he discovers that the daughter of the trainer his uncle is intending to use for his horses at Newmarket is that writer, he is scornful.
Cassie tries to persuade him she is fit to take over as a temporary trainer when her father needs time off for illness, but she isn't prepared for the love/hate relationship between them.
Can she convince Kasim that she isn't what he thinks – and can they overcome the differences between them?
~~~~~~~~~~~~~~~~~~~~~~~~~~~~~~~~~~~~~~~~~
LOVE IS NOT ENOUGH
by Anne Herries
Published by Severn House
ISBN Number: 978-0727855946
Available from Amazon UK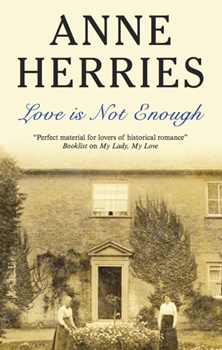 BLURB:
1913. Beautiful but spiteful Marianne Trenwith has everything her younger sister, Sarah, wants, including the dashing Troy Pelham. But in a fit of petulance Marianne breaks of her engagement, much to Troy's relief and her family's mortification. As Lady Trenwith says, nobody likes a jilter, and Mariannes future, once so rosy, now looks bleak. As sarah and Troy's friendship blossoms, Marianne warns her sister that a match will never be permitted and their parents will do anything to avoid a scandal. But with the war clouds gathering and women's emancipation taking root, Sarah senses time is precious; how can social conventions be more important than the man she loves, soon to begin officer training?
~~~~~~~~~~~~~~~~~~~~~~~~~~~~~~~~~~~~~~~~~
A SHAMEFUL SECRET
by Anne Ireland
ISBN: 978-1-934475-41-6 (ebook)
ISBN: 978-1-934475-56-0 (print)
Amira Press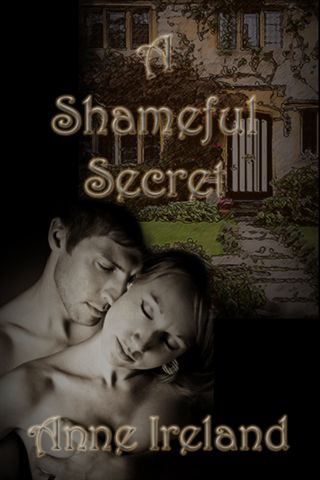 BLURB:
When Hester was young she was seduced by a man she believed loved her, but he left her and she discovered that she was with child. In the nineteenth century this was shocking and her parents sent her away to have the child, which Hester was told died soon after it was born. Hester has been subjected to humiliation by her family ever since. However, things begin to change when her aunt begs for her company on a visit to Bath.
~~~~~~~~~~~~~~~~~~~~~~~~~~~~~~~~~~~~~~~~~
SONG OF THE MOUNTAINS
By Anne Ireland/Linda Sole
Eternal Press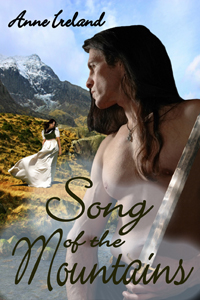 EXCERPT:
They were swimming towards her, racing each other and calling out excitedly in the way young men will, reminding Morwenna of her young brothers who sometimes swam in the lake near her home at Bala. As they came nearer, she saw their shoulders were naked and realised they must have removed much of their clothing before plunging into the water. One of them had reached the bank a short distance from where she was sitting. He had not seen her because of the reed bed that partially obscured her and them.
She had a clear view of the man, who hauled himself from the river and stood shaking his long hair like a hound, the droplets sparkling in the sunshine as they flew around him. He was completely naked. His strong, muscled body open to her curious gaze as he stood laughing at his friend, clearly unashamed of his unclothed state and pleased to have won his race.
He was beautiful! Morwenna drank in the sight of his power and grace. The colour of his skin seeming to indicate this was not the first time it had been exposed to the elements, gleaming wetly like pale copper in the sun's rays.
Song Of The Mountains is my latest book as Anne Ireland from Eternal Press. I have two others with eternal Press : Too Hot To Handle/Linda Sole and Trial by Fire/Anne Ireland.
I love to hear from my readers, so do visit my website and enter the contests or write to me.
Best Wishes,
Linda
www.lindasole.co.uk
7 Responses to "You can never have too much Sole. Linda that is!"