A Writer's Life
December 7, 2008 | Friends, Holidays
So ever wonder what a writer's life was like. Well let me tell you, it's great.  Only thing is when the writing life is great, the real life sucks LOL
What do I mean by this you ask? Well the day I fond out my book Bare Bones was going print, I also found out my landlord was entering my apartment to snoop around back home. (Yes I was at the mine site while all this was happening and couldn't do anything to stop it.)
So while I should be excitedly promoting my buns off, I am packing to move. Ever try packing to move kowing you have to leave for work until christmas eve? Anyway the important thing here is that my Book is going print! Woooohooooooo
So without further ado, here is a little on my book….Bare Bones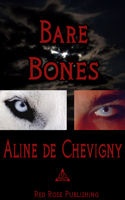 Bare Bones Blurb
On the run from the Lycan who turned him during the full moon on All Hallows Eve, Christian Clarke isn't happy when he finds Joanna wandering through the woods searching for him. His inner wolf refuses to leave her side, yet his inner man wishes to keep her at arm's length for fear that he won't be able to control his inner demons.
Hearing her whispered profession of love, he reveals himself. Can he keep her safe from the pack that hunts him? Will Joanna love the beast he's become?
Excerpt :
Throwing Joanna over his shoulder, he moved quickly and stealthily through the trees. It wasn't hard avoiding Cain and his men. Despite his many years as a werewolf, the man still couldn't walk through the forest when in human form without sounding like elephant in heat. Just because Cain had never added a woman to the pack, didn't mean he never would and once he set eyes on Joanna it would be a fight to the death to keep her out of his hands. It still might…
Entering his cabin, he quickly bolted the door before taking Joanna into the back room and laying her on the bed. Standing back, he looked her over, running his eyes over every inch of her body like a man dying of thirst. She was still beautiful; nothing would ever change that. But she looked tired and worn. That wasn't normal for her. Her long, raven colored tresses were tied loosely in a ponytail, strands escaping from the ribbon messily. She looked wild, free, and never more beautiful. Her skin was pale and she looked thinner than the last time he saw her. He hated seeing her this way; he liked her curves.
Joanna stirred as a shiver passed through her. Reacting instinctively, Christian fetched a blanket from the closet and gently covered her with it. "What do I do with you now, my dear Joanna? I can't let you leave, not while Cain is out there hunting me. He'd take one look at your beauty and snatch you away for himself. Then I'd have to kill him for touching you."
A barely legible murmur escaped her lips, pulling a smile from his lips. There were some advantages to be a Lycan. He heard every deliciously whispered word. No, he couldn't let her leave; only now his reasons weren't so unselfish. He wanted to keep her for himself, lose himself in her arms, and lips. Christian finally understood what his subconscious had been trying to tell him for the past year, that he needed her. She was his sanity, the thing that kept him holding on.
Reviews:
Dog Wild Blog Spot Review
Another quick story, but in the shape-shifter genre, was offered up by Aline de Chevigny in Bare Bones. Joanna didn't realize she'd lost the true love of her life until he disappeared. On the one-year anniversary of his disappearance she feels compelled to try to find Christian one last time… These are two people who know each other, are comfortable with one another and are taking that last step to cementing their bond with each other, for a short story it accomplishes a lot.
To see review: http://dogwild.blogspot.com/2007/12/more-reviews.html
Romance Junkies Reviews: Blue Ribbon Rating: 5.0 Recommended Read
     Ms. De Chevigny has a masterpiece in BARE BONES.  It captivated me from start to finish.  I longed to be Joanna despite the possible danger.  Christian is the perfect alpha wolf, everything a woman dreams of.  It was a page turner.  I had to discover everything I could about Christian.  Rich scenery, heated intervals and a love to die for makes a perfect romantic dream.  This book has it all.
To read full review: http://romancejunkiesreviews.com/artman/publish/paranormal/Bare_Bones.shtml
Red Roses for Authors Reviews: 4 Red Roses
     This was a fun book to read. The characters were very engrossing. This is a short story that is very entertaining.
To read full review: http://redrosesforauthors.blogspot.com/2008/04/bare-bones.html
Two Lips Reviews: 4.5 lips
In Bare Bones, Aline de Chevigny spins a wonderful short story of a love that lasts through time, even when threatened by regret and horror. Christian's love for Joanna has kept him forest-bound, fearful of doing her harm. When Cain and his pack threaten her, Christian knows he will fight to the death to keep her safe. This is a very hot little read, that will leave readers applauding!
For Full Review: http://www.twolipsreviews.com/content/index.php?option=com_content&task=view&id=3039&Itemid=36
Bitten By Books Review: 3.5 Tombstones
The two main characters interacted well but it all came together a little too neatly for my taste. I've read other things by Aline de Chevigny and enjoyed them and will continue to read her writing, but this one just wasn't for me.
For Full Review: http://bittenbybooks.com/?p=395
The Romance Studio Review: 4 Hearts
Aline de Chevigny has written a rather light hearted story of friends who have known each other for twenty years finally admitting to the love between them. The dialogue is often tongue in cheek funny.
For Full Review: http://theromancestudio.com/reviews/reviews/barebonesdechevigny.htm
Happy Holidays!
Aline de Chevigny
www.alinedechevigny.com
4 Responses to "A Writer's Life"