The Tempting World of Lena Austin
December 17, 2008 | Cooking, Holidays
Today we have the incomparable Lena Austin who is a "fallen" society wench with a checkered past. She has been a licensed minister, hairdresser, and realtor, radio DJ, exotic dancer, telephone service tech, live-steel medievalist swordswoman, BDSM Mistress, and investment property manager. Not necessarily in that order.
She never finished that degree in archaeology, but did learn to scuba. After a life like that, gardening is pretty restful. Of herself, Lena writes, "I'm tall, presently red-haired, and I look like an unholy mating between an Amazon and a librarian." But she sure can cook!
Here are two of Lena's Holiday favorites to tease your sweet tooth:
Eggnog Truffles
Source: 2006 Yearbook at http://www.Wilton.com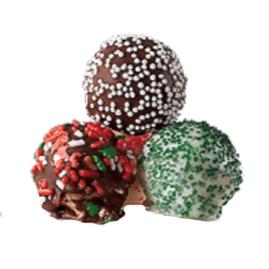 Ingredients:
• 1 pkg (14 oz.) White Candy Melts® coarsely chopped
• Dark Cocoa Candy Melts® melted, or
• Light Cocoa Candy Melts® melted, or
• White Candy Melts®
• 1/4 cup prepared eggnog
• 1/4 cup heavy whipping cream
• 1/4 teaspoon nutmeg ground (Freshly grated is best)
• Christmas Sprinkles Assortment
In microwave safe container or on top of stove, melt Candy Melts with eggnog and cream. Stir in nutmeg. Pour into shallow pan. Refrigerate 1-2 hours or overnight until firm but pliable. Roll into 1-inch balls. Dip into melted candy; roll in sprinkles.
Makes: Each truffle serves 1. Makes about 5 dozen candies.
Red Velvet Cheesecake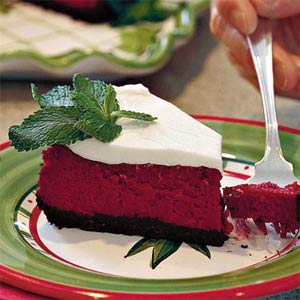 For the Crust:
1 ½ cups chocolate graham cracker crumbs
¼ cup butter, melted
1 TBSP granulated sugar
For the Filling:
3 (8 ounce) packages cream cheese, at room temperature
1 ½ cups granulated sugar
4 large eggs, lightly beaten
3 TBSP unsweetened cocoa
1 cup sour cream
½ cup whole buttermilk
2 tsp vanilla extract
1 tsp distilled white vinegar
2 (1 oz) bottles red food coloring
For the Topping:
1 (3 ounce) package cream cheese, at room temperature
¼ cup butter, at room temperature
2 cups powdered sugar
1 tsp vanilla extract
For the Crust:
Stir together graham cracker crumbs, melted butter and 1 TBSP sugar; press mixture onto bottom of a 9-inch spring form pan.
For the Filling:
Beat together cream cheese and sugar at medium low speed with an electric mixer 1 minute.
Add eggs, unsweetened cocoa, sour cream, buttermilk, vanilla extract, vinegar and food coloring. Mix on low speed just until fully combined.
Pour batter into prepared pan.
Bake at 325F for 10 minutes, reduce heat to 300F, and bake for 1 hour and 15 minutes or until center is firm.
Run knife along outer edge of cheese. Turn oven off and let cheesecake stand in oven 30 minutes.
Remove cheesecake from oven; cool in pan on a wire rack for 30 m minutes.
Cover and chill for 8 hours.
For the topping:
Beat cream cheese and butter at medium speed with an electric mixer until smooth; gradually add powdered sugar and vanilla, beating until smooth.
Remove cheesecake from refrigerator and spread topping evenly over top of cheesecake.
Remove sides of spring form. Garnish if desired.
Source: Southern Living Christmas Cookbook
While you're indulging yourself with these tasty treats cruise on over to Lena's website for more great recipes and a look at her soon to be released YULE FIRE from Aspen Mountain Press.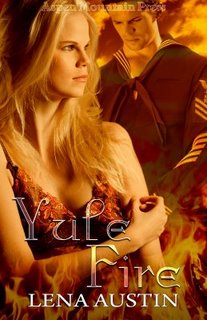 BLURB:
Belle is hiding her multi-millionaire preschooler from the press. Jacques is hiding his business dealings and playing the reluctant war hero Belle must host as a promo stunt for her magazine. All they both want is a quiet holiday season in each other's arms, but not if Belle's obnoxious boss has his way.
What are a witch and a war hero to do but become co-conspirators, determined to have a little food and fun with no strings attached? But Someone else has plans for them both that go beyond the holiday season.
Lena Austin
http://lenaaustin.com/
http://depravedduchess.blogspot.com/
7 Responses to "The Tempting World of Lena Austin"