Romancing the West
December 18, 2008 | Friends, Holidays
Hi Everyone, I'm Rita Karnopp and I live in Montana!
First, thank you Sloane, for inviting me to share with you at your Christmas/Happy Birthday celebration bash! So now we know why you're such a happy lady! Born the month of our Lord… how blessed you are! Happy Birthday to you!
It's great to have this time of year to take time to be grateful for all our blessings, and to reaffirm our passion for our Lord. Life gets busier every year and, if you're like me, I am buzzing around to and from and it takes Christmas to make me stop for a moment and realize I am so blessed.
This year in particular has been a barn-burner (please excuse the cliché'…I know we're all tired of them!) giggle. From November of 2007 thru January of 2009 I'll have released 7 … yes SEVEN… books. Talk about blessed.
Here's a little information on my work;
SACRED GROUND
Romantic Suspense
Released Nov. '07
Eternal Press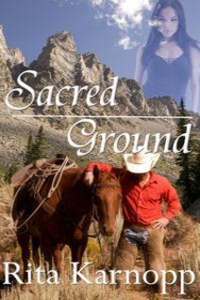 Someone wants Brett Turner's land badly enough to sabotage him, and he knows just who the culprit is: his neighbor, Willow Howling Moon. They don't see eye-to-eye on anything. When their sons, who are best friends, run away into the mountains just before a blizzard hits, Willow and Brett have no choice but to go after them—together.
In the course of the rescue, they discover an unexpected and unwelcome mutual love. The realization that both their lives are in danger finally convinces him she's not his enemy.
This heartwarming love story is set in Montana
WIND SONG
Indian Historical
Released Jan. '08
Eternal Press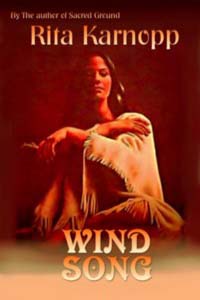 In 1855, the Great Spirit sends Leota, a psychic Blackfoot woman, on a mission to convince Chief Lame Bull not to sign a treaty. If she fails, the white man's government will steal all that belongs to the Blackfeet Nation.
Lawyer Marsh Pepperhorn comes west to join his family and finds them murdered, except for his mouthy nephew Tanner, who's bent on revenge. Chasing the killers into the Mountains fo the Bear's Paw, Montana Territory, their paths cross Leota.
Although Marsh and Leota distrust each on sight, they work together to save an injured Tanner's life. As they face hardships and challenges, an unlikely romance blossoms between them. When traders abduct Leota, Marsh must track them down and bring the men to justice—or lose the woman he loves.
A sweeping tale of a changing culture, survival, discovery, adventure, and romance—Wind Song has it all.
DARK SPIRIT
Romantic Suspense
Released Mar. '08
Eternal Press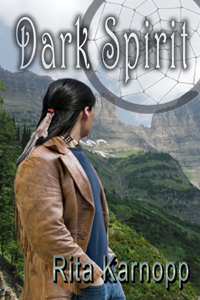 In'is'kim is infamous for his knowledge of his Blackfeet people and his lectures are sought internationally. But success is not the problem, keeping a step ahead of a serial killer is. At each speaking location a woman is murdered, leaving a grizzly trail pointing directly at him. With the police zeroing in on him, In'is'kim doesn't have much time left to unravel the clues left by the murderer.
Skyler receives a Native American medicine card and is convinced her match-making sister is responsible for the sudden appearance of In'is'kim. It doesn't take long for Skyler to realize there is something more sinister and frightening going on. She not only struggles against her attraction to this incredibly handsome man, but also strives to believe his innocence. Each time she is attacked In'is'kim is no where around. Is it coincidence, or is this enigmatic stranger not everything he appears to be?
RANSOM LOVE
Indian Historical
Released Aug. '08
Eternal Press
Montana Territory-1868. Four years captive of the Blackfeet, Jennie Proctor must decide whether to trust the handsome white man who has come to rescue her, or spend the rest of her life a Blackfeet. Cody Larimer has one goal in life, to rescue captive women from Indians. They struggle together to survive and form a mutual respect that soon turns into love, something neither believed possible
REVENGE
Suspense
Released Nov. '08
Eternal Press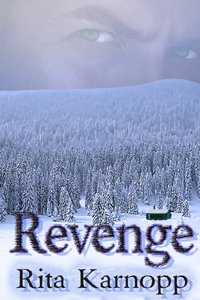 Is someone trying to kill Abi Madden and her infant daughter? Is that someone her soon to be ex-husband? Who is he mixed up with and how does it involve her? Abi takes her daughter and flees to Canada with Detective Miles Sandler. They are shot at, stalked, and fight for their lives in a raging snow storm. It doesn't take Abi long to realize her heart isn't all that's saved either. Is Miles too good to be true? Before she can think about another man in her life, she must protect her daughter and uncover why someone wants them dead.
KIDNAPPED
Romantic Suspense
Releases Jan. '09
Eternal Press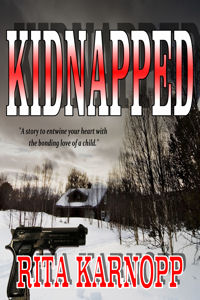 Laura and Aaron Palmer's marriage is over, yet they adopt six month old Amie. Life takes an ugly turn when they learn their daughter has been an abducted child from Chicago. Searching for the truth, they find themselves caught up in a web of deception, child stealing, and danger. Their marriage teeters on a fine line while they struggle for the truth and fight to stay alive. They find love, and only pray it's not too late. This story entwines your heart with the bonding love of a child.
WHISPERING SUN
Indian Historical
released May '08
Unical Press

Sarah Bryson's silent world is destroyed when her so-called fiancé has her kidnapped to prevent his unmasking as a gun-runner. After surviving a massacre, she is rescued by Two Shadows, a Blackfeet warrior with a secret life. But in order to reach the safety of his village, they must confront wild animals, ruthless mountain men, treacherous mountain storms and Crow Indians bent on revenge.
Sarah seeks her true identity as a woman, while Two Shadows' struggles with loyalties divided between his love for a white woman and his devotion to his tribe, as they as facing the destruction of their traditional way of life.
Treachery, betrayal, and lies are greater enemies to Sarah and Two Shadows than either the Indians who resent her or the whites who seek to destroy him. Only when they face the truth about who they really are will their love have a chance.
If you ask me if I'd ever do that again….I wouldn't hesitate to answer, "Not on your life!" I no soon finished the work and advertising on one book – and it was time to get working on the next! No, I didn't write all 7 books this year…hope that makes you feel better. I had them written, but did do re-writes before sending them to my editor. Then I did the usual corrections and errata's.
I'm presently working on an Indian futuristic novel, WHITE BERRY ON THE RED WILLOW.
As predicted in the Ghost Dance Vision, life has come full circle in 2029. The Blackfeet now control Yellowstone National Park, where the buffalo have multiplied, as have the people themselves. Before her mother dies of Quake Fever, which is killing thousands outside the Indian lands each day, pure white, Doctor Alcina Hancock struggles to find a cure. Thrust into the world of the Indians, she not only discovers what she needs to save her people, but also herself. Ekuskini, son of the Blackfeet chief, revels in the demise of the non-Indian. Then he meets Alcina and finds himself searching the old ones for the answers. Together Alcina and Ekuskini realize they must learn from the past and use it to make things better for the future of all people.
I'm very excited about this story, since it's one of my personal favorites. Of course, all my books are personal favorites ~ choosing among them would be like picking a favorite child.
I hope you check me out, join my myspace and visit me any time at ritaritr.com or feel free to email me (comments about my books are always welcome) at ritakarnopp@bresnan.net
May your New Year be filled with success and many happy memories!
Rita Karnopp
'Romancing the West"
www.ritaritr.com
Covey Award – Best book cover for Dark Spirit
"Those who bring sunshine to the lives of others . . . .
cannot keep it from themselves."
5 Responses to "Romancing the West"