Christmas in the Homeland
December 20, 2008 | Cooking, Friends, Holidays
That's the UK Homeland *lol*. I'm Clare London and I live in London, England, and always have done. I was born on the South coast at Brighton, moved to Surrey when I was 10 and have lived hereabouts ever since.
The familiarity of Christmas is both a delight and a burden, I find.

On the one hand, I love the way all our tree ornaments have a history to them. I love the way the kids expect things to happen at the same time, in the same place as every year since they were born. And I love the glitter and lights that spring up everywhere to celebrate, even if it seems to happen earlier every year.
But on the other hand, we can't suggest going somewhere warm for Christmas to our children – we can't suggest going *anywhere* different. I only weaned everyone off Midnight Mass a few years ago, when it stopped being either fun or a religious pleasure. And every year, Hubby suggests we eat something different, as he enjoys cooking new dishes – but you can imagine how that's greeted!
This year, however, there *will* be changes.
My sister is visiting friends in South Africa. She's been before, and she gets distraught at the thought of not being here for Christmas Day itself, but we manage quite happily, just celebrating on a much lower key and having a *second* Christmas in the New Year when she gets back.
The kids are older – Son#1 will be carousing his way through the season with his own friends now he's adult, and Son#2 is attending a drama course, at the end of which they'll put on a Christmas play for us all.
And Mother-in-law has said she can't face cooking the mince pies for us all. So I'm doing them! Maybe my Pastry Hands have learned new skills over the years (or maybe I'll buy some *LOL*).
We start celebrations on Christmas Eve – I'm working up until lunch time.
Then the local church has a children's celebration in the afternoon, where they all run up and down the aisle with tea cloths over their heads, playing 'shepherd', and attempt to set fire to their siblings with the lighted Christingle oranges, while we adults valiantly sing Little Donkey (not without the odd tear, I must say). Son#2 will be singing solo with a couple of friends, so for me the hanky will come out yet again.
On Christmas Day we'll go to Mass in the morning, then over to my mother and stepfather's for late lunch.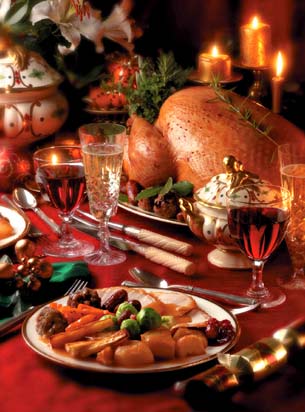 It'll be roast turkey of course, and maybe roasted ham as well. Son#2 likes the cocktail sausages wrapped in bacon that are placed around it as it cooks: Son#1 is permanently hungry so he'll just inhale the stuff as fast as we can get it on the plate. Serve up with roast potatoes – maybe mashed as well – beans, carrots and brussel sprouts. Thick gravy with the meat juices (Hubby's speciality), and with sides of bread sauce and cranberry sauce. Dessert is Christmas pudding, covered in brandy which Son#1 sets alight and we all take cover. Then it's served up with either custard or cream and/or brandy butter.

Hopefully we're all finished in time to watch the Queen's speech on TV at 3pm, then we lie around like beached whales discussing whether or not she looks good in green, moaning how there's never anything good on TV at Christmas, and mourning the passing of the Morecambe and Wise Christmas Show. We'll end up watching the Sound of Music for the umpteenth time, then when lunch has settled, eat cold turkey sandwiches (my favourite) and eat (hopefully) my mince pies. And – for those who don't like mincemeat, like ME – I'll have made some little apple pies too.
I will, of course, be online for most of the time, whether surfing the net or writing *lol*. Visit my four Christmas stories if you get a chance, on Sloane's blog Dec 4, and on my website as below.
And a very happy, healthy and harmonious Holiday to you all, whatever or however you get through the season.
Clare London, Author
Writing… Man to Man
http://www.darkpearldiva.com
http://www.myspace.com/clarelondon
http://claredivatoo.livejournal.com/
7 Responses to "Christmas in the Homeland"