Christmas At Our house
December 21, 2008 | Holidays
Linda Sole here from Merry England to share a bit of tradition with you.
We used to go out on several days over Christmas but now we visit friends and family beforehand and have a traditional Christmas dinner at home. Turkey and roast potatoes and all the trimmings. Instead of plum pudding and brandy butter we mostly go for something lighter like a mousse. Over the holiday we will have sherry trifle, mince pies, various cakes – including a cauiflower cake (marzipan replica) and lots of fancy chocs to pick at, as well as sausage rolls and pickles.  We have wine with lunch but we're not big drinkers. 
I like to make almond tarts or mince pies with almond on top.  For these you need:
Shortcrust pastry
Strawberry jam or mincemeat
Ground almonds
Almond essence (which is extract in the USA)
One to two eggs.
Line your tart tins with pastry. Spread with jam or fill with mincemeat. Mix ground almonds, essence and eggs to a stiff paste and spread on top.  Bake at 350 US until pastry is ready – from 15 – 25 minutes depending on size. Delicious warm!
While you're baking the tarts you might enjoy a good read.
A DIFFERENT KIND OF JUSTICE
A Sarah Beaufort 1920s Mystery
Published by: Severn House
ISBN Number: 978-0727866080
Available from: www.Amazon.co.uk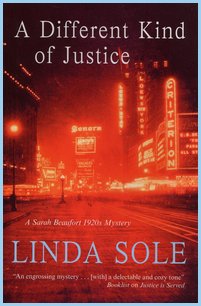 EXCERPT:
While visiting her estranged mother in prohibition New York, a series of so-called 'Playboy Murders' grab Sarah Beaufort's attention. But harsh experience has taught Sarah to leave the investigations to the professionals. When her mother's maid, Morna, disappears and her date is found brutally murdered in a house of ill repute, sarah can't help but become involved. With ex-Scotland Yarder and old friend Ben Marshall in town, and childhood pal Larch Meadows on his way, it seems the gang are back together again. But preoccupied with the hunt for Morna and re-hearsals for her latest job on board a crusie ship, little does Sarah suspect that the Playboy Killer is still in business, and that she her-self has become the object of hia attention…
On the morning we get up at about our usual time to prepare lunch, have breakfast and open the presents. All gifts are kept under the tree until this moment and we open them together.  The rest of the day we listen to carols and watch TV. Just a quiet Christmas at home.
Happy Christmas, Everyone,
Linda Sole
http://www.lindasole.co.uk/
3 Responses to "Christmas At Our house"
Sloane Says:


Thank you for coming out today, Linda. Love your traditions and the tart recipe looks DEELICIOUS!

A Very Merry Christmas to you and your dear hubby!!

On December 21st, 2008 at 11:04 am
Clare London Says:


Hi Linda! Cauliflower cake?! That sounds fascinating! (though I'm assuming it's just a fun name?!). Mind you, I don't like nuts of any kind, nor almond flavouring, so I'll just admire your recipes from afar.

Have a wonderful Christmas, and I'll look forward to catching up with you in the New Year!
^___^

On December 21st, 2008 at 2:08 pm
MC Halliday Says:


Happy Christmas, Linda!!

I adore almond tarts, my favourite is made with raspberry jam.

On December 21st, 2008 at 6:00 pm