Christmas Day with MC Halliday
December 24, 2008 | Cooking, Holidays
Many thanks to Sloane Taylor, a great friend and ab fab author, for inviting me to share in this most special of days, Christmas Eve.
Gathered here are my traditions and photos of an English Christmas in Canada.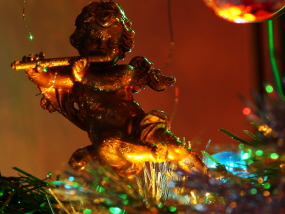 Gifts with Morning Champers
Upon rising, the stuffing is prepared with much chopping and sautéing to get the goose or buttered turkey in the oven before gift opening begins.
Once the bird is stowed, a nicely chilled sparkling wine is popped and poured as we sit around the tree. Several bottles are kept perfectly chilled on the back step to the garden, ensuring glasses are topped up as prezzies are opened. Everyone takes a turn and gifts passed around for viewing.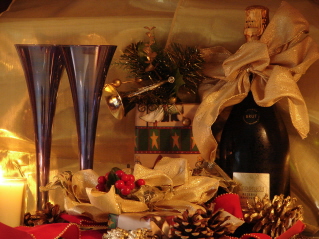 After paper and ribbon are collected into the recycle bin and with gifts spread about the front room, it's time for:
Games, Nibbles and Drinks
Charades are lots of fun for everyone and can be enjoyed by youngsters as well. Board and card games are then brought out and the whole party joins in or we separate into groups of fewer players. Some of our favourites are Mad Gab and Pictionary for group participation; Clue, Monopoly and Trivial Pursuit for four players each; Yahtzee, Cribbage and Uno for two players.
Nibbles are best made ahead and even better, if easy-peasy start to finish. These Cheese Pennies are one of my favourites. A savory bite-size delight fresh from the oven, they are excellent served with any unsweetened drink and will disappear very quickly.
Cheese Pennies
1 stick (1/2 cup) butter, softened
¾ lb Old Cheddar, grated
1 large egg yolk
1 cup all-purpose flour
½ teaspoon hot mustard powder
¼ teaspoon salt
In a food processor, combine the butter and egg yolk until smooth and creamy. Add the grated cheese and blend well; cheese does not have to be completely incorporated into mixture.
Stir the salt, mustard and flour together until evenly blended.
Add the dry mix to the food processor in one go, clean the sides of the bowl and pulse just until the dough comes together to form a ball. Dough will be very soft; try not to over process or handle too much, as the delicacy of the penny will be compromised.
Ready two sheets of parchment paper. Divide the dough in half, placing each piece on a parchment. Working with one half, gently nudge the dough into a log about an inch to an inch and a half thick, using the parchment paper.
Wrap the log in the parchment and then in plastic wrap: refrigerate for a minimum of 4 hours. The logs can be kept up to one week in the fridge or three months in the freezer!
When ready to serve, preheat the oven to 350 F.
Line a baking tray with parchment paper. Remove logs from the refrigerator or freezer and unwrap. Slice into ¼ inch pieces and arrange on lined baking tray. No need to worry about crowding as the pennies don't expand much. The longer time is for frozen pennies.
Bake until golden, about 10-13 minutes. Makes about 100 pennies.
Serve slightly warm.
And a few hours later, everyone is ready for:
Christmas Lunch with Crackers and Paper Crowns!
In England, it's called Christmas Lunch as it is usually served by early afternoon but the traditional dinner can be served at any time, according to games in progress or the amount of treats and drinks served beforehand…or the timing of the bird.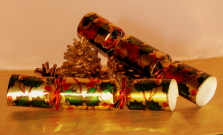 A Christmas Cracker is positioned at each place setting and upon taking a seat at the table, the crackers are pulled with the assistance of a nearby participant. Oohs and aahs are voiced according to the 'crack', as the snap is absent if the cracker is not held firmly at the twist.
Cracking is best done before plates are laden as the contents of the cracker may end up in your dinner…there are jokes or riddles, small prizes and a paper crown. Colours usually vary from bright pink to blue, orange to yellow, purple and red. My cousin Katie is pictured here in a fabulous gold crown.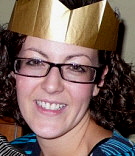 Hats donned, we help ourselves to a platter of sliced goose, a massive bowl of sage and onion stuffing, a covered dish of tender brussell sprouts and glorious oven roasted parsnip and potatoes. A good portion of thick gravy is poured over all, by me at the least.
During the gorgeous meal, riddles are shared and the wee prizes from the crackers displayed: flashlights, key chains, glass charms, tiny roller ball games, plastic insects (much loved by small boys), teeny packs of playing cards and so much more. Gads of fun!
Then for afters, steamed Plum Pudding! Ever on the Christmas menu, I never make this lush stodgy dessert as there are so many excellent puddings available. However, I will suggest plum pudding be served with either clotted cream or vanilla ice cream, as it's much too rich on its own.
Once the dishes have been cleared, everyone seeks out a place for:
Reading, napping or viewing
Movies are slipped in the DVD players as others take to a comfy chair with a new book. And on this special eve before Christmas, I am feeling especially blessed and grateful as my Medieval Fantasy Romance The King's Daughter is to be released in print in a few days. On December 30th, it can be ordered at all good bookshops or online everywhere!
THE KING'S DAUGHTER
Samhain Publishing
ISBN 978-1605040240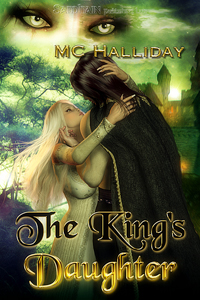 BLURB:
It is the year 997 AD, in a country broken by warring clans, led by
kings.
The secluded, protected daughter of the King of Munster, Magaith,
must wed a king in a pact of peace and renounce her true love. But
naught is what it seems for sinister plots and deception abound. Thus
begins a journey of discovery as Magaith is introduced to enchanted
beings and animals, spells and powers.
At the heart of her destiny lies the salvation of Eire. Yet, as
Magaith battles the forces of evil, her beloved knight is marked to
die – a dark wizard covets her and will see all dead – if they dare
stand in his path to be High King, with Magaith as his wife.
REVIEWS:
Bestowed with the ultimate 5 Red Roses from Red Roses for Authors
and
Awarded 'Outstanding Read' by Simply Romance Reviews:
The King's Daughter by MC Halliday is a very well-crafted story of what happens when a young woman is sent away to another kingdom and told to marry for her country's sake, even though what her heart wills would lead her elsewhere. As the book takes place in Eire, the requisite witches and magic are added with what seems to be a very vivid flair to make the story even more breathtaking and exciting…Ms. Halliday is very adept at combining real with otherworldly characters to create an interesting story, with a happy ending for all. I found this book to be very entertaining, definitely an enjoyable read!
Wishing everyone a most glorious celebration, whether shared with family and friends or away from home and perhaps, alone. As times are troubled the world over and many are weary from worry, truly we are in need of heartfelt joy and a wee bit of celebration.
May love and peace be yours, now and through the coming year.
MC Halliday
http://members.shaw.ca/mchalliday
12 Responses to "Christmas Day with MC Halliday"