An Aussie Christmas
December 23, 2008 | Cooking, Holidays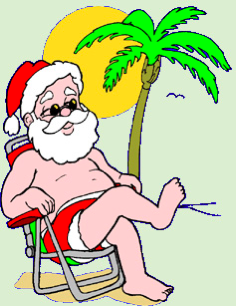 G'Day Everyone, it's me, Maggie Nash waving to you from Australia!
People in the northern hemisphere often find it hard to relate to Christmas in the great south land. Summer isn't something you northerners identify with carols, eggnog, roast turkey and tinsel. Well, I'm here to tell you we love our Christmas here in Aussieland…and we remember that the first Christmas was actually in a hot arid country so celebrating in the hot weather isn't all that strange. Okay, so seeing poor Santa swelter in that heavy red suit and beard in the heat is a little weird I guess, but hey, we watch TV…we see how you guys do it! We don't want to be left out….LOL…
To be honest the traditions here are changing. It has a lot to do with our climate, and a lot to do with our multicultural country. As a child I lived in a society where most people were of a European background. Hence we celebrated much like a family from England or from the USA…minus the snow of course. Now we are a more eclectic society. Our neighbours are from Thailand, Vietnam, Malaysia, Indonesia, Hong Kong….plus we still have our Irish, English and European heritage. It's quite a melting pot really.
So now we combine our traditions. We might have lobster and prawns, and then plum pudding. Some still have turkey and ham and all the trimmings. Some have a barbeque on the beach. Anything goes.
What doesn't change is that it's bl**dy hot! So I try to have something cooling but still Christmassy enough to be a special occasion.
Here is my recipe for Ice Cream Christmas Pudding. It's absolutely delicious, if I say so myself.:)
Ingredients
1 litre tub of chocolate ice cream
500g mixed dried fruit
100 g glace cherries (optional)
100g choc bits
25 mls brandy or rum
500g good quality choc buttons (dark or milk)
250g white chocolate buttons
sprig of holly to decorate
Method
Leave the chocolate ice cream out to soften until it is able to be stirred.
In another bowl, combine the fruit and cherries. Leave aside
Line a pudding bowl with clear plastic wrap.
Melt the chocolate buttons ( in a double boiler, or microwave)
Add a small amount of the brandy or rum to the chocolate and stir. It now becomes hard, in a play dough sort of texture.
Put the chocolate mixture into the prepared pudding bowl and mould it around the sides until you have completely lined the bowl with the chocolate. Place it in the freezer for a few minutes.
Mix the fruit and the choc bits into the ice cream and pour it into the pudding bowl over the chocolate lining. Bring the cling wrap back over the top and wrap.
Place the bowl in the freezer and let it refreeze. Preferably overnight, but at least 4 hours.
To serve, pull the pudding out of the bowl with the plastic wrap. Up end it onto a serving plate. Melt the white chocolate and pour it over the frozen pudding and it will harden. It looks like custard.
Decorate with a sprig of holly…and voila!
Christmas pudding Aussie style.
And if you want to get a look at what some sexy Aussies get up to all over the country, then go out and buy yourself a copy of BOYS DOWN UNDER!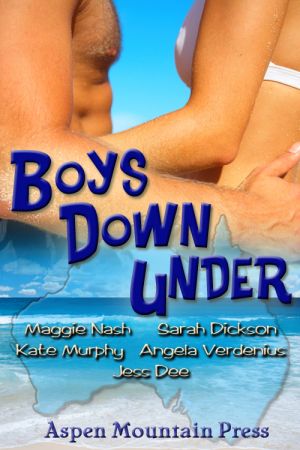 It's available NOW from Aspen Mountain Press
www.aspenmountainpress.com
Here's the blurb from my story in the anthology
The Executioner – By Maggie Nash
Blurb
A team building exercise at a remote location reignites the heat between former lovers Madeleine Smith and Nicholas Garabaldi. When team members start dying they must learn to trust again so they can outwit whoever is killing off the group one by one. Is this the "Executioner" from the indigenous Dream Time legend of the local Bilbulmun tribe? Or is someone closer to home responsible?
So to everyone, best wishes for the holiday season, however you celebrate it!
Lots of Love,
Maggie
www.maggienash.com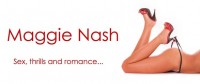 7 Responses to "An Aussie Christmas"