Nice Girl Naughty
May 14, 2010 | Friends
is the latest release from Jan Springer, the Queen of Hot and one of her best. Be sure to have plenty of ice water on hand. NICE GIRL NAUGHTY is hot, Hot, HOT!!
Here's a PG little teaser to set the stage:
NICE GIRL NAUGHTY
Jan Springer
ISBN: 9781419927423
Ellora's Cave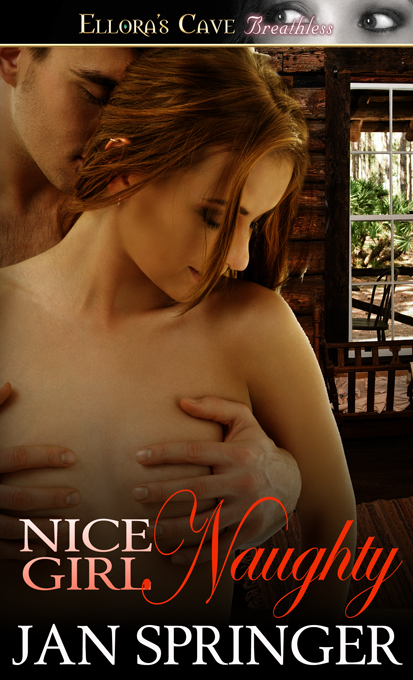 BLURB:
Someone is murdering red-haired female artists and Summer Colby is smack in the killer's cross-hairs. Blind since nineteen, Summer is a famous erotic wood carver. When she barely escapes an attempt on her life, family friend and professional bodyguard Nick Cassidy vows to keep her safe.
Hiding together in a secluded wilderness cabin, she's captivated by Nick's thick, powerful muscles, firm abs and those hard, yummy male body parts. It doesn't take long before he's making love to her up against the bedroom wall and she's going down on him on her wood carving table.
Nick Cassidy has been working overseas. He hasn't seen Summer for ten years, since shortly after the accident that left her blind and she told him she didn't love him. Their sexual attraction is stronger than ever and he discovers she's still the same passionate woman sizzling with untapped sexual energy he left behind. Sweeping his gorgeous redhead into the erotic filled sex fest they've waited for years to experience, Nick realizes their hideout isn't safe – until it's too late.
EXCERPT (unedited)
"Hello? Is anyone there?" Summer called out as she heard the nearby alcove door of her California Carmel-by-the-Sea art gallery creak open. She turned to face the soft sound of the footsteps padding into the room where she'd been setting up her newest exhibit of erotic woodcarving.
"Hello? We don't open until Monday morning," she called to the intruder. Her assistant, Mary, had left only a few minutes ago to grab them a late night snack so they could finish up tonight and take tomorrow off to do some shopping for more supplies for her next batch of art.
Whoever had entered, it wasn't Mary because the elderly lady walked briskly, like she meant business. Whoever was there, didn't respond, but she could hear someone breathing somewhere to her left. Could actually feel her skin crawl as someone watched her. Uneasiness lashed her and she suddenly wished for her assistant to be back here.
Gosh, she hadn't realized how dependent she was on Mary. Ever since the elderly woman had come into Summer's life several months earlier, she'd been her eyes, describing the quaint European story book cottages lining the town streets they shopped at or explaining how the blue-green ocean interacted with the rocky coastline when Mary drove Summer to and from her art gallery.
"Hello?" she called out again, getting really nervous at the person's rudeness for not answering her.
Ever since the accident ten years ago that claimed her vision, she'd learned not to jump at every little sound. Freaking out would only riddle her with unwanted anxiety. She focused on using her other senses. Her ears could pick up sounds a normal seeing person couldn't hear and her nostrils were definitely picking up the sharp scent of aftershave.
Okay. So it was a man and he possessed a dark dangerous scent she'd never smelled before. Despite not wanting to be, she suddenly felt frightened.
"Are you lost? My assistant can help you." Despite her fear she managed to keep her voice surprisingly calm. Reaching for the pager she kept strapped in a waist holster, she found herself fumbling with the tight clasp. As it snapped open and her hand touched the plastic pager the man's harsh voice stopped her cold.
"I wouldn't do that if I were you, Ms. Colby."
She froze. Whether it was, because of the heavy way he was breathing or because of his thick, sharp, commanding voice, instincts told her this guy meant her harm. Fear zipped up a few notches and for a brief instant she couldn't think of what to do, let alone which way to move.
"I've wanted you for too long, Summer," the man whispered hoarsely. His breathing was getting heavier, quicker. She sensed him drawing closer. Moving very slowly. Like the cat getting ready to pounce on the blind mole.
Oh frig. He definitely meant to hurt her.
To learn more about Jan go to her website and be sure to sign up for her newsletter for contests. You'll also enjoy Jan's blog. And since a lady can never have to many friends, check her out at Facebook.
I'll be back next week. Until then…
Happy Writing!
Sloane Taylor
Sweet as Honey…Hotter than Hell
3 Responses to "Nice Girl Naughty"
Melissa Bradley Says:


Jan, this sounds terrific. May it garner you lots of success.

Have a great weekend Sloane, Jan.

On May 14th, 2010 at 10:10 am
Jan Springer Says:


Thanks, Melissa. 🙂

Thanks, Sloane! Have yourselves a wonderful weekend too.

jan, heading back to work

On May 15th, 2010 at 4:45 pm
Sloane Says:


You're very welcome, Jan!

Hope you ladies enjoyed your weekend.:)

On May 17th, 2010 at 8:04 am