Spice Up Your Life With Ginger
September 1, 2010 | Friends
No, we're not talking recipes. Today's blog is to introduce you to the marvelous author Ginger Simpson who has a penchant for words and weaving them into stories you won't want to miss.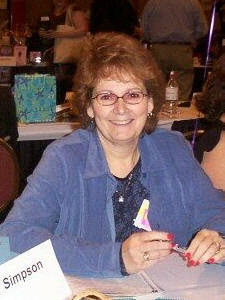 Ginger currently resides in Tennessee with her husband and biggest fan, Kelly. He believes he's the inspiration for all her romantic scenes, but she won't verify his claim.
A while back, she retired to devote more time to writing, but her promotional efforts, blogging, tweeting, and interacting with new friends on author's and reader's loops have stymied her efforts.
She watches her grandson, Spencer, in the afternoons, and besides seeing one of her books in a real "brick and mortar" store some day, her main goal is to help her little darling overcome his developmental delays caused by Autism.
Since the publication of her first book in May 2003, she has remained avid about adding to her accomplishments. Her favorite genre is western historical, but she has been known to dabble in other areas.
Ginger's got that "million dollar" book in the works, and one day hopes to haul someone into Wal-Mart, point to her novel and say, "That's me." She proclaims that Grandma Moses didn't make it big until her "golden" years, so why not be a believer that good things come to those who wait…and wait…and wait.
A 2009 EPIC Nominee, Ginger recently won the 2009 Best Historical Novel from Love Romances Cafe. To learn more about Ginger and her terrific books click here or read her interesting blog.
SISTERS IN TIME
Ginger Simpson
ISBN: 9781926704005
Eternal Press
BLURB:
Two eras collide when a modern day attorney and a pioneer wife find themselves locked in a time not their own.
Mariah Cassidy awakens in the twentieth century. Confined in a pristine environment, hooked to tubes and beeping machines, she's scared, confused and wondering why everyone keeps calling her Mrs. Morgan. Who is the strange man who keeps massaging her forehead and telling her everything is going to be alright?
Taylor Morgan tries to focus on her surroundings through a blinding headache. The patchwork quilt, the water basin, and the archaic room don't strike a familiar chord. Her mouth gapes when a handsome man waltzes into the room, calls her darling, and expresses his delight that she's on the road to recovery.
Clearly something is amiss.
EXCERPT:
Colorado Territory–1872
Taylor's head pounded with pain. Trying to focus, she opened her eyes and blinked a few times, then propped herself up on her elbows. Everything looked strange. The room seemed bright and cheery, but things appeared very old fashioned. She fingered the patchwork quilt covering the bed, and puzzled over the antique mirror hanging above an old-time washbowl and pitcher across the room. An incessant ache throbbed in her temple.
Where was she? What'd happened to her? A zillion questions raced through her mind.
"David," she called for her husband. Her voice painfully resonated in her head. "David, where are you?"
She slid off the bed. Her legs wavered beneath her and she clung to the bedpost. Slowly, as she regained her equilibrium, she weaved across the room and peered into the mirror. A massive bandage covered the top her head; black circles ringed her swollen eyes. She didn't recognize herself.
"Boy, I look like hell," she muttered.
As she raised her hand to touch the bandage, the door behind her opened, and she spied the reflection of a strange man.
"Mariah, sweetheart. You're finally awake." He crossed the room with open arms.
Taylor spun and faced him. Feeling disoriented, she shook her head. "You have the wrong room, sir."
His brows arched. "Mariah, what are you talking about? What wrong room?"
"Look fella, I'm not Mariah. Evidently you're in the wrong place if you are looking for someone by that name."
The stranger rushed over and took her in his arms. "Oh my sweet angel, the bump on your head is worse than Doc Samuels thought."
Taylor shoved him away. "Take your hands off me. Who is Doc Samuels, and who in the hell are you?"
Suddenly, the room spun. Her stomach turned queasy. Needing to sit, she staggered back to the bed, her gaze still assessing the stranger.
"I'm Frank… your husband." He followed her, his head cocked, his eyes clouded in confusion.
She swallowed. "Excuse me? My husband's name is David… David Morgan. I don't know who you are, mister, but you must be the one who bumped your head if you think I'm your wife."
"Well, if you aren't, then just who might you be?"
"Taylor Morgan. I live in Denver. Can you please tell me where I am?"
"You're in Colorado, about two hours from Denver City. Don't you remember?"
"Two hours? How in the hell did I get here?"
Frank's eyes widened. "When did you start cussing?"
"Don't worry about it, just answer me. How did I get here?" Her last nerve frayed, and he plucked at it.
"Don't you recall? We were going to town in the wagon—"
"Wagon? What the hell would I be doing in a wagon? A station wagon?"
Frank took a deep breath. "We were going to town, and Jacob needed to pee. I think he disturbed some rattlesnakes and they spooked the horses… Sound familiar?"
Taylor's mind raced. Who was this loony? Before he spoke again, she assaulted him with a barrage of questions. "Who is Jacob? Wagon? What horses? I don't know what you're talking about. Frank… is it? Look, Frank, I have an idea. Why don't you just call me a cab and I'll get out of your way."
She looked down at the tacky nightgown she wore and wondered who had removed her clothing. Tugging at the sack-like shift, she let out an exasperated huff. "If you'll just retrieve my things, I'll get dressed and be ready to go when the taxi gets here."
I'll be back later this week. Until then…
Happy Writing!
Sloane Taylor
Sweet as Honey…Hotter than Hell
5 Responses to "Spice Up Your Life With Ginger"