A Little Czech Heat to Warm You
January 11, 2011 | Tuesday Teasers
Prague is a beautiful old city filled with tradition and sexy as hell men. Here's a glimpse to wet your appetite.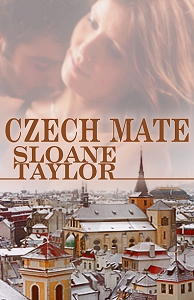 BLURB:
Life isn't easy for aspiring interior designer Lacey Blake when she finds herself stranded in Prague dressed like a dolled up hooker for her fetish minded, soon to be ex, boyfriend. The cash-strapped American traveler, boasting a feather boa and stilettos that would make a dominatrix cry, is saved by an intriguing offer proposed by a staid giant in a sleek Armani suit. It doesn't take long to convince herself there's nothing like a sex-fest to get the most out of a free vacation.
Dragan Petrovic is determined his 5-star hotel will retain its unblemished reputation and no prostitute will kickoff her career in his lobby. But one look into her eyes and he knows there is more to her than a micro mini and a push up bra. The urge to protect her drives him to madness when he suggests an unusual scheme that stirs up deep desires and alters their lives forever.
Lacey is hot and ready for action when she accepts Dragon's offer, and to relieve the sexual tension between them, takes the matter in hand…

EXCERPT:
…Lacey lifted out a teetering stack of silky looking items. Lingerie? A light blue bra encased with what must be rhinestones slid to the floor, quickly followed by the matching lacey bikini panties.
"What are these?" Dragan knelt next to her, blood pounding through his veins as he captured the delicate cloth in his hands.
"My undies." She continued to rummage, spilling more silken items onto the carpet.
He lifted an eyebrow. "Uncomfortable?"
"Surprisingly, no." She giggled, her creamy skin taking on a rosy glow as she dipped her head lower to the suitcase. "Damn it, where is it?"
A vision of her dressed only in the intimate garments and those sexy high heels strapped to her ankles flooded his mind, sending jolts of electricity south.
His stiff cock, which seemed to be its normal posture in her presence, swelled larger as she walked toward him, its throbbing head anxious to be deep inside her, wrapped in her wet heat. The tips of her hard nipples shoved against the silky fabric of her bra, their outline a beacon to his aching member. His fingers itched to caress the soft mounds, rising over the minuscule rhinestone-studded cups, and tongue her hard nipples. He could almost feel the erotic sensation when he released them, mounted her and slid his cock between their firm flesh.
She stepped closer, drawing his attention lower to her shapely hips. Mesmerized, he watched them sway, the movement seductive, sensual, compelling him to taste her.
The clear gems sprinkled across her sheer panties twinkled in the dim light. He licked his dry lips. The burning desire to kiss the lacey vee at the apex of her thighs, suckle her clit through the thin material and graze a finger along her folds brought sweat to his brow.
She slid the bra straps down her shoulders. His heart thudded, banging against his ribcage. He stood…
"Earth to Vic. Come in, Vic." A hand shook his shoulder, returning him to the present. "Um, you might want to let go, big time."
He glanced down at his hands, wadding her undergarments into a knot. Kersati. Fuck, what the hell could he say to her and not appear to be an old lecher? "I apologize. My mind must have taken a short vacation."
She laughed. "Yeah, right. Don't even think I'll buy that one, big guy."
Dragan pursed his lips, not sure how to determine the best way to measure Lacey's shapely body without appearing to molest her, especially after making a fool of himself over her delicate underwear. He did not trust himself to hold back, and not wrap her in his arms and kiss her until she begged him to make love to her.
Kersati, how the hell could he have become so affected by this young woman in a matter of an hour? He looked at her, his hands fisted tight at his sides.
"Do you have a tape measure?"
He shook his head, not trusting the right words to travel past his lips.
A grin spread across her face and carried to her bright hazel eyes, eyes that seemed to see deep into his soul.
"Then how do you plan to do this? String? Belt?" Her voice echoed the humor radiating from her face. "Silk scarves?"
He looked at his raised hands, the fingers spread wide as if he were testing melons in the market. Disgusted by his absurd action, he jammed them into his trouser pockets.
"It's not going to happen if you don't make it happen." She reached for his wrists. When he dug them deeper into his pockets, she laughed. Kersati, his balls were drawn so tight they hurt…
I'll be back tomorrow with outstanding m/m author KC Kendriks. Be sure to drop by. Until then…
Happy Reading!
Sloane Taylor
Sweet as Honey…Hotter than Hell