The Sea Offers Many Treats
January 12, 2011 | Author Friend Promo
KC Kendriks is here with her #6 Best Seller from Amber Allure Netting Neptune. This contemporary gay romance warms your heart and other parts, too. 🙂 Here, see for yourself.
NETTING NEPTUNE
Book One of the Southern Cross series
KC Kendriks
ISBN-13: 978-1-60272-573-7
Amber Quill Press – Amber Allure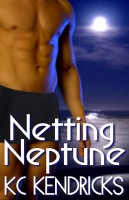 BLURB:
Theron Bowman is in the throes of a mid-life crisis. At forty, he needs to make some serious decisions about his future. He splurges on a two-week vacation in the Caribbean, and like everything else in his life, things go horribly awry and he ends up working to pay for his room.
Forced by his father to break ties with his family, Colby Denton came to rest on St. Lucia, and opened an exclusive resort. To celebrate his tenth year on the island, and his birthday, Colby arranges for a series of festive beach side parties. When a sexy sea god swims out of the ocean in front of him, Colby has a brand new plan – netting Neptune.
EXCERPT:
"Listen, Colby, I'll pay you once I get home. You're trying to run a business here."
"And I can afford to do a nice thing for a stranded traveler. Now give me the name of whatever official you spoke with, and I'll make a few calls. Maybe your luggage will turn up."
Theron pulled an envelope from his canvas duffle bag and handed it to me. The business card was stuck in the fold and I recognized the name listed. The man liked to make sure everyone knew he was in charge, but I groveled like a pro, when necessary, to get what I wanted.
"Thanks, man. I really owe you."
I shook my head. "You really don't, so let's just forget it, okay? If we don't, we'll sit here all day and not get anything done." I slid the cold crab dip at him. "Tell me what you think about this."
Theron scooped up a healthy helping on a wheat cracker and shoved the whole thing in his mouth. I watched his pink tongue flick bits of dip off his lower lip. His gaze locked with mine. Very slowly he licked his upper lip. I squirmed in my seat. He didn't even try to stop from laughing at me as he went for another cracker. I held his gaze.
"If you tease me like that again, babe, I'm gonna lick the extra off for you."
He broke the cracker in half and handed a portion to me. "I wouldn't want you to go to any more trouble for me."
I took the cracker. "You're a slick one, Mr. Bowman, but I'm known for my persistence."
He popped a melon ball into his mouth, and swallowed. "I sorta figured that out about you."
Before I could reply, Josie tapped me on the shoulder. "Sorry to interrupt, but you're needed at the front desk, Colby."
"I'll be right there." I turned back to my guest. "Please. Finish your meal, then come inside and find either Josie or me. Josie, if you can't find me, please take Mr. Bowman to my suite so he can get a shower and relax for a while."
I didn't linger. The sooner I took care of whatever problem had occurred, the quicker I could get Theron alone. After that, I was already too worked up over this guy and it wouldn't be smart to speculate.
Right. I planned to cast a net over my Neptune and give him a Southern Cross night to remember.
The problem at the front desk was minor. The computer had pulled one of its usual tricks. I inputted my password, the software reset, and all was well. I slipped into my office and called the local airfield. Better to start with folks who were friendly. If they had off-loaded Theron's suitcase, then I'd grovel.
They were certain Theron's luggage had not been removed from the plane, and had no idea how it had been missed. It was likely back in Charlotte, North Carolina by now. I made another call, this one to the States to a travel agent friend of mine. He agreed to make a few stateside calls. The suitcase had to be somewhere, and I wanted to know where. Once I had the information, a decision based on my guest's plans was possible.
Meanwhile, Theron could borrow some of my clothes for tonight. Maybe, just maybe, I'd manage to steal a kiss, or more, before the party started. I checked the patio and he was gone, so I headed for my suite with all due haste. The sound of the shower spray zinging against the tiles greeted me.
My knees quivered with the knowledge he was behind the door, naked. I had to let him know I was here. I couldn't let him stroll out of the bathroom in his birthday suit, all clean, smelling fresh like soap, and dripping wet. Could I?
No, damn it.
I knocked on the bathroom door and told him I was in the living area. He called back to me, his voice muffled by running water and the wooden door between us.
"What?"
I raised my voice a few decibel levels. "I said I'm out here."
"You could be in here, you know."
Say…why the hell not?
Cock swelling, pulse skipping, I set a new "stripping world record" and opened the door. Through the clear glass enclosure, Theron's gaze slammed into mine, wanting yet wary. I paused, shivering in the steam teasing my sweaty skin. His gaze flicked down to my erection, hanging heavy, and mine went to his.
Completely aroused, his penis jutted out, full and rosy red. Cut, he was a solid eight inches, maybe a bit more, with prominent veins. I was of an equal length, but he looked to have me on girth. From the sudden gleam in his green eyes, I didn't think it a problem.
"Are you coming…in?" He stroked his cock with a soapy hand.
Catch up with KC Kendricks on her website and personal blog. KC is also on Twitter and MySpace. Be sure to join her mailing list, Between the Keys, for more sweet information.
I'll be back Friday with a new release from Destiny Blaine. Until then…
Happy Reading!
Sloane Taylor
Sweet as Honey…Hotter than Hell