STEAM TOYS
January 14, 2011 | Author Friend Promo
Today we have renown author Destiny Blaine and her latest sizzler, STEAM TOYS.
But first a little about the private side of this creative author.
Destiny began her writing career as a ghost writer. Accustomed to working in the shadows, it's really no surprise to find her writing is often classified under the paranormal genre. She particularly loves writing about fang-bangers and leans toward creating sexy-hot alpha males ready to dominate the world and the women they love. Additionally, Destiny's cowboys are true to form. She grew up on a large working cattle ranch where her weekends were spent riding, herding cattle, or plopped down in front of the television watching football with her brothers and father.
Destiny lives in East Tennessee with her husband and their teenagers. Their extended family consists of several teenagers they literally pluck from their homes when they're headed out of town. Destiny says, "We enjoy professional football games, beaches, and music festivals. Most of the time, we travel with a crowd. These teenagers enrich our lives. Over the years I've come to think of them as 'my' kids and they sure keep life interesting."
STEAM TOYS
Destiny Blaine
ISBN 978-1-60168-388-5
Aspen Mountain Press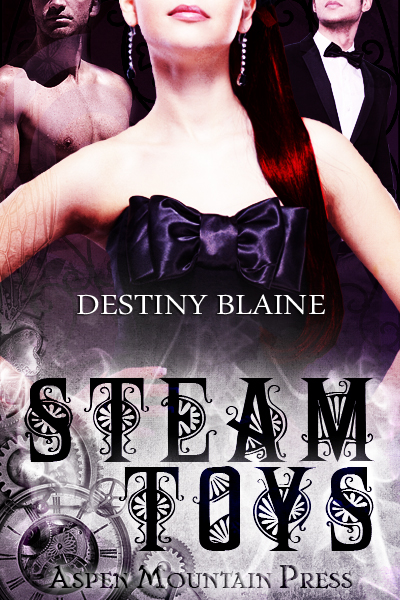 Revenge is a hot, bitter dish when served up enthusiastically by someone empowered by extra steam.
BLURB:
Heidi Labeidi, a successful Nevada brothel owner, had the world by its tail until her deceptive lover Stan Graves disposed of her. Lost somewhere between life and the afterlife, Heidi materializes in her former home thirty years after her death. She has a second chance and she's hell bent on solving her own murder.
With a knack for creating pleasure-inducing trinkets and furniture, Edward Brady is an eccentric mad scientist on the verge of greatness. He's also in desperate need of an assistant and his problems are solved when he discovers a sensual ghost enjoying his sex toys.
Heidi has something to offer Edward but her assistance comes at a price. And when Edward becomes an assassin's mark, only Heidi can help him. Will Edward barter with a ghost who can save him and if he does, will the former madam become the one woman Edward is unable to resist?
EXCERPT:
A few seconds after the hand-job, she tucked him in his pants and redressed quietly. He stared at her in disbelief. "You are most definitely a tease."
"No, Edward. I'm not," she assured him, adjusting her simple sleeves.
'Then do you mind telling me why you didn't finish what you started?"
"Of course not," she said, crossing one long leg over the other. "Lesson number one is just for you, Edward. You may have a whore in your lap, with your cock in her cheek, but you never, ever make the implication you believe she's old, used and cheap."
"I made you feel that way?"
She tilted her head down and with wide eyes, she confirmed it. "Yes you did, Edward."
"You're the one who said you'd given head a few times. Not me."
She smiled, placed her hands in her lap and looked straight ahead. When they pulled into the parking lot of the towers where Edward lived, she said, "And you suggested I may have been out of practice which was a direct slam to my age."
"It wasn't."
"It was, Edward," she said, pushing her hair over her shoulders. She tilted her head toward the driver approaching them. "Try not to act like a scorned lover when you get out of the car. Remember, he can't see me. I've learned from experience those employees closest to you are the first to run their mouths when things begin to spiral out of control. The last thing you need is your driver telling a reporter you've lost it."
The limousine driver opened the door. Edward stepped out. He was brewing. Not only did he have a hard-on, he had a complicated woman to credit and blame. Not only did he have someone to blame, he couldn't publicly point an accusing finger her way.
"Did you have a nice dinner, sir?" the driver asked, trying to make small talk while Edward retrieved his wallet.
"We did," he reported. "Thank you."
The driver accepted his tip and arched a brow. "Did you meet friends while you were out?"
Heidi studied her fingernails. "You didn't listen."
"How the hell was I supposed to listen when I'm standing here with blue balls?"
"I beg your pardon, sir?" the driver fired back.
Heidi yawned. "Since your dick seems to be the only thing you can think with, see if it can help you worm your way out of this. I'm waiting upstairs."
She was gone in a flash and Edward wished he could disappear just as rapidly.
"Sir, are you feeling okay?"
"No, Truman," Edward replied. "I'm not. I apologize for the outburst. I'm hearing voices tonight."
Truman frowned. "Sir, I'd strongly advise against telling anyone else about voices. You know how people like to talk."
Learn more about Destiny Blaine on her website and blog. You can also find her on Twitter.
I'll be back Monday with a review for World Kitchen, a fantastic cookbook by infamous Gordon Ramsey. Until then…
Happy Reading!
Sloane Taylor
Sweet as Honey…Hotter than Hell
One Response to "STEAM TOYS"
Destiny Blaine Says:


Hi Sloane,

Thank you for featuring Steam Toys today. Have a great weekend!

Destiny Blaine

On January 15th, 2011 at 9:27 am