HAIL the QUEEN
January 19, 2011 | Author Friend Promo
Jan Springer, the Queen of Hot, is back with a novel guaranteed to clench your thighs and make you want more. COLTER'S REVENGE Outlaw Lovers 3. Here, see for yourself.
COLTER'S REVENGE
Outlaw Lovers 3
Jan Springer
ISBN 9781419904912
Ellora's Cave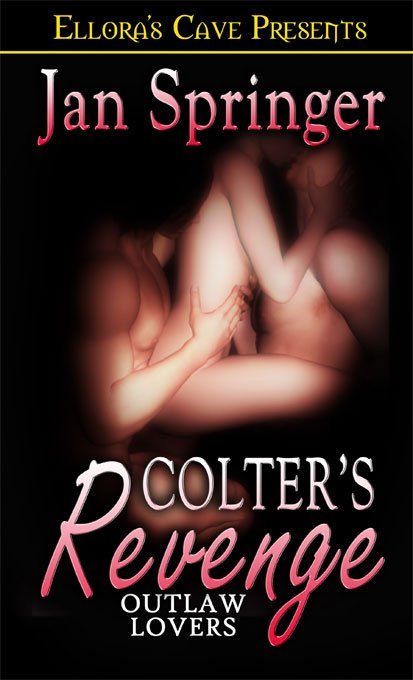 Colter's Revenge – Outlaw Lovers 3 is available in e-book and print from Ellora's Cave.
Buy Link
In the near future, a virus has been unleashed killing a majority of the world's female population, forcing the introduction of the Claiming Law. A law that states men have all the rights and women are sexual property claimable by groups of men.
BLURB:
Revenge belongs to Dr. Colter Outlaw when he runs into the beautiful woman who broke his heart during the Terrorist Wars. Capturing her, collaring her and holding her against her will, he seduces her, fills her with wicked desires and cravings for a delicious ménage. Fully intent on breaking her heart and walking away, his plans unravel when he submits to the carnal pleasures Ashley gives him so freely…
He'd told her he loved her. Whispered promises of rescue from her life as a slave, then he'd disappeared. Infected with a version of the X-virus that leaves her sexually excited on a daily basis, Ashley Blakely has come to Pleasure Palace to bid on the cure. She never expected her Outlaw Lover to screw her plans. Nor did she expect to give him her heart and body so easily…
EXCERPT:
"I wish I could take your pretty little ass, Ashley. Wish I could have it again."
Why don't you take me? A voice somewhere deep in the back of her mind urged. Please take my ass. Please don't sound as if you don't ever want me again.
As her ass muscles began to relax beneath his soft yet insistent prodding, she found herself drifting away, relaxing, and focusing on the pleasure-pain sifting along deep inside her and the flames that continued to lick her freshly spanked ass cheeks.
All too soon the wondrous pleasure-pain disappeared and she opened her eyes to find the blackness of the blindfold staring back at her. She could hear him breathing, the sound fast and harsh. Aroused. Would he take her in the ass now? Would he put out the fire he'd started in her?
The sound of plastic came again. She found herself lifting her head, orienting herself to the noise.
"Settle down, Ashley. No need to be afraid."
His voice soothed her, sucked her into a wall of security she loved. She didn't even flinch when she felt a strange, cool item penetrate her ass. At first she thought it was a butt plug, but he didn't insert it.
Just left it poised in her opening.
Involuntarily her butt muscles clenched around it, tried to suck it in, it wouldn't come inside. Then she felt the pressure as Colter slid the item deeper. Her sphincter muscle constricted.
"There, that should hold you for a bit while I see what other little surprises I can give you." She didn't miss the amusement etching his voice.
The mattress shifted beneath her.
She could hear him walking toward the sex-toy cabinet and found herself wondering how she must look with her bare ass, all flushed and red, propped up on the pillow with whatever it was that was sticking out of her ass.
The cabinet door creaked open again.
"I could give your cute little ass a sound whipping. Before long you'll be begging for it."
Begging? What?
It was at that moment Ashley felt the slow burn between her buttocks. What in the world was it?
As if sensing her question he chuckled and spoke. "The juice of the root has the ability to create incredible horniness."
Juice? Root?
Oh, God! What had he shoved into her ass?
Bucking her hips as much as she could against the restraints to get rid of the item, Ashley quickly discovered her movements only increased the burn, which was rapidly heading into a fire.
"How's our ginger root doing?" He was closer now. Too close.
She cried out as his hands curved over her buttocks again. The instant he touched the root, fire consumed her anus. She shivered as a finger dipped downward and touched her clit.
An immediate burn began there as well. Made her clit swell. Made her pussy clench. Made her cry out.
"Please! It's…burning me alive. Please help me…put…put out the fire."
"You'll have to beg a little harder than that, Ashley."
God! She was starting to feel so unbelievably horny. Her pussy was quivering, anxious to be penetrated. This must be the sexual torture he'd mentioned earlier.
"It won't hurt you, Starry Eyes. Unless you lied about not being allergic and I know you don't have sensitive skin."
Fire licked her buttocks as the unmistakable lash of a whip snapped against her tender flesh. Her muscles clenched the item tighter, the burn got worse.
Perspiration popped out over her skin, chilling the heat.
"You shouldn't have come here, Ashley. Shouldn't have come and reminded me of what we had."
Another sharp lash.
Her buttocks clenched harder. The burn in her ass from the ginger made her gasp.
Oh, God!
Another lash, the fiery pleasure-pain made her forget the burn. Made her want more.
"I remember how you craved Blade's cock up your ass while I whipped your breasts. Do you remember Blade?"
Another sharp snap. She cried out as her buttocks clenched around fire.
Her pussy was on fire now. A wonderful horniness that begged to be satisfied.
"I asked if you remember, Blade?"
"Yes," she whimpered. The coldness in his voice made her wonder once again if he'd been jealous of Blade fucking her.
"Did you enjoy the things he did to you, Starry Eyes? Did you enjoy them as much as I enjoyed watching?"
Oh sweet heavens!
Jan lives in Ontario, Canada. She's a part time caregiver and also writes erotic romances on her four acres of secluded forest tucked away in Minden Hills cottage country. She has three feline fur balls and she enjoys gardening, hiking, cross-country skiing, kayaking, reading and writing. Jan is a member of the Romance Writers of America, Passionate Ink and the Authors Guild.
Learn more about Jan Springer and her terrific books on her website and Facebook.
I'll be back tomorrow with some wonderful news. Until then…

Happy Reading!
Sloane Taylor
Sweet as Honey…Hotter than Hell
3 Responses to "HAIL the QUEEN"
Jan Springer Says:


Wowsa woman! Thanks for the hot intro. 🙂
Squeeeeeeeeze those thighs. *grin*

Huggers,
jan

On January 19th, 2011 at 10:39 am
Marie Tuhart Says:


Wow, what an excerpt. Another Outlaw Lovers book. I'm off to buy. You're a always a great author to read, Jan.

On January 19th, 2011 at 12:23 pm
Jenna Howard Says:


I'm never going to look at ginger root the same way again….

On January 19th, 2011 at 1:35 pm