Rick R. Reed Does It Again
January 28, 2011 | Author Friend New Releases
By creating another fantastic book, DIGNITY TAKES A HOLIDAY, which is sure to be a best seller. No surprise there since the writing world has only high praise for today's guest author Rick R. Reed. With my limited space, I can only share two;
In their October 2006 issue, Unzipped magazine said:
"You could call Rick R. Reed the Stephen King of gay horror."
And Dark Scribe magazine proclaimed:
"Reed is an established brand – perhaps the most reliable contemporary author for thrillers that cross over between the gay fiction market and speculative fiction."
In spite of this—or perhaps because of it—Rick has been lately turning more and more to writing romance and illuminating the emotional lives of gay men.
To date, Reed has more than sixteen books in print, and his short fiction has appeared in more than 20 anthologies. His novel, ORIENTATION, won the EPPIE Award for best LGBT novel of 2008.
Rick lives in Seattle, WA with his partner and a very spoiled Boston Terrier. Visit Rick on his website to see all his wonderful work.
Here's a glimpse of his latest release.
DIGNITY TAKES A HOLIDAY
Rick R. Reed
ISBN-13: 978-1-61581-721-4 (Paperback)

ISBN-13: 978-1-61581-722-1 (Electronic)
Dreamspinner Press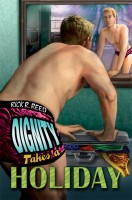 BLURB:
Pete Thickwhistle doesn't live what one might call a charmed life. At age forty-seven, he's a flamboyant gay man who believes no one knows he's gay, still living at home with his harpy of a mother. Worse, he's still a virgin, longing to find just the right man to make his life complete. Pete's an upbeat kind of guy, yet he's never learned that the answer to his motto "What could possibly go wrong?" is always: "Everything."
Pete's road to love and happiness is full of potholes, yet he never tires of searching, despite job losses, weight battles, clothing faux pas, and disastrous vacations, parties, and dating debacles. Pete is the ultimate underdog living a television situation comedy, one named Dignity Takes a Holiday.
EXCERPT
The Beginning of the End
"You're not bringing that, are you? My God, they'll laugh you out of town." Helen snickered and pointed at Pete's open suitcase.
Pete gnawed on a hangnail, staring down at the chalk stripe suit he had just purchased from the International Male catalog. "What's wrong with it?"
"Other than it looking like one of those zoot suits they used to wear back when I was a little girl… nothing, I guess."
Pete made a "tsk" sound and shook his head. "You have no fashion sense. If you did, you'd know this is retro, it's very in. This is how all the guys in Chicago dress."
"And what about this?" Helen snatched up a black sweater with a gold glitter owl emblazoned across the front. "Retro?"
"Oh, would you just shut up and let me get packed? I have a lot to do, and I don't need you in here questioning my fashion choices. I'm nervous enough as it is!" Pete put a trembling hand to his forehead.
Helen hurried from the room. Pete wondered why he couldn't have a mother like other men, someone they called their "best friend" rather than their "worst nightmare."
But this mystery would have to wait for further pondering. Pittsburgh International Airport was more than an hour away, and Pete would have to "get his ass jumpin'" (as Helen would have so delicately put it) if he wanted to make his flight.
Pete allowed himself to sit down on his bed, closing his eyes and imagining the upcoming trip for a moment. Chicago… Pete pictured towering skyscrapers rising up against a vast expanse of blue waters and thought that his destiny could be made on this trip.
After all, he wondered, as he had so often in the past, what could possibly go wrong?
Learn more about Rick R. Reed on his Blog and catch up with him on Facebook and Twitter.
Have a wonderful weekend. I'll be back Monday with a new book review. Until then…
Happy Reading!
Sloane Taylor
Sweet as Honey…Hotter than Hell