TOUGH CHOICES
February 23, 2011 | Author Friend Promo
are what everyone faces at some point in their life. KC Kendriks' emotionally charged book A HARD HABIT TO BREAK immerses the read into the world of two men on the verge of altering their lives forever. It's an excellent read and one that was obviously written from the heart.
A HARD HABIT TO BREAK
KC Kendriks
ISBN 978-1-60272-671-0
Amber Quill Press – Amber Allure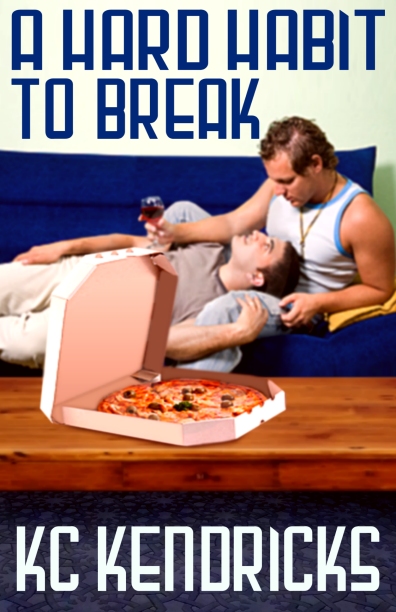 BLURB:
As the reigning stud of the local gay club scene, every guy in the county knows Travis Templeton, and vies for his attention. Travis wears his crown lightly, careful not to break any hearts. He knows what it's like to really love someone who doesn't love you back-at least, not in the way you want.
Heath Kelley made the biggest mistake of his life the night before his best friend Travis left for college. One small action snowballed into years of silent misunderstanding and empty distance. When Heath accepts a transfer that sends him to his hometown, he doesn't know Travis has moved back home, too. It doesn't take long for the men to reconnect.
Admitting they never stopped thinking of each other as "best friends" is easy. Forgiveness of past sins is easy, but confessing their secrets comes harder. When Heath discovers the truth about Travis' private life, the newly repaired bonds of friendship are stretched taut.
It's time for Travis to choose – the love of his best friend, or a life of being second best.
EXCERPT:
The ghost of his lips slid coolly over mine like they had so many times over the years, a phantom whisper that raised gooseflesh on the back of my thighs and buttocks. Travis fixed me with a stare far colder than my memories. His angry, hurt voice froze my insides.
"You had what I wanted, Heath. You were normal. You dated girls. You fucked girls." He sucked in a deep, difficult breath. When he spoke again, the anger was gone, but not the hurt.
"Then you kissed me and brought the very thing I hated right to my bed. How could you do that to me? Why didn't you tell me you were really gay?"
Stunned, my knees wobbled, and I leaned back against his car before they gave out and I ended up on the pavement. Never had I imagined he felt such self-loathing. I hadn't seen it, but then I'd been just seventeen. Liking some girls muddied the water for me, and I never thought of myself as anything but straight, back then.
What I felt for Travis was special, outside everything, and everyone, else. He was my best friend. I was a senior in college before I dared put a name to my sexuality, and begin to accept what it meant. I took a chance he wouldn't shake me off, and grasped his elbow. He trembled under my fingertips.
"Travis, I'm sorry. I didn't know. How could I?"
He shivered, like he had a sudden chill. The anger left his beautiful eyes, to be replaced by a great sadness.
"I'm sorry, too, Heath. I didn't know how to tell you. I thought you'd hate me.
I thought you'd run away from me, and then I ran away from you."
My chest ached. Thirteen years lost.
"I could never hate you, Travis. There was a lot I didn't know about my teenage self. So much I didn't understand." I took a deep breath. "The truth is, I'm bi."
His eyebrows drifted up. He blinked. I nodded and rolled my eyes at him.
"Don't look at me like I'm speaking a foreign language."
Travis swallowed, hard, his Adam's apple moving convulsively. "Um, sorry. Not that you're…Your mom… I mean, I thought… is Dani a man or a woman?"
It was my turn to blink. "How'd you hear about Dani?"
"Your mother mentioned her."
Fuck.
"Well, buddy, Dani is a guy. Daniel."
"That's not what I heard, man. Your mother thinks you had a live-in girlfriend."
I snorted. How was he going to handle this bit of information?
"Well, Travis. Dani is fucking hot in a skirt, and on the telephone, it would be easy to jump to several conclusions."
He blinked owlishly. "I see."
I doubted it. Dani did standup comedy in full drag regalia, and it was damn funny.
Travis slumped against the fender beside me, our shoulders brushing. "You still want to go get that pizza? I really have to eat something so my glucose level doesn't bottom out on me."
That sounded like my old friend. "Do you still run for fun?"
Travis treated me to a real grin. "Yeah. Gotta feed the machine. Do you still run?"
I shook my head. "It wasn't the same without you. Maybe I can get back into it, though. What do you think? Will you help me start training again?"
He looked pleased as he nodded. "Sure. It'll help us get to know each other again."
I leaned a little closer. "So, you're not going to blow me off?"
Travis drew back like I'd struck him. Too late I realized the double-entendre. I grabbed his arm.
"Oh, no. No, man, I did not mean I wanted…I meant you weren't going tell me to go to hell and then run away again."
His eyes narrowed. "What? I'm not good enough to give you a blow job?"
We'd veered into very murky waters, the potential for disaster suddenly and exponentially increasing. We'd just reconnected, and the only thing that kept me from throwing my arms around him and never letting go was fear he'd bolt again.
As for blow jobs, I'd go to my knees for him anytime he snapped his fingers and pointed at the spot, but I didn't dare tell him that for the exact same reason.
"Lord, Travis. Let's not talk about sex just yet."
To my surprise, he chuckled. "Heath Kelley, backpedaling. I'm amazed I lived long enough to see it happen."
"Laugh all you like. We can talk sex over lunch."
Travis turned to me, arms crossed over his chest, his hip against the car.
"No, Heath. We won't talk sex. You'll always be my best friend. Hell, you're more than that. I've missed you so much." He paused and took a deep breath.
"Sex is off limits, Heath. I don't want to talk about it with you, and as friends, we're not going to do it."
He might think that, but I knew better.
This title is also available as part of FROM THIS MOMENT ON, a five-story PAX available only at Amber Allure.
Learn more about KC Kendricks on her website and blog. You can follow her on Twitter and MySpace. Join KC's mailing list for all her latest news.
I'll be back Friday with a new release from the uber talented Robert Appleton. Until then…
Happy Reading!
Sloane Taylor
Sweet as Honey…Hotter than Hell
One Response to "TOUGH CHOICES"
Melissa Bradley Says:


What a great writer KC is. My goal is to collect all her stories so I can enjoy them all again and again.

On February 24th, 2011 at 6:58 pm