WHAT'S NEW
April 13, 2011 | Author Friend New Releases
from Summerhouse Publishing? Two excellent paranormal romance books with sensual loves scenes and graphic language.
Ella Vines creates strong characters and a world you won't want to leave in her historical HER DARK FAIRY.
Multi-published Mina Carter lives up to her reputation for writing "hot erotic romances with heroes to die for and heroines that can kick your ass with words alone" in her contemporary THRILL OF THE NIGHT.
Read on for a short tease on these two fiery stories.
HER DARK FAIRY
Ella Vines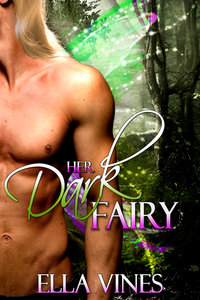 BLURB:
In October of 1858, a walk through the Mississippi woods behind her home changes Lucia Marks' life forever. When she twists her ankle and blacks out, a gorgeous winged creature comes to her rescue, an alluring being of legend that haunts her days and nights. But what does he want from her, and who is he? More importantly, will he be part of her future?
EXCERPT:
He moved closer and her heart thudded. "I have been alone so long that I don't remember family or friends. I have disguised myself and moved amongst you all virtually unseen for years. I never had a reason to show myself until I saw you."
Lucia lurched back a step. He stood too close. She smelled the mingling of cinnamon and honey on his skin she had come to associate with him. If she reached out her hand, she could touch him.
"I don't think I can—" She stopped as he moved closer, putting a finger to her lips.
"Don't speak. I only want to be near you, to be able to talk with you from time to time. I know you have your life to live, and I have mine. Whatever may be…" His finger parted her lips as he nudged it into her mouth, over her teeth.
Heat seared through her, and she moaned without thinking. No man had ever touched her this way before.
"Please, come with me to my cottage for just a while. The sun hasn't yet set." His pale eyes glimmered, and she felt her body respond to his request.
"I suppose so—just to talk. But I can only stay for a little while." She talked to herself as much as to him, remembering the story Hettie had told her. Had Berrigan told her the truth about his origins, or had he been in the forest for longer than he claimed?
~~~~~~~~~~~~~~~~~~~~~~~~~~~~~~~~~~~~~~~~~~

THRILL OF THE NIGHT
Mina Carter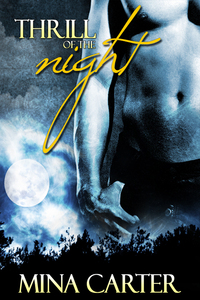 BLURB:
Part time diner waitress and hotel manager, Gwen's days are filled with serving locals and making sure the sleepy back-road motel doesn't have a crisis of epic proportions…like running out of clean towels. She's a woman with a routine, a cleaning roster and that's the way she likes it.
But Gwen is a woman with a past. A past which involves guns, knives and a whole lot of weird shit like vampires and werewolves. A past she gave up three years ago for the mediocrity of normal life.
She's not sure she's ready to go back to it but then a mysterious customer turns up in her diner. Hot and sexy as all hell, he sparks all kinds of erotic fantasies in Gwen's sex-starved brain.
When she finds him bleeding from a were's claws, can Gwen walk away? Or will she give into her carnal urges and risk being pulled back into her old life?
EXCERPT:
"Got a name, handsome?" I asked as I snapped gloves on. Don't get me wrong, I don't give a shit about AIDs, I'll probably be dead long before anything like that puts me six feet under, but were infection? Not even going to risk it.
"Jasen."
He sucked a breath in and glared at me as I irrigated the wound with swift, efficient movements.
"Oh, behave. Anyone would think a werewolf just tried to kill you."
My voice was amused as I set about gluing the gashes in his skin and setting the butterflies in place. I've lost count of how many times I've dressed wounds like this. Like I said, life on the road was hard. A hunter without scars was either new to the game, or…um, yeah, new to the game.
"Yeah. I'm freaking irresistible, aren't I?"
He chuckled. It was a rich, low rumble that sent a ripple of awareness down my spine. I dropped my head a little, hiding behind the curtain of my hair. There was no way he was going to be interested, and after a were attack, probably wouldn't welcome knowing how hot I thought he was. Life was a bitch, and then you died.
Fuck it. What did I have to lose? And, besides, I think we already established I'm not the sort of chick to take the sensible option.
"Honest answer?"
I didn't look at him as I considered my handiwork. I've always been a neat hand with a needle, all that practice stitching up my mother as a kid. I was nine before I realized "needlepoint" mean stitching on fabric.
"I wouldn't kick you outta bed."
~~~~~~~~~~~~~~~~~~~~~~~~~~~~~~~~~~~~~~~~~~
Be sure to check out Summerhouse Publishing for a great selection of well-written books at reasonable prices.
I'll be back Friday with a new release from Jenna Howard. Until then…
Happy Reading!
Sloane Taylor
Sweet as Honey…Hotter than Hell