Scoring Lacey
April 15, 2011 | Author Friend New Releases
Jenna Howard is here today with her electrifying new release SCORING LACEY, the consummate cougar novel.
For those of you who aren't familiar with this awesome author, here's a little on how her career began.
In sixth grade Jenn had to keep a journal as a class project. One assignment was "What do I want to be when I grow up." Young Jenna carefully printed out, with her tongue sticking out between her teeth (no doubt) that she "wanted to be a writer." Those words would guide her towards writing teen angst stories in high school to erotic romance, a genre her mother is soooo comfortable with. She currently resides in Calgary, Alberta, Canada.
SCORING LACEY
Jenna Howard
ISBN 978-1-59578-820-7
Liquid Silver Books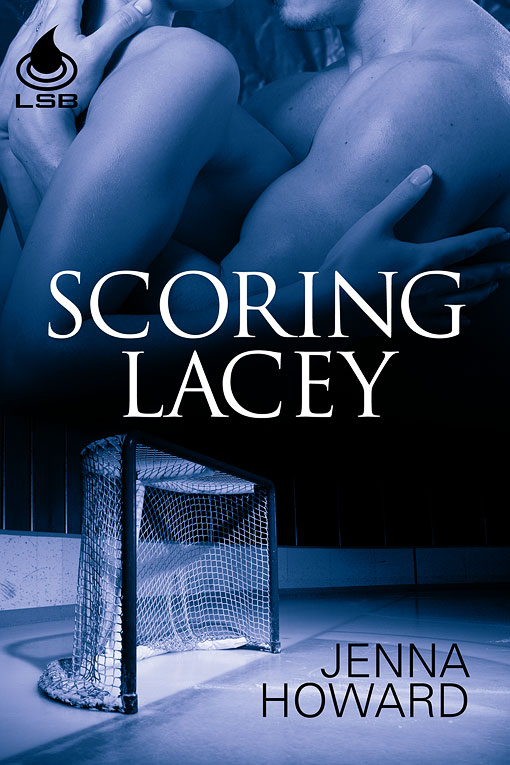 BLURB:
Lacey Magerin never expected her husband of twenty years to leave her for a twenty-two year old. She never expected her fifteen-year-old daughter to blame her for the divorce. Lacey also never expected Shayne Donnelly. The NHL goalie is her brother's best friend and is ten years younger than her. Neither of them know the rules in this new game but that's not stopping either of them from playing or finding love in the least likely place – on home ice.
EXCERPT:
The olive green shirt made his eyes greener as it hugged all the muscley goodness that was Shayne. He took a chip loaded with cheese and peppers. Planting his elbow on the table, he offered the bite to her. "I'm not hungry."
"Don't want you passing out on me again when my hand goes down your jeans. Eat."
She dipped the chip into the small bowl of salsa and studied Shayne. "Think that's where it's going, hm?"
Instead of answering, he leaned back in his seat, his eyes smirking his answer that that's exactly where his hand was going to be later. She wondered what had brought him here. "What brings you to the Box?"
He took another sip then found the right chip he wanted. A thin strand of cheese stretched to the plate before he broke it with a swipe of his finger. He scooped a large amount of salsa and guacamole onto the chip then ate the entire thing. He sipped his soda and set his foot on the edge of her seat by her hip. "You."
"Followed or summoned?"
His eyebrow went up in answer. Summoned. "What did my baby brother say to have you don your superhero cape?"
"That you were a pitiful mess who was into her cups and cheese." Shayne pressed his foot against her hip and she toyed with the small cuff of his jeans. "Are you a pitiful mess?"
"Yeah," she sighed, feeling a little morose.
"Wanna go hit a few pucks?" He nodded his head at the door. "Come on." He grabbed his glass as he stood up, waiting for her to move her self-pitying ass.
With a sigh, she took her glass and followed him out into the night. Two people sat on the bench against the wall as they smoked. A goalie net that had seen better days was against one wall. A couple of hockey sticks were in an umbrella stand along with a bucket of tennis balls. There was even a goalie glove that had seen better days. "Hey," Shayne said, greeting the smokers, then set his drink down.
His foot tapped the bucket, spilling balls over the concrete pad. He tossed a hockey stick at her and she stepped back so it didn't smack her in the face. The sound of the wood clattering filled the space and she went to set her glass beside Shayne's. When she turned, he had the glove on and was smacking the sides of the goal in a head nod to the hockey gods. "Okay, Magerin, bring it."
She picked up the stick, using the blade to draw a ball towards her. The odds of her scoring on Shayne were as high as Carmen giving her hug right now. Her shot was pathetic and the ball rolled sadly to him.
He stood up straight and his sigh was loud as he kicked the ball back at her. "Jesus, you're a Magerin. Hit the damn ball–don't nudge it." Once again he crouched down, his body relaxed in the pose.
That was annoying. Lacey hunched down like him and looked him in the eye. "And the puck is dropped. It's Magerin versus Payne. Magerin grabs the puck and it's a break away." Shayne snorted as he grinned. "She goes left dodging Payne. Right. Left. Now it's two on the ice. Can she do it? Can she score on the great Donnelly?"
She grabbed the front of her shirt, flashed him her lacy bra then shot. "And she does it! Ladies and gentlemen, Magerin has scored on Donnelly. The crowd here is insane." She lifted a hand to her mouth and imitated a crowd roaring as Shayne looked behind him at the green tennis ball resting against the netting then at her. Even the smokers were cheering. Though she assumed it was for her bra and not her hockey prowess.
"I can't believe you…" he tossed aside his stick and began to stalk her. "You flashed me!"
She was laughing by the time he grabbed her by the waist and dragged her out of the small zone.
"Way to go, baby!" One of the smokers shouted.
She heard the other one. "Can they play again?"
Shayne pushed her against the side of the building, the bright lights spilling right past them at the patio. "I can't believe you flashed me." His hands settled on her hips as he crowded her against the wall. "Let's see that bra again."
His mouth was on hers before she could grab the bottom of her shirt. He tasted of all things sinfully delicious in the dark.
Learn more about talented Jenna Howard on website and blog.
Have a great weekend. I'll be back Tuesday with a new teaser. Until then…
Happy Reading!
Sloane Taylor
Sweet as Honey…Hotter than Hell
4 Responses to "Scoring Lacey"