TIME TO HOWL
October 28, 2011 | Author Friend Promo
about NATHAN'S ANGEL. This is a new release for uber creative Melisssa Bradley available at Amber Quill Press – Amber Heat. If you're reading pleasure includes Gay, Dark Fantasy, Werewolf, or Shapeshifter, then you're going to love this compelling story.
NATHAN'S ANGEL
Melissa Bradley
ISBN 13: 978-1-61124-191-4
Amber Allure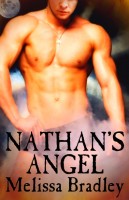 BUY LINK

BLURB:
Sometimes, the laws of Heaven were meant to be broken…
When his soul mate is stolen from Paradise and reincarnated, Ramiel, angel of death and transformation, defies Celestial Law to find out why. As punishment for his crime, he is banished to Earth in human form without his powers. His only hope lies in recovering the grace he lost in his fall from the Divine Realm…
Nathan, a beta werewolf, knows all too well what it's like to be vulnerable and at the mercy of unfair people and situations. He is considered weak in the eyes of the alphas of his pack. Ramiel literally falling into his life changes him. Determined to help the sexy angel, he takes charge of the situation and to his surprise, begins to exhibit some rather alpha behavior…
As they search, a white hot, forbidden fire ignites between them, an inferno that sets them ablaze, fusing them body and mind. A passion that makes them question everything they've ever known. But when Ramiel's grace is found, will they have the strength to let each other go?
EXCERPT:
The angel stiffened and bowed his head. "I do not know what overcame me. I am weakened and in a form I have not taken in millennia. I have no control, I…" He trailed off, exhaling sharply.
Nathan tugged at Ramiel until the angel turned to face him. "No matter what you are, you're human now and close quarters plus attraction equals lust, desire, whatever you want to call it. Trust me. I'm half human and half animal, if anyone can understand, it's me. 'Your reaction was quite understandable.'" A half smile quirked the side of Ramiel's mouth as Nathan repeated the angel's own words back to him. Apparently not all humor was lost on the angel, then.
He stared at Nathan through the gold silk of his bangs and Nathan's chest went tight. Without thought, he reached up to palm Ramiel's cheeks. The lost look in his eyes hit Nathan deep and he was overwhelmed with the desire to kiss him, to ease the loneliness Ramiel must surely be feeling, exiled from his own kind. He raised up, tilting his head…
Ramiel's mouth crashed onto his, a hungry, elemental force that caught him by surprise. Pent-up need emanated from Ramiel and Nathan speared his fingers through Ramiel's hair, dragging the angel deeper into the kiss, letting him know it was all right, that he could take whatever Ramiel had to give.
With a low growl, Ramiel hauled Nathan tight against his big body, his hands grabbing Nathan's ass. Ramiel's tongue licked along Nathan's lips, then plunged deep inside, stroking and twining with Nathan's.
Ramiel's taste was a wild kaleidoscope of flavor. Spicy and sweet with a hint of the meaty burger he had just eaten. It teased at the back of Nathan's mind, a long forgotten treasure rediscovered. Pleasure overrode any more coherent thought like a tsunami and Nathan was swept up in its wake, drowning in sensation. His erection pulsed behind his zipper, a primitive, throbbing heat that tightened his balls.
Nathan wanted nothing more than to be skin to skin with Ramiel, exploring every plane and hollow of him. He needed to be closer, with no barrier between them.
Ramiel groaned, stumbled and the two of them nearly toppled over. Nathan clutched him, balanced on his feet and averted disaster. He locked eyes with Ramiel, their breath coming in rough gasps, and noted the pallor of the angel's skin beneath the sex flush.
"Come on. I think we need to get you into bed for some serious rest."
Ramiel stroked a finger along Nathan's jaw, with a banked fire in the silvery depths of his eyes. Nathan regretted saying a thing.
"I have no desire to sleep. I prefer very much to continue what has begun."
Learn more about talented Melissa Bradley and her other exciting novels on Melissa's Imaginarium.
I'll be back next week. Until then…
Happy Reading!
Sloane Taylor
Sweet as Honey…Hotter than Hell
5 Responses to "TIME TO HOWL"