It's New, It's Hot, It's HERE!
January 27, 2012 | New Releases
LOVE NOTES
Anthology
Cupid Only Rings Twice Sam Cheever
Reunited Helen Hardt
Its Sweetest Form Xakara
Masquerade Sloane Taylor
ISBN: 978-1-61937-211-5
Musa Publishing
Heat Level: 4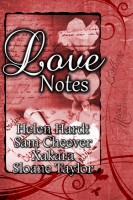 BLURB:
Sometimes words on paper are magical, especially when lovers meet again and again.
Love is never a lost cause, and sometimes all it takes is a few special words written down to make all the difference in the world. Wayward cupids, lonely vampires, long-lost loves, and mysterious strangers come together in this collection sure to warm to your heart and steam up your screen. Read our Love Notes–four Valentine's stories from four outstanding romance authors Sam Cheever, Helen Hardt, Sloane Taylor and Xakara and then maybe write a few letters of your own!
EXCERPT from MASQUERADE:
Green eyes sparkling behind delicate shades of purple feathers held him hostage. Vittore thought he had recognized her the moment she walked onto the pier. When she spoke, he knew his search had finally ended. Determination and desire had persevered. The gods had delivered her into his hands and he wanted to learn more about this mystery woman with her gay laugh and quick wit, even if it was only for one night.
Clancy opened her door, then switched on the entry light. At the bedroom, she glanced over her shoulder, the long plumes brushing her creamy bare shoulder. "Make yourself comfortable. I'll be just a moment."
He wandered around the room, straightening the pillows on the sofa, adjusting a wing backed chair and, finally, the magazines scattered across the pecan desktop. It was there he found a handwritten note caught between the pages. A little guilt crept in for snooping, but he shoved it aside, eager to discover more about this sensual woman who intrigued him.

Note to Self — Loving Venice
1. Ride in a gondola
2. Climb the Campanile in St. Mark's Square
3. Attend a masked ball
4. Dance under the stars in St. Mark's Square
5. Tour a professional kitchen
6. Buy one special piece of Murano glass
7. Fall in love—at least for the night
8. Hear a Vivaldi concert
9. Attend an opera at the Fenice
10.

Vittore reread the paper, paying close attention to number seven. He looked out at the waning moon and sent a prayer of thanks to Raphael the Archangel, the patron saint of happy meetings, for his good fortune.
On a whoosh of material, he slid the list back under a book.
"Vittore, I have a suggestion, a little game to add to the Carnaval mystique. Sort of an adult Twenty Questions. Are you willing to play?"
"You spark my interest." He liked games, particularly in the bedroom. A myriad of erotic foreplay flitted through his mind. Before they said farewell, his princessa would experience pleasures she had never imagined. "What are the rules?"
Join us today at Author Island Cyber Launch Party to learn more about my talented co-authors and a chance to win prizes! The fun starts at 11:00 a.m. EST.
Hope to see you there.
Sloane Taylor
Sweet as Honey…Hotter than Hell