Good Monday Morning
March 5, 2012 | Author Friend New Releases
Today we have Marie Tuhart with us to share her new release HIS FOR THE WEEKEND. Marie's writing is strong with characters that draw you into their lives. This is an author you want to read.

HIS FOR THE WEEKEND
Marie Tuhart
The Wild Rose Press Scarlet Rose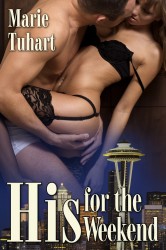 BLURB:
Cassandra Adams has a problem and its name is Marcus DeLuca. The man is quite determined to have her–on his terms. Cassie has had enough of domineering men in her life, yet she's drawn to strong, virile Marcus. Tempted to get that man out of her system once and for all, she agrees that she will be his for a weekend only–but then he must leave her alone forever.
Marcus will do anything to get sexy, non-committal Cassie into his arms, into his bed–failure is not an option. He wants nothing more than to keep Cassie in his life, but he senses a secret that keeps her from being able from committing–from submitting–to any man. Will Marcus's special brand of domination free her to be his for more than a weekend?
EXCERPT:
"I can't take this anymore." Her voice was whisper soft, but he heard the words as clear as if she had shouted them.
His heart leaped—now he could prove to her there was more to him than a co-worker and give their relationship a chance. "What are you willing to give me?"
Her head snapped up and she gnawed on her lip. "Twenty-four hours."
"Not enough. A hundred and twenty."
Her mouth opened then closed. Her gaze darted left, then right, before settling back on his face. He could almost see the wheels turning in her head. A good sign—she was willing to be his.
"Too long. Forty-eight."
He stood and crossed over to her. He needed to be close to her as they negotiated. "Still not enough. Ninety-six uninterrupted hours with you."
Her nose scrunched up and her lashes swept down, cutting off the view of her expressive eyes. "Sixty—six tonight until six Monday morning."
He noted the stubborn set to her chin. It wasn't ideal, but he could do it. He would not fail in winning her over. Leaning close, he whispered, "I'll take it."
She exhaled, lashes rising until she stared at him. "What are the ground rules?"
"There are none."
Her eyes widened. Oh, yes, he had her now and he wasn't letting go.
"No barriers. No rules."
Her shoulders dipped, then straightened. She acted like she was preparing for a battle, but it would be a battle of sex. "All right, but when the sixty hours are done, we're finished. I mean it. No flowers, no gifts, no mention of this weekend. Ever."
Without another word, she spun on her heels to walk out of his office.
He was quick to cross the room. He captured her by the shoulders, bringing her to a halt. His lips brushed her ear and a shiver shook her. "Remember what I said at the party?"
She didn't answer him, but her swift intake of breath was the only answer he needed.
"You belong to me."
"I belong to no man."
He slid his hands down her arms, past her clenched fists and encircled her waist, bringing her back flush against his chest, her breathing shallow.
She didn't struggle, not even when he tilted his hips, letting her know how much she aroused him.
"You will belong to me. I promise."
Escape to fantasy and learn more about Marie and her terrific books on her blog or her website. Marie is also on facebook and Twitter.
I'll be back Wednesday with a mouthwatering recipe for Eye of Round Roast. Until then…
Happy Reading!
Sloane Taylor
Sweet as Honey…Hotter than Hell
One Response to "Good Monday Morning"
Jenna Howard Says:


Phew. *fans self* Sexy, Marie. Very sexy.

On March 5th, 2012 at 7:39 pm