Your Perfect Mate
June 7, 2021 | Author Friend Promo
from Emma Lane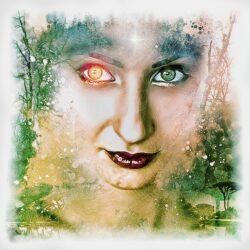 The way I see it, it's all about nature, selection of the fittest et al. Mother Nature is a clever old gal. She will coat her choice for you in pink clouds and rosy dreams of romance. Matter of fact, I'm convinced she invented romance. It's the unidentifiable essence that attracts one gender to the other seemingly without reason or plan.
I mentioned her cleverness, right? What she wants is a balance, which, perhaps, is all about the continuation of the species. I can find no other explanation why I wound up with a mate the exact opposite of me. Couples are, by definition, two halves which make a whole. I have allowed for the attraction of natural curiosity, which is present in all humans, and perhaps all living things. I stare with blank shock at a man who will eat oatmeal every morning for 12 months of the year. And be content for that meal to continue indefinitely. Even if I ate the most delicious sausage link for six mornings, and loved it, the seventh day I would vomit. I have an innate need for variety. He is grounded in consistency. It plays out over most of our personal choices the same way. Our tastes are opposite.
I could attribute these differences to the male/female preferences, but must pay attention when, in the last coffee klatch, one lady swears she loves oatmeal for breakfast, but her husband needs variety. (He might be the one with the wobbly marriage, but you didn't hear it from me.) No, I keep coming to the same conclusion.
On the whole, Mother Nature wants solidly conceived children, also a balanced family unit. So, she takes a person of a certain persuasion and a person with the opposite preferences and MATES them. For posterity.  The glue that keeps these people in a constant tug of war is the very thing we call 'romance.' Sometimes we call it, 'he's driving me crazy.' But it produces lovely well-balanced children, and fairly comfortable living conditions on a daily basis. He kills spiders and I deal with his mother. Mother Nature smiles benevolently down on couples grinding against one another (that's not dirty, I swear) smoothing and rounding the obstinate edges, while romance acts as a sweet buffer.
 The proof of my theory is when you see a couple in their waning days holding hands and deferring to their spouse's tastes. He's learned to eat oatmeal only three times a week and she joins him now and then. They smile at each other with fond memories of epic battles fought and won, mostly remembering only how sweet it was for the post-arguing make-up sex. Okay, that was a little risqué, but it was all the fault of Mother Nature.
The End (Flipping the pages of my pamphlet on how to introduce variety . . .)
Here is a brief intro to the cozy mystery series Emma writes as Janis Lane.
MURDER in the JUNKYARD sees the demise of a man no one likes, a romance, and plans for a wedding as Detective Fowler and his friends keep their small-town America free from danger.
Detective Kevin Fowler is furious that low life has targeted his town where people live in blissful safety. Brenda Bryant is out junkn' for good things when she stumbles over the grotesque body of a man beloved by no one. Suspense heats up when large sums of money are found in two different places. Drug money is suspected and Brenda targeted by someone who wants the money returned. Detective Fowler faces surprise after surprise as he peels back the surface of Hubbard, New York and deals with its shocking underbelly. Meanwhile romance infiltrates the group of friends with a wedding in the making.
Coming soon in late summer:
Murder at the Lookout
Detective Flower with wife, Beverly, search for a killer when an exquisite blonde with a unique history shows up to cause trouble. Is it true that cats always land on their feet?
Emma Lane is a gifted author who writes cozy mysteries as Janis Lane, Regency as Emma Lane, and spice as Sunny Lane.
She lives in Western New York where winter is snowy, spring arrives with rave reviews, summer days are long and velvet, and fall leaves are riotous in color. At long last she enjoys the perfect bow window for her desk where she is treated to a year-round panoramic view of nature. Her computer opens up a fourth fascinating window to the world. Her patient husband is always available to help with a plot twist and encourage Emma to never quit. Her day job is working with flowers at Herbtique and Plant Nursery, the nursery she and her son own.
Look for information about writing and plants on Emma's new website. Leave a comment or a gardening question and put a smile on Emma's face.
Stay connected to Emma on Facebook and Twitter. Be sure to check out the things that make Emma smile on Pinterest.