CELEBRATE DAD
June 9, 2021 | Cooking, Holidays, Uncategorized
Father's Day is June 20 this year. Show dad some love with this flavorful dinner fit for a king and definitely enjoyed by the queen and all the princes and princesses. Easy to make and oh, so good.
MENU
Grilled Sirloin Steak
Twice Baked Potatoes
Sautéed Mushrooms
Caesar Salad
Dry Red Wine – Burgundy
Grilled Sirloin Steak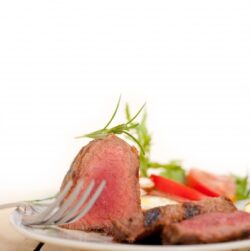 Sirloin steak, cut 1 – 1½ in. (2.50 – 3.80cm) plan ¾ lb. (375g) per person
1 cup (240ml) garlic infused oil (recipe below) or 1 cup (240ml) olive oil and 3 lg. garlic cloves, sliced
½ cup (120ml) dry red wine
2 tbsp. (30ml) basil
2 tbsp. (30ml) oregano
Cut slits in fat around the meat so it doesn't curl when cooked.
Combine all ingredients into a plastic bag or glass bowl. Marinade 5 – 12 hours in fridge. Sirloin can be tough. A long marinade is needed to make the meat tender and juicy.
Remove meat from fridge 1 hour before grilling.
Preheat grill on medium-high.
Pat meat dry. Discard marinade. Place steak on grill and close lid.
Grill first side 4 – 5 minutes. Turn meat (you only turn meat once) and final grill the second side as listed:
2 – 3 minutes rare
3 – 5 minutes medium-rare
5 – 7 minutes medium
6 – 9 minutes medium-well
Garlic Infused Oil
This is a wonderful oil to sauté vegetables or fry meat and poultry. It's especially good to swipe a thin coating on burgers before frying or grilling.
2 cups (450ml) good quality olive oil
5 garlic cloves, peeled and sliced
Drop garlic into a glass bottle or jar. Pour in oil. Cover tightly.
Set the bottle on your counter, away from the sun, for at least three days before you use it. Remove garlic after 5 days and discard. The flavored oil is good for two months.
This method works well with all herbs. Be sure to cover the herbs with oil so they don't mold.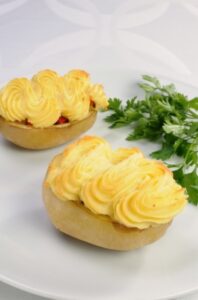 Twice Baked Potatoes
The amounts of the following ingredients are left up to your taste, but don't be sparing if you want great flavor.
1 baking potato per person
Olive oil
Butter
Extra sharp cheddar cheese, grated
Sour cream
Freshly ground pepper to taste
Paprika
Preheat oven to 400° F (200°C).
Wash potatoes under cool water. Pat dry. Rub skins with a little olive oil. Make a small slit across their tops. Lay on a cookie sheet. Bake 1 hour or until a toothpick is easily inserted.
Combine butter, cheddar cheese, sour cream, and pepper into a small bowl.
When potatoes are tender, lay them on a cutting board and slice them in half. They'll be very hot so use pot holders for this. Scoop the pulp into the above mixture. Be careful not to rip the skins. Whip the mixture well.
Refill the shells and set them back on a cookie sheet. Sprinkle with a little paprika for color.
Stop here if you plan to serve the potatoes the next day. Cover with cling wrap and refrigerate. Remove from the refrigerator at least one hour before baking.
No matter which option you use, preheat reheat oven to 325° F (160°C).
Bake uncovered 25 – 30 minutes. You only want to heat the potatoes so don't overdo the baking time.
Sautéed Mushrooms
8 oz. (250g) mini bella mushrooms
1 tbsp. (15ml) olive oil
2 tbsp. (25g) butter
½ small onion, sliced thin
2 tbsp. (30ml) dry vermouth or white wine
Freshly ground pepper to taste
Clean mushrooms with a paper towel to remove bedding soil. Slice them in half lengthwise if medium or into thirds if large.
Over medium heat dribble olive oil into a medium-sized frying pan and add butter. Stir in onions and mushrooms. Sauté until almost tender, 3 – 6 minutes.
Pour vermouth or white wine over the mushrooms and continue to heat.
To serve, grind pepper across the top and spoon into a warm serving dish.
This dish is best cooked and served on the same day. Leftovers are soggy.
Caesar Salad
1 egg, coddled
1 lg. clove garlic
½ tsp. (2.5ml) anchovy paste
Freshly ground pepper to taste
1 tbsp. (15ml) lemon juice, preferably fresh
3 drops white vinegar or as close to as possible
¼ cup (60ml) olive oil
Romaine lettuce, 3 leaves per person, washed and dried
½ cup (37g) Parmesan cheese, grated
1 bag croutons, optional
Remove egg from refrigerator well before assembling all other ingredients on your counter. Eggs cook better for any recipe when at or close to room temperature.
Fill a small saucepan with water and bring to a boil. Place egg in water and boil 2 minutes. This process is called coddling.  Rinse under cold water, crack shell, and then scoop the runny egg into a small bowl. Break up the solid white pieces and lightly mix. Later, you will add some of this to the salad dressing.
In a large glass or wooden serving bowl, mash garlic with a spoon and fork into coarse pieces. Rub pieces against the sides of bowl to spread the oil they have released.
Add anchovy and pepper. Mix well. Pour in lemon juice and vinegar. Mix well. Add in ½ – ¾ of the coddled egg. Mix well. Blend in olive oil until the dressing thickens. Remove this mixture from your bowl and set aside to use right before serving.
Tear lettuce into bitesize pieces. Add to salad bowl. Pour in some of the dressing. Toss well. Add more dressing if the lettuce looks too dry. Sprinkle on ¼ cup (28g) or so of Parmesan. Toss again.
Arrange salad on individual chilled bowls or plates. Sprinkle with remaining Parmesan and croutons. Serve immediately.
For a larger salad, increase ingredients proportionally, but do not exceed two eggs.
These recipes plus many more fun holiday menus are available in my Recipes to Cook Holidays Extraordinaire cookbook.