GOOD MORNING BREAD
November 2, 2022 | Author Friend Promo, Cooking
from Helen Carpenter
During the editing of one of our books, commas turned into a major topic of discussion. Yes, well, my daughter and I were writers, what did you expect? We liked commas and we also liked to slice commas from our writing, so we have a conflict of interest. For example, in the first two sentences of this paragraph (and this sentence too), we used commas. We could have used a comma in the third sentence before the "and," though we chose not to. Either way would have been correct.
Another example is the title of this post. A comma would change the entire meaning. By omitting it, we imply (or say) the recipe below is a good (delicious) morning bread. Had we included a comma (Good morning, bread) we would be saying good morning to our bread. That would also fit, since the bread is definitely worthy of salutations.
Like bread, commas have lots of uses. You can splash them around in personal and geographic names, in numbers, before quotations that indicate speech such as "she said," and in lists. If you're the user of a certain word processing software, you can make your commas curly or straight and either style gets the job done.
We don't claim to be experts on commas and we would be happy to hear your take on this very important punctuation. Let's eat breakfast while we have the discussion. If you're not hungry, then we'll say, "Let's eat, breakfast."
Breakfast Bread
1½ cups dried mixed fruit (we used one 5-ounce package of mixed cranberries, cherries, blueberries, strawberries, and raspberries, and filled in the remainder with dried cranberries)
½ cup warm tea, any flavor
1 package regular yeast
½ cup warm water
2 tbsp. butter
½ cup coconut milk
3 tbsp. sugar
2 tbsp. honey
1 tsp. salt
1 egg
1 tsp. cinnamon
3 cups all-purpose flour
¾ cup nuts of your choice (we used pecans and pistachios)
Spray 2 loaf pans with cooking spray or line with parchment paper.
Soak dried fruit in bowl with warm tea. Set aside.
In separate bowl, add yeast to warm water. Set aside in a warm draft free location.
Melt butter.
Mix coconut milk, sugar, honey, salt, and egg. Add melted butter and stir. Next, add yeast and water mixture and stir.
Mix cinnamon and flour. Add to liquid ingredients and mix well.
Drain fruit. Add fruit and nuts to dough. Use your hands to mix, adding additional flour by tablespoons if necessary.
Let dough rise 1 hour. Punch down, divide in half, and shape into two equal loaves. Put loaves in prepared pans and let rise 40 minutes.
Heat oven to 350° F. Bake loaves 30 minutes. Cool in pan 5 minutes and remove to rack.
Serve warm or cold with butter or topping of your choice.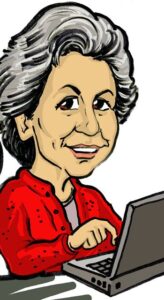 Once upon a time there was a mother/daughter author duo named Helen and Lorri, who wrote as HL Carpenter. The Carpenters worked from their studios in Carpenter Country, a magical place that, like their stories, was unreal but not untrue. Then one day Lorri left her studio to explore the land of What-if, and like others who have lost a loved one the magical place lost much of its magic. But thanks to family, plus an amazing group of wordsmiths named Authors Moving Forward (AMF), the magic is slowly returning.
Helen Carpenter loves liking and sharing blog posts from other authors. She lives in Florida with her husband of many years and appreciates every day, especially those without hurricanes.
Stay connected on her blog and  Facebook .