And the Christmas Coffee Tree is Born
November 7, 2022 | Uncategorized
from Will Okati
As with many of my stories, this one begins with a cat. In this case my cat, Teddy.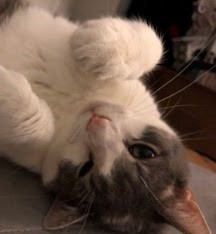 This is Teddy. Teddy is very, very sweet.
Teddy is also very, very, extremely, peculiarly and hilariously, Super Not Bright. Daft as a brick. Dense as plum pudding. I love him to bits and pieces but seriously, the little guy has one brain cell floating around inside his skull that occasionally bounces off the walls in an eternal game of Pong. If it is plant-based, Teddy will eat it. If it is plastic-based, Teddy will try to eat it. Then get mad at it and destroy it. Teddy also tries to fight irons because he thinks the steam is another cat hissing at him. Like I said, Teddy is not bright.
Clearly, an actual Christmas tree is not an option in this household. Apartmenthold.
So what to do, I ask while standing next to my sewing machine. What to do, I ponder, while staring blindly at the fabric stash that will one day overflow my storage bins and suffocate me in my sleep.
Oh. Yeah. D'uh. I can make one. (Good job, Will, you get a candy cane.)
One quilted tree coming up! The pattern I found looked like a lot of fun: red and green and white, very festive. I cut out all the pieces for it, and then I thought: what if? Nah. Surely not. But then again, what if.
I love what if. Every concept, invention, and it's-so-crazy-it-might-just-work thingamambob has been born from that question. If I'm going to make my own tree, then what if I went off book and made something different, quirky, and reflective of things I love?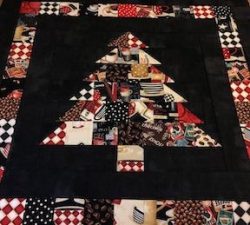 Inspiration continued to soar through me so for this holiday season, the Christmas Coffee Tree was born, soon followed by the Book Tree.
A Bee Tree, Rainbow Gradient Tree, Vintage Market Tree, and – yes – Cat Tree are all currently in progress.
I'm having so much fun making these wall quilts that I've started selling them on commission. They finish at 29 x 29 inches for the small ($75 plus shipping) and 59 x 59 inches for the large ($125 plus shipping). They're fully bound, machine/straight-line topstitched, and come with pockets sewn on the back so they can easily be hung flat on the wall. Pretty much any theme you think of will work. Good for the environment, handy for those without a lot of display or storage space or anyone allergic to pine. Best of all they make a great gift.
If you'd like to try making your own tree, the pattern is a free download from Fat Quarter Shop.
If you'd like to commission a quilt from Will, feel free to message him on Facebook  or check out his Etsy Shop.  You can also find his books at Changling Press.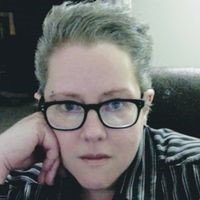 Will Okati is a writer, seamster, and apartment-dwelling hermit from North Carolina. He fluffed around with sewing this and that until 2020 hit us all like an eighteen-wheeler driven by someone sustained only by Red Bull and adrenaline. He spent the next year and a half sewing masks and fell in love with textile arts along the way.
Will has lived through a few Interesting Times, but came out the other side a little grayer, a little wiser, and ready to write. Still as passionate about coffee, cats, and crafts as ever, but knowing that to your own self you must be true. Also, still one of the quiet ones to watch out for, but life – like storytelling – is always a work in progress.