EACH ONE, TEACH ONE
January 2, 2023 | Author Friend Promo
from Sharon Ledwith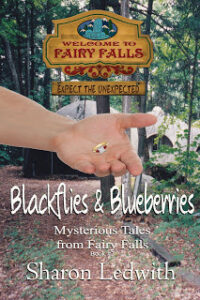 In book two of Mysterious Tales from Fairy Falls, Blackflies and Blueberries, I wrote about Hart Stewart—a teenage psychometrist who has no problem 'reading' the absorbed energy from an object like a ring or watch but struggles with the most basic reading skills. He finds a ring that pulls him into the past to witness a woman's murder that has gone unsolved for over a year. That woman was Diana MacGregor's mother, and when she discovers that Hart is in possession of the ring and he shares the intimate details of her mother's murder through his psychic ability, Diana strikes a deal with him. She'll teach Hart how to read and write if he helps find her mother's killer.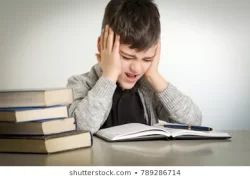 I've had the privilege of being a tutor with the Literacy Council in the northern tourist town where I used to live. It was quite a humbling experience. I was truly amazed how many people fell through the cracks of our society without basic math, reading, and writing skills. I honestly don't know how they survived, but they found ways to cope, to blend, and to adapt. One of my students had such a backward life, living in the bush with six siblings and parents who did their best with the life tools that they had acquired. He never knew anything different than to buck the system. On welfare, with no skills except as a delivery driver, he managed through life memorizing road signs and maps to keep his job. During one session, I asked him how he had been able to get his driver's license? He confessed at the time he wrote the test (late 1970s), someone could sit with him and read the test to him. Wow. The times have sure changed! On social assistance for most of his life, he came to the Literacy Council with dreams of getting his A-Z license so that he could drive trucks. A lofty, but attainable goal in his eyes.
So, what are some of the causes of illiteracy?
Problems are almost always a result of difficulties in the early school years, prior to grade four. Some reasons for falling through the cracks are:
The high mobility of our society (family moving around) and the fact that school curricula are not standardized from school board to school board.
Child immaturity (not interested in learning) compounded by lack of parental involvement with early education.
Intellectual limitations.
Teachers are overburdened by large classrooms and integrated special needs, as well as lack of time, opportunity and resources.
Generational illiteracy—illiterate or non-English speaking parents at home—no books, no role model, reading has no importance.
Undiagnosed visual or hearing impairment or learning disability.
Trauma—lengthy illness, death of a close loved one, parent's divorce, etc.
In some cases, the bleak future (dead-end, low-paying jobs, frequent unemployment, utter dependence on others) causes anger, frustration and hopelessness, which in turn often leads to violence and crime. Today, in the jail system, studies are revealing the reading level of the average inmate to be at grade two. I'm not sure if my student ever did achieve his goals as a truck driver, but hopefully I gave him some basic skills that would serve him for the rest of his life. Each one, teach one starts in the home by doing something as simple as reading to your child at bedtime. And if you ever get a chance to volunteer at your local literacy council, take a chance and change a life! You'll be glad you made a difference.
Here's a snippet of my latest novel, Blackflies and Blueberries, the second installment of Mysterious Tales from Falls teen psychic mystery series…
The only witness left to testify against an unsolved crime in Fairy Falls isn't a person…
City born and bred, Hart Stewart possesses the gift of psychometry—the psychic ability to discover facts about an event or person by touching inanimate objects associated with them. Since his mother's death, seventeen-year-old Hart has endured homelessness, and has learned ways to keep his illiteracy under wraps. He eventually learns of a great-aunt living in Fairy Falls and decides to leave the only life he's ever known for an uncertain future.
Diana MacGregor lives in Fairy Falls. Her mother was a victim of a senseless murder. Only Diana's unanswered questions and her grief keeps her going, until Hart finds her mother's lost ring and becomes a witness to her murder.
Through Hart's psychic power, Diana gains hope for justice. Their investigation leads them into the corrupt world threatening Fairy Falls. To secure the town's future, Hart and Diana must join forces to uncover the shocking truth, or they risk losing the true essence of Fairy Falls forever.
Here's a glimpse of the premises of both my young adult series.
The Last Timekeepers Time Travel Adventures
Chosen by an Atlantean Magus to be Timekeepers—legendary time travelers sworn to keep history safe from the evil Belial—five classmates are sent into the past to restore balance, and bring order back into the world, one mission at a time.
Children are the keys to our future. And now, children are the only hope for our past.
Mysterious Tales from Fairy Falls Teen Psychic Mysteries
Imagine a teenager possessing a psychic ability and struggling to cope with its freakish power. There's no hope for a normal life, and no one who understands. Now, imagine being uprooted and forced to live in a small tourist town where nothing much ever happens. It's bores-ville from the get-go. Until mysterious things start to happen.
Welcome to Fairy Falls. Expect the unexpected.
The Last Timekeepers Time Travel Adventure Series:
The Last Timekeepers and the Noble Slave, Book #3
MIRROR WORLD PUBLISHING ׀ AMAZON ׀ BARNES & NOBLE ׀
The Last Timekeepers and the Dark Secret, Book #2 Buy Links:
MIRROR WORLD PUBLISHING ׀ AMAZON ׀ BARNES & NOBLE ׀
The Last Timekeepers and the Arch of Atlantis, Book #1 Buy Links:
MIRROR WORLD PUBLISHING ׀ AMAZON ׀ BARNES & NOBLE ׀
Legend of the Timekeepers, prequel Buy Links:
MIRROR WORLD PUBLISHING ׀ AMAZON ׀ BARNES & NOBLE ׀
Mysterious Tales from Fairy Falls Teen Psychic Mystery Series:
Lost and Found, Book One Buy Links:
MIRROR WORLD PUBLISHING ׀ AMAZON ׀ BARNES & NOBLE ׀
Blackflies and Blueberries, Book Two Buy Links:
MIRROR WORLD PUBLISHING ׀ AMAZON ׀ BARNES & NOBLE ׀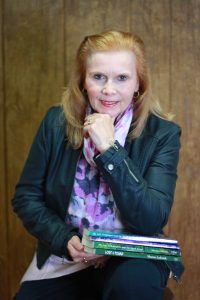 Sharon Ledwith is the author of the middle-grade/young adult time travel adventure series, THE LAST TIMEKEEPERS, and the award-winning teen psychic mystery series, MYSTERIOUS TALES FROM FAIRY FALLS. When not writing, reading, researching, or revising, she enjoys anything arcane, ancient mysteries, and single malt scotch. Sharon lives a serene, yet busy life in a southern tourist region of Ontario, Canada, with her spoiled hubby, and a moody calico cat.
Learn more about Sharon Ledwith on her WEBSITE and BLOG. Look up her AMAZON AUTHOR page for a list of current books. Stay connected on FACEBOOK, TWITTER, PINTEREST, LINKEDIN, INSTAGRAM, and GOODREADS.
BONUS: Download the free PDF short story The Terrible, Mighty Crystal HERE