WINTER WARM UP
January 4, 2023 | Author Friend Promo, Cooking
by Helen Carpenter
Some like it hot, some like it cold, some like it in a pot nine days old. Remember the Mother Goose "pease porridge" rhyme? While today we may think of porridge as cereal, in the sixteenth century, "porridge" was a derivation of "pottage" or "potage" meaning cooking pot. "Chowder" also comes from the word pot, via the French "cauldron."
However you like your soup—hot, cold, or nine days old—combining savory ingredients in a pot and letting the flavors mingle is a time-tested menu favorite.
But what if you want your soup NOW? Well, you're our kind of person, and we have just the recipe for you. Using already cooked ingredients makes this soup a quick lunch, ready in twenty minutes or less.
Corny Ham Chowder
1 cup milk
1 can cream style sweet corn
1½ cups cooked ham, cut into chunks
1½ cups cooked potatoes, drained and cut into chunks (canned works too)
1 tsp. onion powder
1 cup (4 oz) sharp cheddar cheese, shredded
Green onion or scallion slivers (optional)
Salt or chicken bouillon to taste
Mix milk, corn, ham, and potatoes in medium pot. Cook, be sure to stir occasionally until heated through.
Add cheese. Cover pot and let cheese melt completely.
Serve with a chunk of hearty bread.
Bonus Goodness:
Crave added richness? Substitute ½ cup of cream for ½ of the milk.
Are you a vegetable fan? Toss in the veggie of your choice, either frozen or fresh. We like frozen carrots for the added color—and the nutrition too of course.
No ham? Smoked sausage is a nice substitute.
Bland potatoes? Mix in sweet pickle juice. A teaspoon gives the soup zing.
Need more soup? Add more stuff. The converse works too.
Fighting off vampires? Switch out the regular salt for a teaspoon of garlic salt. If you have a bad infestation, add ½ teaspoon crushed garlic to the soup and serve with a wood spoon.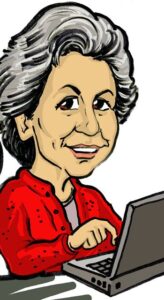 Once upon a time there was a mother/daughter author duo named Helen and Lorri, who wrote as HL Carpenter. The Carpenters worked from their studios in Carpenter Country, a magical place that, like their stories, was unreal but not untrue. Then one day Lorri left her studio to explore the land of What-if, and like others who have lost a loved one the magical place lost much of its magic. But thanks to family, plus an amazing group of wordsmiths named Authors Moving Forward (AMF), the magic is slowly returning.
Helen Carpenter loves liking and sharing blog posts from other authors. She lives in Florida with her husband of many years and appreciates every day, especially those without hurricanes.
Stay connected on her blog and Facebook.