Stopping by Woods on a Snowy Evening
January 9, 2023 | Author Friend Promo
from Emma Lane
Robert Frost is one of my favorite poets. At this time of the year his poem Stopping by Woods on a Snowy Evening warms me and makes me long for spring. I hope you enjoy the poem and my short inserts.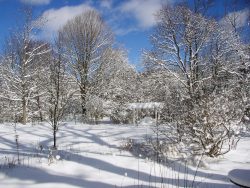 Whose woods these are I think I know.
His house is in the village though.
He will not see me stopping here
To watch his woods fill up with snow.
He gives his harness bells a shake
To ask if there is some mistake.
The only other sound's the sweep
Of easy wind and downy flake.
Acknowledge we all long for warmer weather. In the depths of winter with no hope as yet for spring, we assess the year's past.
He gives his harness bells a shake
To ask if there is some mistake.
The only other sound's the sweep
Of easy wind and downy flake.
Take stock. What plan worked; what was a dismal failure.
My little horse must think it queer
To stop without a farmhouse near
Between the woods and frozen lake
The darkest evening of the year.
Taxes loom, but not yet as the spring catalogs have started to arrive. For this household, it's time to plan, to dream, to make notes, to check budgets. While the snow whirls and the winds blow, the photographs of new varieties of plants sparkle on the brightly colored pages and wish lists grow down the page.
Out my window I see long whips of forsythia, buds protruding, waiting for the first peep of spring breezes. I feel a slight thump of adrenalin race through my veins. Am I already behind on my paperwork? Hard winter, after all, lasts only a few weeks. I finish the last stanza of my favorite poet, Robert Frost. He was an avid nature lover as am I. Best ignore those dark, snowy mornings and get to work. The upcoming warm breezes are sirens of temptation and I'll want to be outside and doing soon.
The woods are lovely, dark and deep,
But I have promises to keep,
And miles to go before I sleep,
And miles to go before I sleep.
Here's a peek at Emma's winter anthology for your reading pleasure.
A Wild Wicked Duke
After a cruel family betrayal, Caroline Engelson vows the wicked duke will never regain her love unless he first earns her respect, no matter how fervently she longs for his kisses.
A serious accident delivers the wicked duke into Caro's care, but she is shocked and hurt when he refers to her teen years as the 'brat with tangled curls.' Caro is all grown up now when the wicked duke tries to take advantage of her emotions, even as he turns the orderly household into total chaos with his ducal roars. To his astonishment, his best friend's sister is made of sterner stuff. The situation changes drastically when Caro learns of a shocking family secret..
A Duke Finds Love
Young love is disrupted and the couple parted, but their unsympathetic parents fail to extinguish the strong bond between the two.
Roseland, left pregnant by the duke's son, weds a neighbor, mistaking that her lover has been forced to marry another. A war and five years later, the two face a second chance, but despite their deep love for one another, impediments must be faced before happily ever after will be theirs at long last.
Beloved Soldier Returns
A wounded British soldier faces amnesia and frustrating dreams, but is finally well enough to reclaim his fiancée and his heritage when a gypsy woman arrives to share an important secret.
Robert Cooper-Hanton, a soldier who fought against Napoleon at Waterloo, is seriously wounded and suffers amnesia but survives in a gypsy camp for three years. Pockets of memory are still missing, leaving him with dreams of people with no names, when he makes the decision to begin his journey home. He has no conscious remembrance of a fiancée he left behind but is not surprised to learn that a cousin has usurped his property. When neighborhood friends reveal the fact of his engagement to Lynda Clarington, his memory of her returns in a flash and he recognizes the woman of his dreams.
Lynda had struggled without much success to accept her loss and is overjoyed to learn that Cooper is alive. She has loved him since childhood, but can she adjust to a man who seems irrevocably changed? When a gypsy woman shows up searching for Cooper, Lynda is plagued with doubt. Will Cooper manage to reunite with his old life and the woman he loves or will he remain lost in his hazy memories, dreams and a changed reality?
Dark Domino
Sarah Louise and Ethan have loved each other all their lives, but a war and time apart may have jeopardized their relationship.
Ethan has been away at war for six long years—without a single letter to the young girl he left behind. He is certain she has forgotten him, but he is still drawn to her. Dressed for a masquerade in a dark domino, he leads her to the garden and tries to steal a kiss. Sarah does not know why the man in the dark domino is so familiar, and why a stranger should give her a feeling of home. When Ethan reveals his identity, Sarah's anger and hurt overwhelm even her love. Can a new life be built on the foundations of a first love? Or will the Dark Domino remain alone forever?
Emma Lane lives in Western New York where winter is snowy, spring arrives with rave reviews, summer days are long and velvet, and fall leaves are riotous color.
Emma is a gifted author who writes under several pennames. She writes Regency Romance as Emma Lane, but also delights in dipping into a Contemporary Cozy Romantic Mystery as Janis Lane.
Her day job is working with flowers at the plant nursery where she is part owner. Look for information about writing and plants on her new website. Leave a comment or a gardening question and put a smile on Emma's face. Stay connected to Emma on Facebook and Twitter.