Bon Appétit!
April 19, 2023 | Uncategorized
Studs' daughter Theresa is a wonderful cook and has contributed several recipes for my blog. Here is her latest to whet your appetite. This delicious, and oh so easy to make breakfast/brunch treat, serves 8 – 10 people. Cut back the ingredients proportionally, including the baking dish, if preparing for a smaller group. You can prepare the recipe the day before, then cover and refrigerate when ready to bake it. Be sure to remove the casserole from the fridge and hour ahead of time.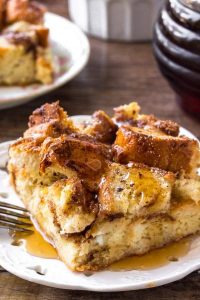 Theresa's French Toast Casserole
1 loaf brioche bread
12 tbsp. butter
1 cup brown sugar
1 tbsp. cinnamon
12 eggs
1 cup heavy cream*
1 tsp. vanilla
Preheat oven to 350° F.
Cut bread into small cubes then scatter across the bottom of a 9 x 13-inch baking dish or pan.
Melt butter in a microwave safe bowl. Whisk in sugar and cinnamon. Pour mixture over bread.
Whisk together eggs, cream, and vanilla in a medium size bowl. Pour mixture over bread.
Cover with aluminum foil and bake 30 minutes. Remove foil and bake another 5 minutes or until lightly browned.
*No need to run out and buy cream if you don't have it on hand. Here is a simple substitute that works great in cooked recipes.
Heavy Cream Substitute
5 tbsp. (71g) butter, softened
¾ cup milk
1 tbsp. flour
Combine milk and butter in a small bowl. Use an electric mixer to blend well. slowly add in flour and beat until desired consistency. the recipe makes 1 cup and does not replace whipping cream.
May you enjoy all the days of your life filled with good friends, laughter, and seated around a well-laden table!
Sloane
Leave a Reply