Letters From Home
April 17, 2023 | Author Friend Promo
from Catherine Castle
When was the last time you received a letter in the mail? I mean a real letter, not an advertisement or a request for a donation. It is an old practice most people now ignore. But since April is National Letter Writing Month, perhaps there's someone in your life who might like to know you're thinking of them.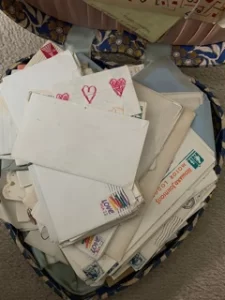 I ran across an old letter from my mother the other day. There was no envelope to tell me who'd written the letter, but the moment I saw the wiggly script and rough grammar, I knew instantly who'd penned the words—or rather who'd penciled them. Mom's words of congratulations on the birth of my daughter and the regret she felt at her inability to traverse the distance between us to be there to help me at the birth sent me hurtling back 42 years to a time when our main mode of communication was letters. I didn't realize at the time I'd be writing a post about letters, or I'd have kept the missive from Mom. Instead, I slipped it between the pages of my daughter's baby book and gave it to her to keep. After all, the letter was about her.
Back in the 70s, when the letter was written, cell phones didn't exist, at least not for common folk.  Long distance land-line phone calls cost by the minute and could get pricey really quick when you wanted to chat up the family and tell them what was happening in your life across the continent. So, we wrote letters. Lots of letters.
I lived for those weekly letters from home, because even though I'd made friends in a faraway state, I still missed my family. Seeing the familiar scrawl of my mother's handwriting and the precise, loopy script of my mother-in-law's hand took me back every week to my hometown, to a place that was comforting.
My mother-in-law, who was a talker in person, was no less gabby in her letters to me. Her letters tended to run at least two pages and sometimes four. Every week I knew what she'd had for their Sunday eat-out dinner after church service, and whether it was better or worse that last week's meal. I knew what her daily activities had been for the week (sometimes she even included the chores she'd finished), whom she'd seen at church (even if it was someone I didn't personally know), the songs the vocal groups she directed had practiced or sung at a performance. I knew what new or interesting things my sister-in-law, who was still in high school, had done and where she and her boyfriend had gone on their dates. If something was a part of my mother-in-law's daily life, she wrote about it. When she began to run out of space, being the frugal person she was, she'd write in the margins going around the page so I had to rotate the letter to read the rest of the note.
My mother, who was less of a talker in person, tended to write about her garden, what was going on with the people I knew at church, and my two sisters' activities.  Mom's letters were shorter but enjoyed just as much as my gabby mother-in-law's dissertations.
These two women kept me connected to home for the four years my husband and I were away and unable to come home regularly.
Recently I ran across an old family letter that I hadn't read before. In it my husband's grandma talks about her daily routine. Here are a couple of clips from the letter, which I believe was one of the last she wrote before her death.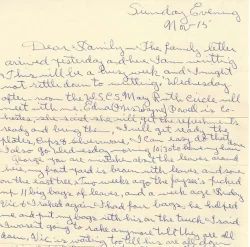 In other parts of the letter, she talks about how many tomatoes her garden yielded compared to my father-in-law's garden, the weather that morning (it snowed and froze the last of the garden), who was sick in the town, and upcoming Christmas visit to her home.
Although technology like telephones, cell phones, texting, and zoom calls and emails are a nice way to connect with our loved ones in the here and now, they disappear when the call is over or we get a new cell phone, or our email server crashes or says we have no more storage room on the server. All those words and conversations can never be reread or shared in their entirety. We can't see the hand of the person in the email, only typed letters, or, in the case of text messages, a I ♥ U in the signature line. Handwriting is unique to each person and often displays some of a personality, something a typed page will never reveal to the reader.
I feel sorry for those who have no written letters from home. Discovering the letter my mother sent me at the birth of my daughter brought back a flood of memories about that time frame as well as a mental picture of my mother. Rereading Grandma's words took me back to the time when she was alive and reconnected me to her. And rereading the letters from my husband while we were dating and when he was on business in another city floods my heart with emotions.
April is National Letter Writing Month. Let's all take some time this month and create new memories with the old-fashioned activity of letter writing. Choose a family member or friend who doesn't live near you and surprise them with a letter from home, filled with newsy bits of information they might like to tuck away for a future re-read.
Tell them you love them. Tell them you miss them. Tell them about the work-a-day stuff of your life and anything you think might entertain them. You might be surprised at the pleasure putting words to paper gives you. And, you might inspire them to answer with their own letter of reply.
Happy Writing!
Catherine
Here's a peek at Catherine's award-winning novel.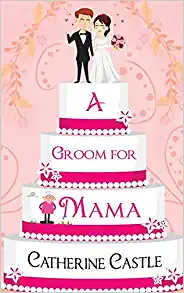 Beverly Walters is dying, and before she goes, she has one wish—to find a groom for her daughter. To get the deed done, Mama enlists the dating service of Jack Somerset, Allison's former boyfriend.
The last thing corporate-climbing Allison wants is a husband. Furious with Mama's meddling, and a bit more interested in Jack than she wants to admit, Allison agrees to the scheme as long as Mama promises to search for a cure for her terminal illness.
A cross-country trip from Nevada to Ohio ensues, with a string of disastrous dates along the way, as the trio hunts for treatment and A Groom for Mama.
Available from Amazon and Barnes and Noble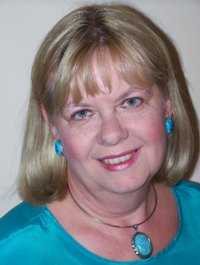 Multi-award winning author Catherine Castle loves writing. Before beginning her career as a romance writer, she worked part-time as a freelance writer. She has over 600 articles and photographs to her credit, under her real name, in the Christian and secular market. She also lays claim to over 300 internet articles written on a variety of subjects and several hundred poems.
In addition to writing, she loves reading, traveling, singing, theatre, quilting, and gardening. She's a passionate gardener whose garden won a "Best Hillside Garden" award from the local gardening club. She writes sweet and inspirational romances. You can find her award-winning Soul Mate books The Nun and the Narc and A Groom for Mama, on Amazon and Barnes and Noble. Follow her on Twitter, FB, or her blog.
Leave a Reply