COVER REVEAL for EMMA LANE
August 14, 2023 | Cover Reveal
Regency romance author Emma Lane and Soul Mate Publishing are proud to share the cover for The Baron and The Vicar's Daughter. Here's a peek at what's coming soon.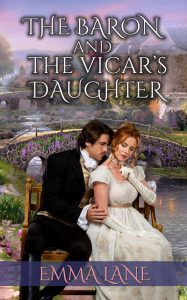 Lord Sutcliffe meets a pretty miss on a dusty country road and rescues her from an embarrassing dilemma. It must have been magic as his intention was only to steal a quick buss. Instead, he is astonished to find himself involved in a passionate kiss which leaves him shaken to the core. Frances, the vicar's eldest daughter, should have put that impudent, frivolous lord in his place. Why she responded to his kiss the way she did, she'd never know, only that the feelings were too delicious to resist.
Frances consumed with prejudice and the baron filled with pride enter a relationship which begins with them both skeptical they would ever measure up to the roles they are destined to play. What did he know of estate matters? He was born a military man. How could he convince a vicar's daughter to join him and fill his lonely days as well as the long nights? Will her quest to fill her mother's shoes cause Frances to turn away from the passionate, happily ever after love of her own so freely offered?
This book is dedicated to young love everywhere and to a special young lady, ERM. Many thanks to an understanding publisher and her staff.
Janis Lane is the penname for gifted author Emma Lane who writes cozy mysteries as Janis, Regency as Emma, and spice as Sunny Lane.
She lives in Western New York where winter is snowy, spring arrives with rave reviews, summer days are long and velvet, and fall leaves are riotous in color. At long last she enjoys the perfect bow window for her desk where she is treated to a year-round panoramic view of nature. Her computer opens up a fourth fascinating window to the world. Her patient husband is always available to help with a plot twist and encourage Emma to never quit. Her day job is working with flowers at Herbtique and Plant Nursery, the nursery she and her son own.
Look for information about writing and plants on Emma's new website. Leave a comment or a gardening question and put a smile on Emma's face.
Stay connected to Emma on Facebook and Twitter. Be sure to check out the things that make Emma smile on Pinterest.
Leave a Reply