WHERE DANGER AND PASSION COLLIDE
December 13, 2008 | Friends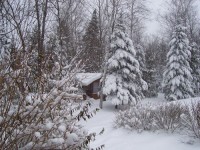 Hello from snowy and icy Maine! Thanks, Sloane, for inviting me to blog today. I'm Pam Champagne and I write a bit of everything, although my favorite genre is suspense. I live in the woods of Maine at the end of a ½ mile discontinued town road, so we don't have neighbors except for the four legged wild ones.
DEAD HEAT
Wild Rose Press
Amazon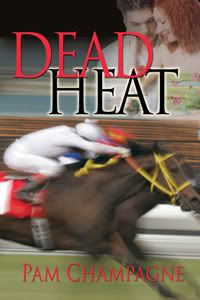 Blurb:
Jenna Green struggles to make a name for herself on the racetrack after her father's untimely death. Rye Cameron's offer of a job to train his horses comes out of the blue. Aware of his reputation with women, she accepts the job despite her doubts. Soon she discovers the real reason Rye hired her and finds herself fighting for her life.
I drew on my experiences on the racetrack to write this story. I just received notification that DEAD HEAT placed third in the 2008 Barclay Gold RWA Contest.
BED OF LIES
2008 Eppie Romantic Suspense Winner
Samhain Publishing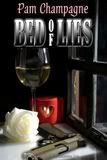 Blurb:
Can separated soul mates learn to trust each other again before a ruthless killer ends their second chance?
Drug Enforcement Agent Ace Bear returns to Spruce Harbor, Maine to investigate a deadly cocaine ring. He's prepared to deal with the town's bigotry against his Cree heritage, but when he comes face-to-face with the woman he loved twelve years ago, passion flares. He realizes the ties between them cannot be broken.
Brenna McKenzie is furious the man who deserted her the day their infant daughter died has dared to show his face. When she discovers why Ace is in town, however, fear for her brother, who she suspects is a drug addict, forces her to swallow her animosity. Ace's return ignites a chain of events and soon Brenna's own life is in jeopardy.
As Brenna and Ace struggle to understand the treachery that once ripped them apart, they fight to stay one step ahead of the danger that threatens to put an end to their reunion—and their lives.
A trailer for BED OF LIES is on MySpace.
CHRISTMAS REUNION
A free short read from Samhain Publishing.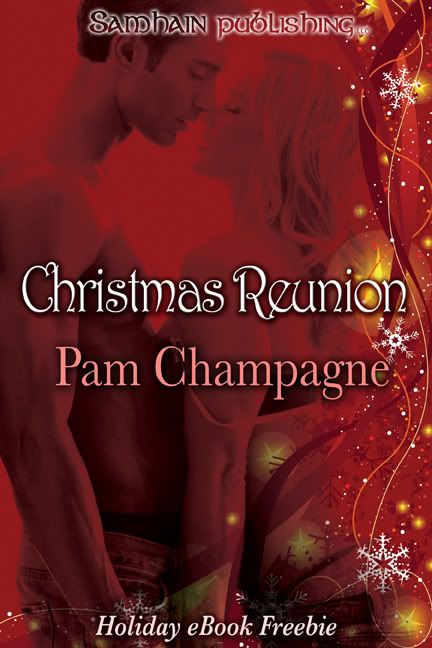 COMING SOON
ALASKAN HEAT, Samhain Publishing will be released in March, 2009. I do not have a cover yet.
Blurb:
FBI agent Sophie Branson has been lusting after Agent Joe Hawkins since the night he drank too much tequila, made love to her and then passed out leaving her sexually unsatisfied. Now that he's been framed by rogue agents, it's her job to keep him and bring him home. She picks him up on the Alaskan Highway and together they make the long drive to Eagle, Alaska where Hawk thinks his friends will help clear his name.
During the trip on the trip, Sophie and Hawk get more than they'd bargained for, including fighting with the bad guys and the best sex either of them has ever had.
DANCE FOR ME, Siren Publishing in April, 2009.
Blurb:
Detective Lara Stevens has her hands full. Not only does she have to investigate a series of bizarre serial murders without her trusted partner, she has to deal with Reino Larkin, a man twelve years her junior. With several exotic dancers murdered, Lara goes undercover as a stripper at the club where the victims worked, and Reino is more than happy to cheer her on. But can she keep her cool professional kick ass attitude when all she wants to do is get naked with Reino? Seeing the way he watches her on stage, his eyes full of desire, gets her juices flowing. Then there is the murderer, watching…waiting.
When Reino discovers his murdered friend had been an exotic dancer, he becomes a regular at the Beaver Lodge where she danced. When Lara struts onto the stage, wearing a cowboy hat and not much else, the heat rises and with it his protective instincts.
Direct links along with full list of available books can be found on my website.
Thanks, again, Sloane, for thinking of me. I hope everyone has a peace-filled holiday season and a healthy new year.
Pam Champagne
http://www.pamchampagne.net/index.php
3 Responses to "WHERE DANGER AND PASSION COLLIDE"
Sloane Says:


Thanks, Pam, for coming out and sharing all your great reads. Congratulations on the Barclay Gold and EPPIE awards! Your books ROCK!!

On December 13th, 2008 at 8:49 am
jan springer Says:


Hi Pam!

What an awesome photo! Love that cabin drenched in snow!! I heard that around your area you guys are in the middle of an ice storm? Yeeks!

Beautiful cover for Christmas Reunion! Your stories sound fab! Will have to check them out. 🙂

Merry Xmas to you and a happy birthday to Sloane!

Hugs,
jan

On December 13th, 2008 at 5:52 pm
Pam Champagne Says:


Thanks, Jan. Actually, that cabin is our hot tub house. We have a wood fired cedar hot tub that is wonderful to sit in when it's sub zero weather.

Pam

On December 13th, 2008 at 6:18 pm