The Sirens Are At It Again!
August 24, 2009 | Contests
Here's the updated information on our book tour. We're doing 12 locations with one winner at each site. Seven winners so far; YASMINE, JEFFERSON, SUSAN, ANNE, MELISSA, MAHALIA and MAITHE!! You could be next.
The prize is a terrific totebag filled with books, candy, candles, and other fun things. To win, you must post. You can only win once during the tour, but you can post as many times as you like at each location!
As a bonus, we're also at BRENDA WILLIAMSON Thursday August 27 from 8:00am – noon EST today. Feel free to join us for a fun time.
Today we have three excellent authors from the Steamy Love & Laughter Sirens sharing their work.
First up is Sam Cheever, a phenomenal paranormal writer. Check Sam out at her website, blog, Facebook, MySpace, or Twitter to read more of her work.
NOCKED OVER
Sam Cheever
Ellora's Cave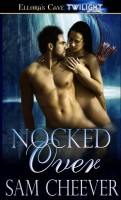 BLURB:
Daphne Charissa isn't a chubby little guy with wings and a quiver of arrows. But she does belong to the Cupid race—a race of devastatingly beautiful creatures who excel at helping others find love, while remaining loveless themselves throughout their long lives.
When Daphne falls in love with Bion Chronos, she launches the two of them into a direct confrontation with the Furies as they fight to protect their own love and win release from the curse of lovelessness for the whole Cupid race. The problem is, the Furies have no intention of letting them win, and the lovers can't seem to keep their hands off each other long enough to form a coherent plan.
It's gonna be an interesting battle.
EXCERPT:
Bion walked in the front door of the firm, carrying a single lavender rose in one hand and wearing a smile.
He walked toward me, past the receptionist and extended the rose. "Good morning."
Without thinking I took it, then looked at it in shock. A lavender rose, representing love at first sight. Damn!
I tried to hand it back to him.
He shook his head "Uh-uh. You accepted it."
I frowned. "I can't accept this, Mr. Chronos."
He frowned back at me. "Bion."
I turned away. "Mr. Chronos, can you join me in my office, please?" I nodded to Becky, our receptionist, who shrugged as if to say, "Sorry, I couldn't stop him."
I didn't turn to see if he followed, I didn't need to. I could feel every breath he took, every beat of his heart and every line of his hard body in my soul. I breathed deeply and his unique, knee-melting scent filled my head, making me dizzy with lust.
I really needed to get a grip.
I touched the door frame as I entered my office to steady myself, then moved toward my desk. I heard the door close and turned in panic.
It wasn't safe for me to be closed into the office with him. I opened my mouth to tell him to open the door, but didn't get the chance.
He was standing so close behind me, my breasts rubbed across his chest as I turned. I gasped.
He smiled.
His lips found mine.
My eyes popped wide and, to my extreme credit, I did try to push him away. For about three seconds. Then I succumbed to the drug that was Bion.
My knees buckled and his arms snugged around my waist, holding me upright, so tight against his body that I couldn't move. Couldn't form a straight thought.
I stopped breathing my own air and consumed his instead. It was a heady brew filled with sexual heat and untamed musk. I drank it down like fine wine. My head spinning with the kick from it.
He pulled his lips from mine and I gave a little cry, throwing my arms around his neck to hold him close.
He chuckled softly and took my bottom lip between strong, white teeth, nibbling until I thought I'd come on the spot, just from the sheer, unfocused pleasure.
His teeth left my mouth and nibbled their way down to my jawline, where pleasure points I never knew I had exploded into life.
I lifted a leg and wrapped it shamelessly around his waist, pulsing against him like a bitch in heat.
~~~~~~~~~~~~~~~~~~~~~~~~~
Lucynda Storey is a critically acclaimed multi-published author who writes in several genres. Thjis is one author you'll want to follow if you enjoy hot sexy reads. You can learn more about Lucynda and her books on her website.
WELCOME TO THE JUNGLE
Lucynda Storey
Aspen Mountain Press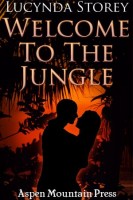 BLURB:
Traveling to Guatemala to bring her ill sister home, California Evans discovers the jungle and highlands hold more secrets and dangers than she suspected. When her sister mysteriously disappears, Cali unites with Rob Masters who has an agenda all his own. Time is running out as the two work to save her sister and a small child. And when it's all over, what will become of her heart?
EXCERPT:
More sounds. This time they were recognizable. Human. But friend or foe? How could she possibly know? She laid flat on her stomach, pushing back an irrational urge to laugh.
Willpower kept her quiet as questions occupied her mind. Who was the man who'd taken her from the clinic? How was he involved with Rob? Perhaps the Embassy was the best place for her to go once she got out of this pickle. She had little information and questions aplenty. With her limited Spanish, she badly needed a translator.
More voices. This time she heard English. If she could only be sure who was looking for her.
"Cali! Cali where are you?"
A heavy sigh left her. Thank god, it was the doctor. He'd escaped and come looking for her. Weakly she responded to his shouts. "I'm here."
She pushed herself to her knees just as a pair of hiking boots arrived in her field of vision. She allowed her gaze to travel upward as the owner of the boots knelt. Dr. Rob Masters, a man she was thrilled to see.
One arm went around her as he helped her to her feet. "My god, are you alright?"
Heat rushed through her at his contact. In rapid little gulps she managed, "I think so."
Blood dripped from her forehead, down her cheek, and fell onto her suit. He didn't let go of her, his muscular arm tight around her as they walked. She felt safe, even though she knew she wasn't. "Who was that awful man?"
He stiffened. "Diego Montoya."
"What did he want from you?"
"Your sister."
"George? For heaven's sake, why?"
"I wish I knew, Cali…I think George is in big trouble."
A clump of grass caught the heel of her shoe and Cali pitched forward. Rob kept her from falling to the ground. He swept her up and cradled her against his chest. A painful groan followed.
She gasped. "There's no need to carry me."
Gingerly, he set her back on her feet. His next words came out in a low growl. "You're bleeding."
"I must look awful."
"Considering he took you unconscious from the clinic, I'd say you look fine." He paused. "Did he strike you?"
"Not after he took me from the office." She tentatively touched her forehead. "I did this on my own."
"It must have been difficult for you to get away."
Cali pushed back a large leaf that impeded their progress. "You'd be amazed at what a wedgie and a well placed knee can accomplish."
~~~~~~~~~~~~~~~~~~~~~~~~~
Lizzie T. Leaf is a multi award winning author who also writes in a variety of genres. Be sure to check out her website to learn more about this amazing author and her unique sense of humor.
DOGSPELL
Lizzie T. Leaf
http://www.lizzietleaf.com/
Red Rose Publishing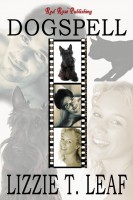 BLURB:
Has Randall McAllister gone to the dogs?. Once again, his witchy teenage sisters screwed up a spell at his expense, leaving him a black Scottie. Doing what comes naturally to dogs, he collides with the car of the town veterinarian. Living with the compassionate Amanda Livingston, he discovers the love of his dreams. Can the dog spell be broken, or will he spend his life as a lap dog to the woman he knows is his soul mate?
EXCERPT:
Rand opened his eyes and groaned. His attempt to move sent pain ripping through his body and someone was using his head as a drum. Not even the dim lights and the soothing croon of Barry Manilow in the background made him feel any better, but at least someone had good taste in music.
Damn, I feel like I've been hit by a truck.
The closing of a drawer drew his attention toward an open door into what appeared to be the bathroom. A woman came into view and stopped. The light behind her made the t-shirt she wore transparent and did nothing to hide the curves beneath it.
"You're awake." She advanced toward him, and from the light of the bedside lamp he could see the deep rich honey color of the long braid hanging over her shoulder. "Do you need to go outside, or are you not up to that yet?"
Why the hell did she talk to him like a child? Oh yeah. That's right. You're a dog.
Memories of the earlier part of his evening came rushing back. Chasing the yellow tom had been exhausting, but the vehicle slamming into him had been worse. Yeah, guess he had been hit by a truck, or at the very least an SUV.
His sisters were dead when he got his hands on them.
Along with the events from earlier, a fuzzy recollection of talking to a grey and white cat while he was stretched out on a stainless steel table, tickled around the edges of his memory. What was it the creature had said? Right. This must be the vet the cat raved about. The feline beast seems to think this woman is a goddess. I can vouch for the fact she sure looks like one.
~~~~~~~~~~~~~~~~~~~~~~~~~
REMEMBER – Post as many times as you like. One winner will be selected from these posts to receive our ultra chic totebag filled with goodies!! The name will be posted on this blog tomorrow Thanks for playing.
Sloane Taylor
Sweet as Honey…Hotter than Hell
13 Responses to "The Sirens Are At It Again!"