Life is Good
June 16, 2010 | Life is Good
When you enjoy a perfect evening at an excellent restaurant. Studs and I were fortunate enough to have just that this past Saturday at Biaggi's Ristorante Italiano in Bloomington, IL.

We kicked off the evening with a cocktail at the bar until our table was set which only took a matter of minutes.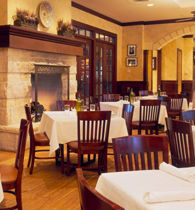 As usual, I was cheat sheeting the menu and rapidly scrawling the ingredients for Chicken Piemontese, Tilapia with Lemon Caper Cream and Formaggi Di Cappa, a delicious herbed goat cheese, when our server caught me. After a few jokes about me and a prison cell, Adam got down to the business of the day's specials and offered wonderful suggestions for the ideal dinner. Not only does he have a marvelous sense of humor, the man knows his food.
Throughout the expertly served meal we got to learn a little about Adam's life. He was originally from Elgin, Illinois and has worked in kitchens since the tender age of thirteen. Adam came to Bloomington to visit friends. One night they dined at Biaggi's, during which he chatted with the manager and head chef. The next day Adam was hired and prepared to relocate. We asked about his future plans. Adam's dream is to own a restaurant. From the short time we were together, Studs and I are confident this young man will be a huge success.
He shared a rib recipe with us but, like all creative cooks, didn't commit to the ingredient amounts. I don't think it would be hard for any of us to figure it out. I hope.
ADAM'S RIBS
Apple Cider
Brown Sugar
Chili Flakes
Spare Ribs
Pre-boil ribs until they almost fall off the bone.
Over medium heat bring the apple cider to a boil. Add brown sugar and chili flakes. Continue to cook until the sauce is candied.
Heat the oven to 350 F. Brush the sauce over the ribs and bake for 30 minutes.
Sure sounds good to me!
Biaggi's is a casual dress restaurant even though the tables are set with crisp linens. They offer superb fresh food and have a flair for creating an intimate atmosphere with subdued lighting and plenty of space between tables. It is a beautiful experience and one we will enjoy many times. It's a must, their menu's too tempting!
They have twenty restaurants around the country. To find the one closest to you click HERE. I guarantee you'll love the food at any of them. Unfortunately, you won't have Adam, and that's a real shame.
I'll be back tomorrow with a bit of unabashed self-promotion. 🙂 Until then…
Happy Writing!
Sloane Taylor
Sweet as Honey…Hotter than Hell
2 Responses to "Life is Good"
Marie Says:


Hi Sloane,

Sounds like a great restaurant, and that recipe for Ribs…I hate cooking but I can't wait to try that one.

On June 16th, 2010 at 4:03 pm
Sloane Says:


Hi Marie!

I'm anxious to try them myself.:) Please let me know what you think and what quantities you used. Okay?

On June 16th, 2010 at 4:23 pm