Archive for 2011
March 2, 2011 | Author Friend Promo
And no one writes them better than my good friend, Canadian author Jan Springer. Today, we feature her futuristic story, Jude Outlaw, that's a guaranteed thigh-clencher. I lovingly dubbed Jan the Queen of Hot. After you read one of her books, you'll agree. 🙂
JUDE OUTLAW
Outlaw Lovers 1
Jan Springer
ISBN: 9781843609377
Ellora's Cave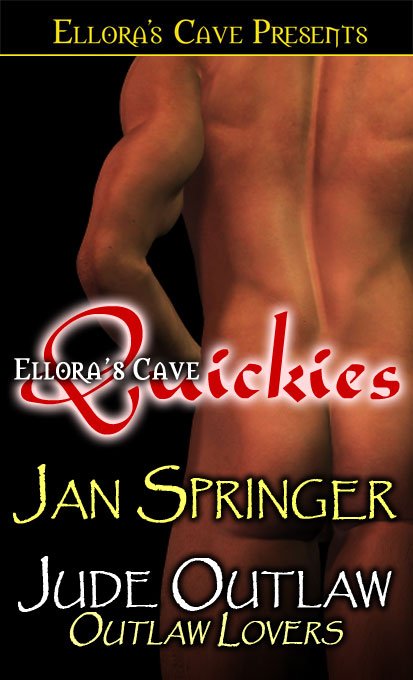 BLURB:
A fast-acting virus has been unleashed, killing a vast majority of the world's female population and forcing the creation of a new law…The Claiming Law. With the stroke of a pen, males now have all the rights and females are property…sexual property that can only be claimed by groups of men.
When Cate Callahan learns Jude Outlaw is coming home from the Terrorist Wars and is ready to claim her under the new law—with the help of his four remaining brothers—she steals their boat and escapes to the high seas. Unfortunately, her runaway bid for freedom doesn't last for long.
Quickly capturing his lover, Jude rekindles the flames between them preparing her body and seducing her mind into the prospect of experiencing the ultimate in a woman's pleasure…the Outlaw brothers.
EXCERPT:
Jude awoke to the dull throbbing of odd aches and pains in his arms and legs and also to an unusual tickling sensation prodding the feverish head of his cock.
He grit his teeth to the killing pleasure and opened his eyes to find himself lying totally naked on the bed with Cate seated cross legged between his own widespread legs.
She wore nothing but the cutest little smile.
The she-devil!
Obviously, she'd been having her way with his cock while he'd slept. His arms and legs were tied to the bedposts and his erection was in full swing. Thick and hot, his shaft stuck up like a solid pole from between his legs.
His entire body tensed as she fanned a plume across the rounded head of his pulsing penis.
"Glad you could join me for the festivities," she purred.
Jude swore softly. The tables had turned and now he was at her mercy.
"What are you up to, Cate?"
Stupid question. He knew what she was up to.
Revenge.
"I could tell you but I'll show you instead."
Her eyes smiled as the feather tenderly crisscrossed the powerful weave of veins in his throbbing cock.
Jude's shaft twitched quite pleasantly and he smothered the need to groan.
When she reached the thick base, she slid the plume lower brushing it to and fro across his bulging sack. Lust shot through his heavy balls, spreading upward and spiking his erection with such sweet pain he couldn't stop the groan from escaping his lips.
"You appear to be in distress," she whispered.
"Perhaps you should come to my rescue, Cate."
"Perhaps you should come…"
Shit!
She dropped the feather. Her lips tilted upward into a delicious smile. His body burned as he looked at her mouth. It made him think wild thoughts. Made him want her lips wrapped tightly around his cock, her hot little tongue licking his balls.
He wanted to be loose, to ask her do these things to him.
"Cate, I want…"
Her hand felt soft and warm as she clamped it over his mouth silencing any requests. He noticed the soft dusting of freckles across her nose, noticed the seductive way her green eyes sparkled as she gazed down at him. His chest constricted at her natural beauty.
"Shh, I've had five years to think of things I want to do to you too, Jude."
Her soft words made his body hum.
Holding her hand tightly over his mouth, she reached out with the other hand and cupped his testicles. Despite his best efforts to keep himself under control, his body tightened with tormenting need.
It wasn't supposed to happen this way. He was supposed to be the one in control. The one who would make her beg him to fuck her and not the other way around…
Learn more about Jan Springer and her sizzling books on her website. You can catch up with her on Facebook. Be sure to join her newsletter for more information on this talented author.
I'll be back Friday with a new release from Marie Treanor. Until then…
Happy Reading!
Sloane Taylor
Sweet as Honey…Hotter than Hell
March 1, 2011 | Tuesday Teasers
FINNISH FANTASIES
ISBN 13: 978-1-60272-572-0
Amber Quill Press – Amber Heat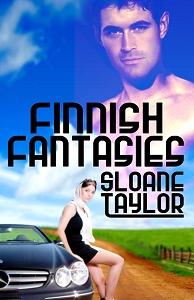 BLURB:
Being Maid of Honor in Finland over Midsummer's Eve is supposed to be fun, but for jingle writer Kate Adams it's a nightmare. Things go from bad to worse when her high-priced rental car dies on an endless ribbon of bone-dry country road. Help arrives in the form of a delicious-looking, blue-collar local who just might make it all worthwhile.
Rurik Jaacko knows better than to stop for the princess perched on the hood of a Mercedes. Hot women and expensive cars are trouble, but he's a sucker for any damsel in distress. The last thing he expects is to play bellhop to the sensual American, and love every sizzling moment.
A rustic pig farm and a friend who isn't combine with deception to create the backdrop for earthy passion and international fraud…
EXCERPT:
…With his hard-on raging, Rurik watched her nipples harden and peak through the thin knit shirt and wondered if was their heated exchange that excited her, or the fact he had taken control.
Women want to be dominated.
"There are times a man must take a stand with an unruly woman." He caught her wrist and tugged her closer.
"You wouldn't dare!"
Color drained from her cheeks, but was that a sparkle in her eyes?
He stopped for a moment and thought about the consequences of his action. Either it would be a beautiful success or Kate would pack her bags right after she rang the police.
"Yes, today I would." He dropped onto a birch stump and, with a quick yank, upended her over his knees. Her perfect ass across his lap was too tempting to stop.
"You'd better stop before it's too late, buddy." She turned her head and shot him a glare that could melt steel.
"It already is." His palm came down with a resounding smack.
"Ouch." She kicked her legs and wrestled beneath him.
He laid an arm over her shoulders to keep her in place, praying he had made the right decision.
"Rurik, you are so going to pay for this," she wailed, startling the birds from the trees.
And he knew he would, right after he laid another open-palm swat on her firm ass.
Whack.
She yelped at the contact, and he loved it. He may have been wrong about her being a spoiled, over-privileged woman, but a good spanking seemed in order to assert his authority. But then again, he had better run like hell when he finally let her up because she was going to murder him.
His hand came down again, not quite as hard, and lingered on her sexy rear, petting away the sting. He ran his fingers along the curve of her cheeks hidden under the tight denim shorts, wondering what his handprint would look like on her milky flesh. A stirring below his belt pressed against his fly, forcing him to shift unsuccessfully under her weight.
She wiggled against his cock, enhancing his torture, and he could not stifle the groan.
"Are you through beating me into submission?" Her words came out breathlessly, reminding him of how her lips had purred against his balls the night before.
"No. I do not think so." His hand smacked solid on her ass, pleased with her shriek.
He grazed a finger under the ragged edge of her shorts, inching up the inside of her thigh, seeking the heat beneath her damp thong. He hooked the lacey strap and tugged, drawing it tight against her swollen labia, released it and yanked up again. Her soft gasp carried to him on a gentle breeze.
The scent of her arousal drifted up, encouraging him to please her. He glided closer to her folds, teasing along the way with light pinches to her flesh. His finger slipped inside and he smiled, pleased by her wetness. Her pussy flexed against him, clenching—relaxing, milking him, like her mouth had done to his cock.
"I think you like this, Kate." He knew he did.
A whimper rose up like a caress, her hair tumbling free as she nodded.
He pulled out, then slid back in with two fingers, pressing firmer against her wall.
"Should I continue your torture or"— he continued massaging up and down, until she bucked against him. —"take you into the house and fuck you fast and hard?"
A soft gurgle washed her words away and his balls tightened…
Sloane Taylor
Sweet as Honey…Hotter than Hell
February 25, 2011 | Author Friend New Releases
British author Robert Appleton is a creative genius. His critically acclaimed books range from erotica to science fiction. Never one to stymie himself, Rob tackled the new Steampunk genre and produced a well-plotted mystery that keeps the reader guessing.
THE MYSTERIOUS LADY LAW
Robert Appleton
ISBN: 9781426891151
Carina Press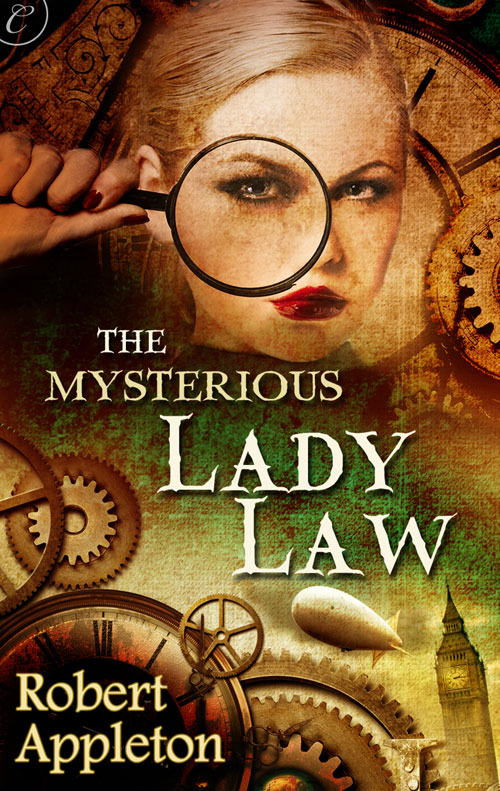 BUY LINK E-BOOK
BUY LINK AUDIO BOOK
BLURB:
In a time of grand airships and steam-powered cars, the death of a penniless young maid will hardly make the front page. But part-time airship waitress and music hall dancer Julia Bairstow is shattered by her sister's murder. When Lady Law, the most notorious private detective in Britain, offers to investigate the case pro bono, Julia jumps at the chance—even against the advice of Constable Al Grant, who takes her protection surprisingly to heart.
Lady Law puts Scotland Yard to shame. She's apprehended Jack the Ripper and solved countless other cold-case crimes. No one knows how she does it, but it's brought her fortune, renown and even a title. But is she really what she claims to be—a genius at deducting? Or is Al right and she is not be trusted?
Julia is determined to find out the truth, even if it means turning sleuth herself—and turning the tables on Lady Law…

EXCERPT:
The hillside site at Dover was a veritable three-ring circus of photographers, police, picnickers, mobile sandwich and hot chestnut stalls, curious ramblers and more bespectacled men than Julia had ever seen congregated in one place. She guessed the latter were scientists and newspaper men. The Pegasus swooped low for a wonderfully close passing view of the iron mole, minutes before the start of its grand adventure. Other airships followed suit, then the convoy climbed, executed a one-hundred-and-eighty-degree turnaround and flew back over the machine, this time affording the passengers on the opposite side of the ships a clear view.
"It's revving up," Al enthused, responding to oohs and aahs from the far tables. "Come on." He took Julia by the hand and hurried her across. A growl from below spun to a wiry squealing crescendo, much louder than she'd expected. No one would make way for Al, so to gain a better view he climbed onto a nearby chair. Julia offered to let him steady himself on her shoulder—the spectacle obviously meant more to him—but instead he helped her up onto a chair of her own.
Heady with excitement, she kept hold of his hand all while they watched.
The giant drill spun so fast she couldn't make out its iron grooves. Its nose was a whirling monstrous cone of quite astounding power. Its silver body, a long, caterpillar cylinder covered with a spiral of toothlike treads, soon blackened under a layer of earth tossed up from the burrowing drill. A little over ten feet of penetration and already the debris cloud reached as high as the airships, masking much of the show.
Loud cheers and applause filled the Pegasus. Al beamed like a schoolboy at the fair. He reached over and gave Julia a peck on the cheek. She gripped his hand tighter. The Pegasus circled the cloud for a better view and she cheered along with everyone when the mole's rear slid into the hillside and vanished, leaving a huge dark crater.
"It's amazing," she yelled above the furor.
"What's that?" asked Al.
"Professor McEwan…he doesn't even know what he'll find down there."
"I know. He's a braver man than I…the magnificent fool."
"Do you think we'll ever see him again?" she asked.
Laughing, high on the moment, he hurled his hat and gloves at the ceiling and replied, "I don't suppose he's thought that far ahead. Relish it, Julia. He digs down, we climb high, the sun is out. This is a good day to be English!"
The small brass and woodwind sections finished their rendition of "Land of Hope and Glory," then deferred to the string quartet for a lively number. Strauss's "Tristch-Tratsch Polka," one of her absolute favourites. Couples from all over the dining room, and even a few from the upper deck, scurried onto the polished, glittering dance floor and arranged themselves in a circle.
"Now or never," Julia teased, holding her arms out for Al to lift her down from the chair.
He grinned and leapt to her aid with the agility of a swashbuckler. "Hey, do you even know this dance?"
"One way to find out."
The dust cloud faded in the whorl of a breeze outside, permitting full, unfettered entry to the most brilliant sunlight Southern England had seen in weeks. It reflected off shiny crockery and bare tabletops and the roof of the spotless piano, blinding every dancer who spun in that direction. To her surprise, Al segued into the fast tempo with grace to spare, his compact, athletic frame matching her turn for turn. The feel of his hand on her waist made her giddy and his gaze found hers even when they changed partners. It inspired her to improvise during the ladies' solo forays into the centre, and her bouncy quick-shuffles and spins soon drew generous applause from spectators. Al never once faltered. He was the steady glide to her soaring syncopation. This was her moment to shine. Hers and Al's. While they were together, everyone else aboard the Pegasus faded away.
She had never enjoyed dancing more.
BUY LINK E-BOOK
BUY LINK AUDIO BOOK
To learn more about Robert Appleton and his intriguing books, visit his website or swing by his blog. He's also on Facebook and Twitter
Have a terrific weekend. I'll be back Tuesday with a new teaser. Until then…
Happy Reading!
Sloane Taylor
Sweet as Honey…Hotter than Hell
February 23, 2011 | Author Friend Promo
are what everyone faces at some point in their life. KC Kendriks' emotionally charged book A HARD HABIT TO BREAK immerses the read into the world of two men on the verge of altering their lives forever. It's an excellent read and one that was obviously written from the heart.
A HARD HABIT TO BREAK
KC Kendriks
ISBN 978-1-60272-671-0
Amber Quill Press – Amber Allure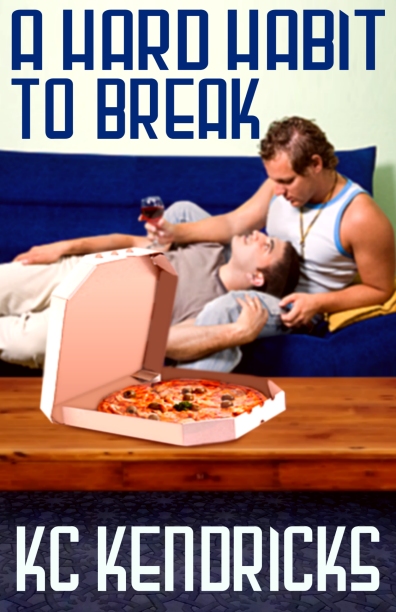 BLURB:
As the reigning stud of the local gay club scene, every guy in the county knows Travis Templeton, and vies for his attention. Travis wears his crown lightly, careful not to break any hearts. He knows what it's like to really love someone who doesn't love you back-at least, not in the way you want.
Heath Kelley made the biggest mistake of his life the night before his best friend Travis left for college. One small action snowballed into years of silent misunderstanding and empty distance. When Heath accepts a transfer that sends him to his hometown, he doesn't know Travis has moved back home, too. It doesn't take long for the men to reconnect.
Admitting they never stopped thinking of each other as "best friends" is easy. Forgiveness of past sins is easy, but confessing their secrets comes harder. When Heath discovers the truth about Travis' private life, the newly repaired bonds of friendship are stretched taut.
It's time for Travis to choose – the love of his best friend, or a life of being second best.
EXCERPT:
The ghost of his lips slid coolly over mine like they had so many times over the years, a phantom whisper that raised gooseflesh on the back of my thighs and buttocks. Travis fixed me with a stare far colder than my memories. His angry, hurt voice froze my insides.
"You had what I wanted, Heath. You were normal. You dated girls. You fucked girls." He sucked in a deep, difficult breath. When he spoke again, the anger was gone, but not the hurt.
"Then you kissed me and brought the very thing I hated right to my bed. How could you do that to me? Why didn't you tell me you were really gay?"
Stunned, my knees wobbled, and I leaned back against his car before they gave out and I ended up on the pavement. Never had I imagined he felt such self-loathing. I hadn't seen it, but then I'd been just seventeen. Liking some girls muddied the water for me, and I never thought of myself as anything but straight, back then.
What I felt for Travis was special, outside everything, and everyone, else. He was my best friend. I was a senior in college before I dared put a name to my sexuality, and begin to accept what it meant. I took a chance he wouldn't shake me off, and grasped his elbow. He trembled under my fingertips.
"Travis, I'm sorry. I didn't know. How could I?"
He shivered, like he had a sudden chill. The anger left his beautiful eyes, to be replaced by a great sadness.
"I'm sorry, too, Heath. I didn't know how to tell you. I thought you'd hate me.
I thought you'd run away from me, and then I ran away from you."
My chest ached. Thirteen years lost.
"I could never hate you, Travis. There was a lot I didn't know about my teenage self. So much I didn't understand." I took a deep breath. "The truth is, I'm bi."
His eyebrows drifted up. He blinked. I nodded and rolled my eyes at him.
"Don't look at me like I'm speaking a foreign language."
Travis swallowed, hard, his Adam's apple moving convulsively. "Um, sorry. Not that you're…Your mom… I mean, I thought… is Dani a man or a woman?"
It was my turn to blink. "How'd you hear about Dani?"
"Your mother mentioned her."
Fuck.
"Well, buddy, Dani is a guy. Daniel."
"That's not what I heard, man. Your mother thinks you had a live-in girlfriend."
I snorted. How was he going to handle this bit of information?
"Well, Travis. Dani is fucking hot in a skirt, and on the telephone, it would be easy to jump to several conclusions."
He blinked owlishly. "I see."
I doubted it. Dani did standup comedy in full drag regalia, and it was damn funny.
Travis slumped against the fender beside me, our shoulders brushing. "You still want to go get that pizza? I really have to eat something so my glucose level doesn't bottom out on me."
That sounded like my old friend. "Do you still run for fun?"
Travis treated me to a real grin. "Yeah. Gotta feed the machine. Do you still run?"
I shook my head. "It wasn't the same without you. Maybe I can get back into it, though. What do you think? Will you help me start training again?"
He looked pleased as he nodded. "Sure. It'll help us get to know each other again."
I leaned a little closer. "So, you're not going to blow me off?"
Travis drew back like I'd struck him. Too late I realized the double-entendre. I grabbed his arm.
"Oh, no. No, man, I did not mean I wanted…I meant you weren't going tell me to go to hell and then run away again."
His eyes narrowed. "What? I'm not good enough to give you a blow job?"
We'd veered into very murky waters, the potential for disaster suddenly and exponentially increasing. We'd just reconnected, and the only thing that kept me from throwing my arms around him and never letting go was fear he'd bolt again.
As for blow jobs, I'd go to my knees for him anytime he snapped his fingers and pointed at the spot, but I didn't dare tell him that for the exact same reason.
"Lord, Travis. Let's not talk about sex just yet."
To my surprise, he chuckled. "Heath Kelley, backpedaling. I'm amazed I lived long enough to see it happen."
"Laugh all you like. We can talk sex over lunch."
Travis turned to me, arms crossed over his chest, his hip against the car.
"No, Heath. We won't talk sex. You'll always be my best friend. Hell, you're more than that. I've missed you so much." He paused and took a deep breath.
"Sex is off limits, Heath. I don't want to talk about it with you, and as friends, we're not going to do it."
He might think that, but I knew better.
This title is also available as part of FROM THIS MOMENT ON, a five-story PAX available only at Amber Allure.
Learn more about KC Kendricks on her website and blog. You can follow her on Twitter and MySpace. Join KC's mailing list for all her latest news.
I'll be back Friday with a new release from the uber talented Robert Appleton. Until then…
Happy Reading!
Sloane Taylor
Sweet as Honey…Hotter than Hell
February 22, 2011 | Tuesday Teasers
PHOTO OP!
ISBN: 978-1-60168-139-3
Aspen Mountain Press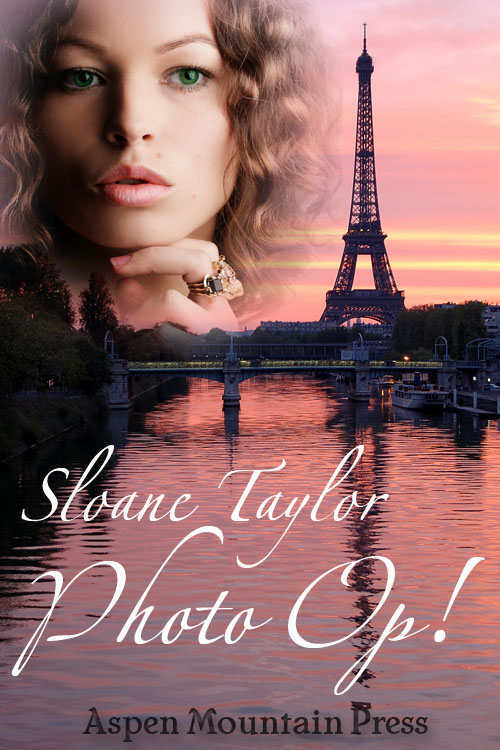 BLURB:
Photojournalist Emily Peters is in Paris when the opportunity to expose an infamous sex club sets her on fire. She never expects to be tied up in knots by the Devil.
Restaurateur Nicholas Caine prefers an inconspicuous lifestyle, but when a sex goddess enters his lair there's only one thing he can do…take her.
EXCERPT:
Her nose twitched as a subtle, yet pleasant, aroma surrounded her.
"It is pear, Madam."
Another tall handsome waiter, looking good enough to eat, stood at her side and without a word slid a menu in front of her. She glanced up into large chocolate eyes and her heart stuttered.
"Pardon?" Her voice came out on a whoosh of air.
"I noticed your attempt to distinguish the scent." He waved a large hand in the air. "Many of our ladies have had your same reaction."
She cleared her throat. "Delightful."
"At times, late in the evening, the air is infused with a hint of cinnamon and chocolate." His eyes twinkled as if he were sharing a dark secret. "Tempts one to indulge in a decadent dessert. Would you care for one, Ms Peters?"
A shiver weaved its way up her spine when he said her name. With shaking fingers, she took a gulp of ice water, ordering her oversexed body to behave.
"If nothing on the menu appeals to you, Chef Claude would be elated to whip up whatever you prefer."

British and gorgeous. And then it sunk in. Chef Claude.
"Is he Claude St. Cyr? The same chef who owns a cooking school?"
The waiter from every woman's fantasy grinned. "One in the same."
Now what the hell is he doing in a place like this?
"Ms Peters?" He tapped a well-groomed fingernail on the menu.
"What? Oh yes." She flipped open the leather jacket to scan the tasty treats, her one downfall. The card read like an international list of culinary sexual pleasures.
Spotted Dick presented by Jon
Bavarian Cream presented by Hans
Hot Soufflé presented by Francois
Mocha Butter presented by Motumba
Emily slipped the cap off her lipstick tube, then did an unhurried swipe along her bottom lip, wondering just how far the presenters would go.
"Do you see anything you like?" His deep voice played havoc with her senses as she squirmed in her damp panties.
"Too bad you don't offer Cumberland Rum Nicky. I enjoyed it at a restaurant in London a few years ago. Never found it again." His tanned face paled as if she'd requested to borrow The Crown Jewels.
"Perhaps a dish of Whim Wham?"
"No thanks, I'm fanciful enough." She laughed at her little joke about the true meaning of the Scottish pie. "I'd really like a Benedictine straight up and a cup of black coffee."
He nodded and walked toward the bar area.
Of all the waitstaff Emily had encountered or seen during her two hours over dinner, this last was the paix de la résistance. Sable brown hair caressed his white shirt collar. She'd give anything to run her fingers through the thick waves.
The Reverend and ladies met with her lickable waiter at the doorway. He stood to the side, gesturing for them to go first. The tallest of the women stopped and started up a conversation, but he backed away the moment she ran her fingers along his jaw line.
Seems like the help gets to play with the clientele.
Emily pulled the cap off her lipstick tube.

Smile, I think you're going to like this one.
I'll be back tomorrow with KC Kendricks. Until then…
Happy Reading!
Sloane Taylor
Sweet as Honey…Hotter than Hell
February 21, 2011 | Applause
The house is rocking! The MILLION DOLLAR QUARTET celebrates 1000 nights onstage at the Apollo Theater in Chicago.
Not familiar with this new smash-hit musical? Here's a little background:
On December 4, 1956, four musicians held the greatest jam session ever.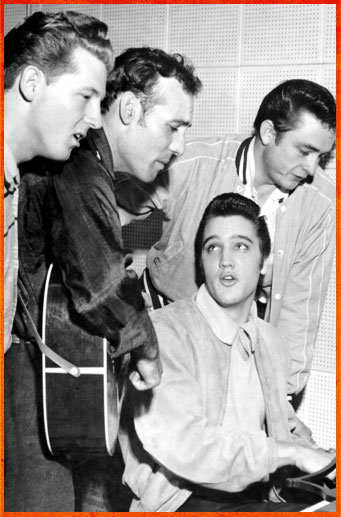 No, I don't own this priceless photo. I "borrowed" it from the official website.
Johnny Cash, Jerry Lee Lewis, Carl Perkins and Elvis Presley met with Sam Phillips, the "Father of Rock-n-Roll," at Sun Records' storefront studio in Memphis, Tennessee. Sam Phillips discovered them all and propelled them to success. That night was the only time these great talents ever came together. Their ad-lib recording session embodied the birth of rock 'n' roll and has come to be known as one of the greatest rock jam sessions ever.
Studs and I had the great fortune to see MILLION DOLLAR QUARTET. We both agree, it is the best play we've seen in years.
The talented actors Gabe Bowling, Carl Perkins, David Lago, Elvis Presley, Lance Lipinsky, Jerry Lee Lewis, and Sean Sullivan, Johnny Cash bring the musical to life and the audience to their feet. Darcy Wood, Dyanne, gives a stellar performance with her rendition of "Fever." Make it a point to follow the careers of these outstanding performers, they'll be mega-stars in a short time.

MILLION DOLLAR QUARTET features a score of rock hits that have you dancing in your seat. "Blue Suede Shoes," "That's All Right," "Sixteen Tons," "Great Balls of Fire," "Walk the Line," "Whole Lotta Shakin' Goin' On," "Who Do You Love?," "Matchbox," "Folsom Prison Blues," "Hound Dog" are just a few of the great songs.
Be sure to make a date and rock the night away at the
Apollo Theater
2540 North Lincoln Avenue
Chicago, IL.
Purchase tickets direct from Apollo Theater 773-935-6100 or order on line from Ticketmaster.com. I suggest calling the theater. Prices are better, tickets can be picked up performance night, and they walk you through the seating chart.
Check out this thrilling musical's website for a great look behind the scenes.
Be sure to buy the $20.00 cd. It's TERRIFIC!
I'll be back tomorrow with a new Tuesday Teaser. Until then…
Happy Listening!
Sloane Taylor
Sweet as Honey…Hotter than Hell
February 18, 2011 | Author Friend New Releases
is definitely Marie Tuhart's forte. Written with a flair only Marie possesses, her latest release QUICK SILVER RANCH: ROPED AND READY is HOT!
To celebrate, Maire is having a party on her blog. Stop by and find out how to enter her release day contest.
QUICK SILVER RANCH: ROPED AND READY
Marie Tuhart
The Wild Rose Press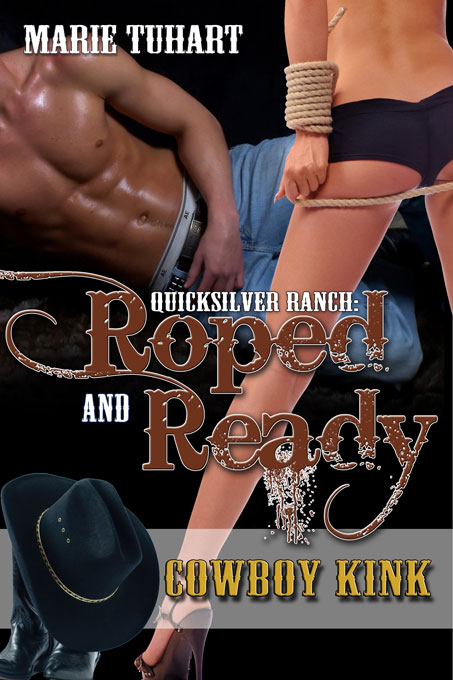 BLURB:
Quick Silver Ranch is no ordinary dude ranch.
After Becca Dalton finds her fiancé in bed with her boss, she ends the ill-fated engagement on the spot and quits her job. She heads to Quick Silver Ranch, looking to regroup before an interview for the job of her dreams–an executive position at a five-star hotel.
Becca's best-laid plans are ruined when she discovers the exclusive ranch is for consenting couples who spend their days and nights exploring their most wicked sexual fantasies. For Becca to remain at the ranch and take advantage of all the arousing activities, she needs a partner.
Her sexy college lover and part owner of the ranch, Tyler Carson, is willing to break all the rules, partner up with Becca and have her roped and ready for a week of unimaginable pleasure. But is a week enough to satisfy his desire for Becca?
EXCERPT:
Indecision kept her from going into the bedroom and packing. A knock sounded. Cross the room, she pulled open the door.
"Hi," said Tyler.
Her insides melted. Liquid heat flooded her pussy and her nipples grew hard. Damn it, it wasn't fair he could do this to her after all this time. "Come in." She left the door open and retreated, wrapping her arms around her waist.
The door slid closed with a quiet click. She paced around the room. "I didn't realize-I mean-Oh, hell." Her arms waved in the air as she tried to explain. "I'm sorry. I'll leave."
"You don't have to." He crossed the room to stop in front of her.
The heat coming from his body singed her skin.
"It's couples only, Tyler. I didn't know about the adult part either, until I read the book here in my cabin."
"Yes, it usually is couples only. But you do have a choice in the matter."
"I don't see how." She tilted her head. Did he want her to stay?
"We do have regular dude ranch activities. I'm sure you read that in the brochure. I can teach you to ride if you decide to stay. I'll be your guide for the week."
"That would be nice." Who was she kidding? It would be torture. He's asking as a friend, not as a lover. She wanted the lover. After Alan's rejection the unwanted, unlovable feelings overwhelmed her. And now here was this uncontrollable reaction to Tyler, giving her more proof the wedding to Alan was nothing but a shame. She needed to feel like a woman, again. And Tyler could do that for her, she was confident he could. But only if he was willing.
"Your choice, Becca."
Her haze gaze clashed with his blue one. Stay or go. She wanted to stay.
Her mind was made up. Stepping closer to him, she asked, "Will you be my guide for the adult activities as well, Tyler?"
Learn more about Marie Tuhart and her band of hot cowboys on her website and Escape to an Erotic Fantasy on her blog.
Have a great weekend. I'll be back Monday. Until then…
Happy Reading!
Sloane Taylor
Sweet as Honey…Hotter than Hell
February 17, 2011 | Friends
Captivating Sarah Grimm and I met at a conference more years back than either of us wish to admit. We've remained friends, boosting each other when needed and slogging down cyber beers to celebrate our successes. Today, Sarah is here to share her heartfelt writer's journey and its brilliant outcome.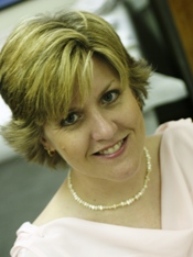 I've been writing for as long as I can remember. I have notebooks filled with poems, story ideas, and partial chapters from as far back as age five. Yes, thanks to my older sister, I could read and write by age five. And I did. I read everything I could get my hands on, usually re-writing the story in my head as I went. If you asked me what I wanted to be when I grew up, I always answered something different depending on the day. I couldn't make up my mind. Then I picked up my first romance novel. Suddenly I had my answer: "I want to get married, have children and write romances."
As a young girl, I always had a story to tell. At times they were funny, other times scary, but they were always, and I mean always, happily-ever-after. You see, I'm a romantic—a die hard romantic. I believe in love, not just as a fundamental part of human relationships, but as a force that really can heal emotional scars. I truly believe there is someone for everyone—the person they are meant to find. Their other half. Their soul mate.
I always say that NOT WITHOUT RISK was the first story I wrote from start to finish, but after being asked to put something together about my road to publication, I realized that it wasn't. My first story wasn't even a romance, it was a story about my best friend. A story I titled MY CAT SNEAKER, which won a Young Authors Award. I still have the award, and the story, packed away with a few mementos from my youth.
When I got married, I set my writing aside. I focused on my husband and building a family. Then my youngest son was born and the struggle to keep him alive began. He was healthy at birth, colicky, irritable even, but healthy—until he turned six weeks old and began showing symptoms of croup. Fast forward a few months to me, frantically rushing in and out of the hospital with my son. We made so many late night emergency visits that my oldest began sleeping by the door to keep track of mommy. I can't tell you how many times we rushed to the hospital with a child who was turning blue, only to be told by the doctors that they didn't know what was wrong with him. Most of them thought I was just a young, overreacting mother (I even got the condescending pat on the head from a few), but one believed there was something more going on than croup.
That man saved my child's life. He found a birthmark in my son's throat that obstructed eighty percent of his airway. By the time we were done, my baby had endured stomach surgery, throat surgery, and a tracheotomy with all the special care that entails. As you can imagine, all the hospital time left me desperate for a distraction, so I took pen to paper, yup, longhand, and wrote my first romance. Not just bits and pieces of a book, but the entire hero and heroine's journey from 'Chapter One' to 'The End'.
Once the book was finished, I joined Romance Writer's of America nationally as well as my local chapter. I went to conferences and learned about the craft of writing. I wrote and re-wrote that book, about four times actually, until I felt it was good enough to submit. I submitted to Triskelion just after they received RWA recognition, and they accepted it. I wasn't with a big NY publisher, but I didn't care. I was going to be published.
Then Triskelion began having problems. There were some of us who could see it coming, but like a train wreck, there wasn't anything we could do. By this time, my first book had debuted to rave reviews and brisk sales, and they'd accepted my second book proposal. When they went bankrupt, I stopped writing. I felt betrayed and discouraged. In retrospect I should have kept plugging along, doing what I loved most, but I guess we don't always do what's best for us.
In 2008 I decided enough was enough and jumped back into the publishing world with both feet. I submitted to The Wild Rose Press. I was thrilled when they accepted my romantic suspense, NOT WITHOUT RISK. Even more so when it was released in January 2010 to reviews calling it "…fast paced, nail biting, page turning, edge of your seat suspense…" and "…a romantic, adventurous, thrilling read."
I'm happily writing again. I have just completed edits on my second book, a contemporary romance titled AFTER MIDNIGHT, to be released soon by The Wild Rose Press. And I'm currently writing its follow-up, MIDNIGHT HEAT.
Oh, and how could I forget? NOT WITHOUT RISK was just nominated for the Long and Short of It's BEST BOOK of 2010. The polls are active beginning February 14 at and will continue until February 27. If you'd like to vote, and I appreciate it if you do, please click here.
*****
NOT WITHOUT RISK
Sarah Grimm
The Wild Rose Press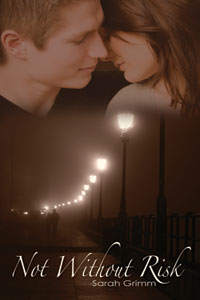 Available now in eBook and Print. BUY LINK
BLURB:
Six agonizing months after a slug collapsed his lung, Sergeant Justin Harrison manages to return to the one place where he shines—the San Diego homicide division. Nothing will stand in the way of proving he is fit for active duty. Especially not the long-legged brunette who just stumbled into his crime scene.
Photographer Paige Conroy spent years hiding from her past. Then a late night telephone call brings it crashing back. An old friend is in town and needs her help. When she arrives at his hotel room four hours later, he's dead. Suddenly, she's the target of a madman, and Paige must turn to Sergeant Harrison for protection.
But who is the bigger threat to her… the faceless assailant she fears will steal her life or the dark-eyed detective she knows could steal her heart?
EXCERPT:
Paige had lost count of the times she'd told herself to stay away from him. She couldn't stay away from him. Even as his words confirmed without a doubt they had no future together, the vulnerability in his eyes called out to her. She removed her fingers from his and slid her left hand up his chest to cup his jaw. His gaze warmed, the color of his eyes deepened as she dragged her fingers back and forth across the scruff of his beard stubble.
He would never love her.
She shifted her hand again, this time boldly smoothing her fingers across his lips. What should have been the catalyst that pushed her across the room drew her closer.
Justin reached up and curled his fingers around her wrist. "Be sure you want this," he warned in a low growl. "I can't make you any promises."
She didn't want any promises. She wasn't looking to the future or worrying about the intelligence of her decision. For once, Paige wanted to live in the moment. She let reason slip and need take its place. "I want this," she whispered, her thumb exploring his bottom lip. "I want you."
The hand he held curled around her wrist flexed once, otherwise he did not move. Paige pulled her bottom lip between her teeth and stood. Unabashedly, she straddled his legs and settled atop his lap, her knees hugging his hips. The hard press of his erection shot sensations through her body like lightning bolts and drove a little growl of pleasure from the back of her throat.
She shuddered as he pulled her even closer, plowed his fingers into her hair and arched her head back. They were inches apart, staring into each other's eyes, breathing the same air. His eyes weren't cool now, they simmered with life, with greed and desire. His mouth hovered over hers for what seemed like an eternity then settled.
He was gentle at first and then, as she surrendered, his mouth explored hers with greater intent. He kissed her almost roughly, completely on fire, sweeping his tongue possessively into her mouth. His hands settled on her hips, gliding upward beneath her shirt until his palms closed over her naked breasts. His moan of approval, so raw and husky, vibrated into her mouth and made her heart pound even harder. The sensation of bare flesh against bare flesh sent waves of heat spiraling from her head to her toes. Her nipples hardened. Her belly quivered.
Arching her back, she pressed herself firmly into his palms and invited his hands to explore her more fully. He did, rolling her straining nipples between his fingers then worrying them with the friction of his palms. Her body shuddered. Wet heat flooded her core.
"Paige," he breathed, as his mouth plundered her throat, fastened on that incredibly sensitive spot beneath her ear, then continued down to fasten on one of her breasts. He drew in the rigid tip of her nipple, and sucked.
Her lips parted on a quiet moan. She wrapped her arms around his neck and threaded her fingers into his hair, as pleasure arrowed through her system. The hot wet feel of his mouth on her was almost more than she could handle. And yet, it wasn't enough. His hands smoothed down her sides to settle on her hips. His fingers curled into her flesh as he used his teeth, his tongue, his lips.
A gasp escaped her when he lifted her, sealing his torso to hers as he settled her along the length of the couch in one smooth motion. Bracing himself with his arms to keep his weight from crushing her, he came down on top of her, shifting his hips and pressing his erection more fully against her. His mouth returned to hers in a dizzying kiss.
Available now in eBook and Print. BUY LINK
Learn more about Sarah Grimm on her website and blog. Be sure to join her Facebook Fan Page
and Twitter for more updates.
I'll be back tomorrow with a new release from Marie Tuhart. Until then…
Happy Reading!
Sloane Taylor
Sweet as Honey…Hotter than Hell
February 16, 2011 | Author Friend Promo
Nothing says Happy Holidays like a pair of rough and tumble cowboys good enough to eat. Cowboys for Christmas is a hot read you'll want to crack open any time of the year.
COWBOYS FOR CHRISTMAS
Destiny Blaine
ISBN 978-1-60168-383-0
Aspen Mountain Press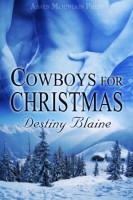 BLURB:
A holiday blizzard brings a pair of cowboys to a woman's home.
Julie Kensworth opens her door to more than a blizzard and greets two wayward cowboys. She realizes right away she's headed straight for the eye of the storm.
Brandon Blake and Quinn Stewart are a long way from home. They're looking for a warm place to hang their hats while they try to wait out the snow and ice, which continues to gain momentum.
Julie is an author and she's not just the average writer, she's one of the most notorious writers in the world. When Quinn and Blake figure out Julie is an erotic romance author, well, needless to say, their minds churn with all sorts of ideas, most of them geared toward how they can heat up the cold winter nights ahead.
EXCERPT:
"I don't know why you're pouting," Brandon spat a few minutes later. "She didn't tell us to hit the road, she just told us to wait out here until she dressed in private."
"I guess I was hoping for an explicit expression of gratitude."
Brandon pointed toward the mantle. "Don't forget. She probably has a boyfriend."
Quinn ignored him and eyed the bookcase. "The boyfriend isn't what I've been thinking about. What I'm wondering is why she has so many of those Carla Carrington books."
Julie strolled in the kitchen like a breath of fresh air. She lit up the place with an easy smile and a refreshing stroke of confidence. "Carla Carrington is my pseudonym."
"Do huh?" Brandon asked, chin dropping.
"Your pseudonym?" Quinn asked for clarification.
"Yeah," Julie said. "I'm a writer."
Brandon felt like something was stuck in his chest. She wasn't just a writer. She was the best selling, award-winning author of scorching hot books often made into explicit after-dark television movies. She'd been on the lips of quite a few talk show hosts who openly covered the demise of morals in today's world. Carla Carrington wrote the kind of books that Brandon wouldn't have let his daughter read—assuming he had a daughter, which he didn't. On the other hand, if he had a wife, Carla's books would've been mandatory reading.
"You said you're a writer," Brandon began, clearing his throat. "But Carla Carrington is…"
"I'm Carla," she interrupted. "I write under a couple of pseudonyms."
Quinn looked around the small cottage. He was probably thinking the same thing Brandon was. Why did she live in such a small house if she was really Carla Carrington? Carla should've been living in an oceanfront mansion with a full crew doting on her, bringing her chocolate covered mints and arranging social events.
The woman behind the world's most scandalous writing should not have been dressed in hide-tight blue jeans, a low-cut fitted sweater, and have her hair tossed up in a clumsy ponytail. A woman writing explicit scenes like the one Brandon had read earlier should not have looked like an adorable barely legal girl!
Brandon was suddenly uncomfortable. He shifted his weight from one foot to the other. "How old are you?"
"Twenty-six, why?"
"Just curious. That's all." He was also amazed he could speak.
"Do you have a boyfriend?" Quinn blurted out.
Way to fucking go! Brandon set his jaw and watched the color drain from Julie's cheeks. Brandon shot Quinn a cold stare. "You can quit foaming at the mouth anytime now."
Quinn didn't say anything. Brandon braced for fighting words. The cold glare he received raked over him about as deliberately as a verbal retaliation.
Brandon decided what the hell. Quinn started this. "Do you have a boyfriend?" He'd die right there if she said she had a husband.
"No, I do not." She marched across the kitchen, opened the pantry, and retrieved two jars of her homemade soup, setting them on the small island in the kitchen's center. "Anyone hungry?"
Brandon grinned, staring at her ass. "Honey, I'm practically starving."
Learn more about Destiny Blaine on her Website and blog. Also, catch up with her on Facebook.
I'll be back tomorrow with some great news about my good friend, author Sarah Grimm. Be sure to come back. Until then…
Happy Reading!
Sloane Taylor
Sweet as Honey…Hotter than Hell
February 15, 2011 | Tuesday Teasers
ISABELLA IGNITES
Magnificent Men of Munich Book Four
ISBN: 978-1-60168-256-7
Aspen Mountain Press
BLURB:
Jet setter Isabella Carrington has it all, fame, heart-stopping looks, and carte blanche over every man she meets, except one. Staid accountant Rhineholdt Hoffman proves to be immune to her charms. Until one hot Venetian night.
Rhineholdt came to Venice to escape a life that holds no meaning. He's sworn off sex until a chance encounter with the luscious Isabella. Their heated affair sets the City of Bridges on fire and forces him to face the fears holding him back.
So what does a woman who has everything, except the right man, do for fun? Come… Take a peek behind Isabella's bedroom door.
EXCERPT:
Holt wanted to fuck her all night long. Ride her until sunup and again all the next day. He could not seem to get his fill of Isabella. In bed or out.
Isabella stretched up, her nipples sliding against his chest, and kissed him. He clutched her tighter, then scooped her up into his arms. In a few strides he stood at the side of her bed and lowered her onto the center of the duvet.
He looked down on her, allowing his fingertips to skim along the curve of her hip as she pulled her knees up, covering the part of her he wanted most to see.
"No, Issy. Lower your legs and open them." He traced his hand down the inside of her thigh. "I want to see all of you."
"Holt, but do not tease me any longer." She reached out her hand to his.
He mounted the mattress, then braced his arms on either side of her, isolating them from the world, and swung his body between her wide spread thighs.
He kissed her mouth, along her cheek, moving lower to her throat. She wiggled and tried to thrust her hips against him, but he caught her, holding her still.
"It is my turn to have a little fun, Issy." He sucked her nipple into his mouth, swirling the peak with his tongue until she moaned. A series of shudders ran the length of her as she reached for his cock, but he reared up just enough to stop contact.
Holt kissed his way down Isabella's body, laving at her navel until her hands pushed his shoulders lower, as if she craved his mouth on her hot clit.
Her swollen pussy was wet and shiny, the blonde hairs laced with her cream. He ran an index finger between her folds and she moaned. Her hips bucked as he slid his finger up and down, along her channel, barely grazing her clit.
He lowered his shoulders, nestling between her thighs, and traced his mouth along her skin until her wet hairs tickled his cheek. Slowly he spread her folds, the pink flesh quivering with his touch, then laved and sucked her labia, loving the sweet honey taste of her sex.
She grabbed the rails of the headboard, rising up to meet his lips, but he clamped her hips into place. Her trembling body tensed and he knew she was but a lick away. He slid his index finger into her wet channel, massaging against the inside wall. She moaned and her muscles clenched around him, holding him tight. He edged out, then glided two fingers back in, rotating them against the slick walls as he watched her unfocused eyes widen.
"Dieu, Holt, no more torture." Her pitch had dropped to a throaty whisper, the words coming out strangled.
He looked up at her. With shaky fingers, he wiped her wetness from his face and repositioned himself between her thighs…
I'll be back tomorrow with Destiny Blaine. Until then…
Happy Reading.
Sloane Taylor
Sweet as Honey…Hotter than Hell